Preparing for Work in Community Arts
In the M.Ed. in Arts, Community, and Education, students interested in arts-based community work get training in such important skills as writing grant proposals, fundraising, arts administration, and building community support. One of the most important—and exciting—courses is a required one-semester, 150-hour internship at a location related to the student's specialization or new learning.
The Internship Experience
Program faculty consider the internship experience to be one of the cornerstones of the entire program, a critical step for successful development of a student for work in the community. Often, they say, it is what takes the student to the next step in their career. Some recent internships have been done at places such as the Boston Children's Museum, Butler Hospital, Citi Performing Arts Center, Arlington Center for the Arts, and the Emerson College Archives.

The internship is accompanied by a twice-monthly seminar, which allows students to share experiences and to gain clarity as they reflect on their internship work. Wendy Campbell, seminar supervisor, says that "The importance of reflection in any learning process is critical. But reflection during an internship is truly essential in order to process so many significant and sometimes life-altering experiences. They are asking themselves what their goals are and what they need to do to address those goals." At the end of the seminar, they have created a portfolio that documents all the work at their internship site.
Three Examples
Matt Lundeen had experience in theater before he began his program, but wanted, he said, to "know how to build boards and how different organizations work and the different models in organizational development." The program connected him with Felicia Sullivan, senior researcher at the Center on Information and Research on Civic Learning and Engagement (CIRCLE), based at Tufts University in Medford, MA. She became his field supervisor.

Matt says, "My internship was focused on working with Felicia Sullivan and assisting her in developing questions and a survey involving organization efficiency and structures of small arts based non-profits. The first half of the spring was the research portion of the assignment, reading articles pertaining to several organizational theories to pull out ideas on how small non-profits can benefit from varying organizational models….After research and meeting with Felicia, the goal was to create a survey to be emailed to over 300 Massachusetts Non-Profits with questions pertaining to the structure of the organization in regards to decision making and board responsibility, donor base, and holding onto a small community feeling during periods of significant growth." From his internship, he went on to do his thesis on organizational design, with rationale for the vision and mission of an education-based theater.
Sarah Besegai did her internship at the Griffin Museum of Photography in Winchester, MA. In reflecting on her experience, she pointed out that there is a difference between designing a project outside a particular place and developing it within. Once she immersed herself in the museum's daily life and culture, she was able to write a grant application for collaboration between the museum, the local high school, and the Boston Arts Academy. The application resulted in $10,000 for Photosynthesis, a project in which high school photography students enhanced their learning by attending workshops given by professional photographers, and then exhibited their own images in the museum.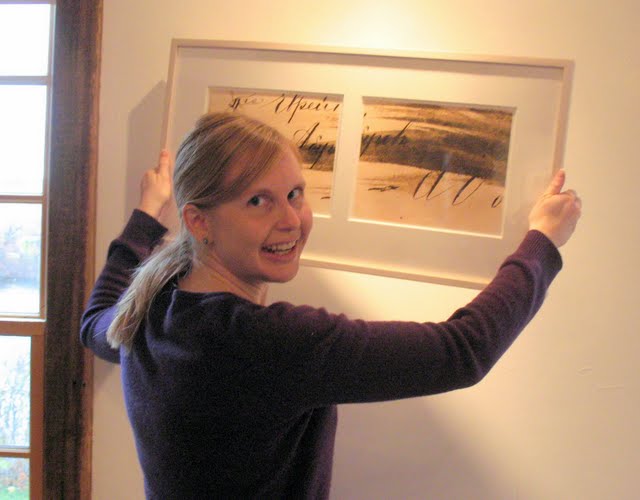 Sarah says, "Moments after first arriving at the Museum, which by no coincidence occurred the same evening as a gallery talk, I realized that my notebook full of ideas and intentions perhaps wasn't what the museum needed at that particular moment. They needed someone to pour wine, take jackets, and restock the cheese on the refreshment table. This quick call to duty was indeed a valuable learning moment in my internship. Helping out at an event like this...gave me insight into the Museum's basic needs, as well as an introduction to the various Museum stakeholders. I met artists, members, volunteers, first-time visitors, and board members. The experience also gave me a better sense of the many different duties that the small staff of essentially two…needed to conduct particularly during a special event...."
Devin Ferreira is now a music teacher and performer in Boston. He is the performing arts director at the Mattapan Teen Center, run by the Boys and Girls Clubs of Boston. "The community arts program dramatically changed my perception of community arts, culture, and honestly, my view of life in general," Ferreira said. "Many of my classes brought me to a level of understanding that I had never experienced before. They allowed me to gain perspective on racial inequality, racism, white privilege/guilt, discrimination, economic imbalance and how the arts play a key role in bridging communities and creating cultural understanding." In 2016, his song "Unstoppable" was the anthem for the Boston Marathon, and won a New England Emmy award for outstanding musical composition in 2017.
Many Advantages to Internships
Obviously, students gain invaluable experience just working inside a community-based organization. But they also have a chance to broaden their skills to match organizational needs, to work alongside administration and staff, to provide direct service, programming, evaluation, and more. How does funding work? How do boards function? How are programs administered on a day-to-day basis? How is community advocacy done, or community building? What does outreach entail? Theory is applied to practice, resulting in more prepared students.

Organizations also benefit from the energy, skills, knowledge, and creativity brought by students during their internships. In one retirement community, for instance, an intern compiled songs, movies, books, and other materials relevant to the resident population. For example, she says, "I hope to come up with the top 30-50 songs that they grew up singing and dancing to, many of which I've never heard." She will, undoubtedly, begin a new related job with more of an understanding of the population, and design projects that are more compelling to them.
Challenges
For their many benefits, internships also have challenges. One challenge is aligning goals of the intern with those of the organization. Priscilla Sanville, former director of the program, says, "We find sometimes organizations don't always know what they want and often they just need more bodies to get work done. The goal from our end is to ask organizations if they have had interns before and what would be the job description for the intern they are wanting for their organization? Then we can match the needs of the interns as well as serve the organization. It's becomes a win-win for both the intern and the organization."

The other challenge is helping the intern not to have unrealistic ideas about what their position will be, and to realize that many kinds of tasks will be embedded in their goals. Sarah's example of having to pour wine and help with coats is one of those examples. As one site director said at a supervision meeting, to one of our other interns, "I don't ask my staff to do anything that I have not tried once myself even if it is answering the telephones or cleaning the toilet because someone did not show up before an event."

"In our years in doing this work, we are most struck by the amazing students and the diversity of wonderful organization we have had the privilege to be in and to serve," says Sanville. "The internship definitely has given this program a solid foundation and serves the depth of what the students need to learn. We have had the honor to work with some amazing organizations that have given so much to our students."
Internship coordinator: Danielle Legros Georges, dgeorges@lesley.edu

Related Articles & Stories
Learn more about our students, alumni, and faculty.