Discover Lesley's engaging general education curriculum: the CommonLynx
The CommonLynx provides you with the skills and knowledge to excel in your career and address pressing issues in the world, such as social justice and environmental sustainability. Collaborating across disciplines, faculty started with the end in mind (referred to as "outcomes") to design learning experiences that set you up for success in the 21st century.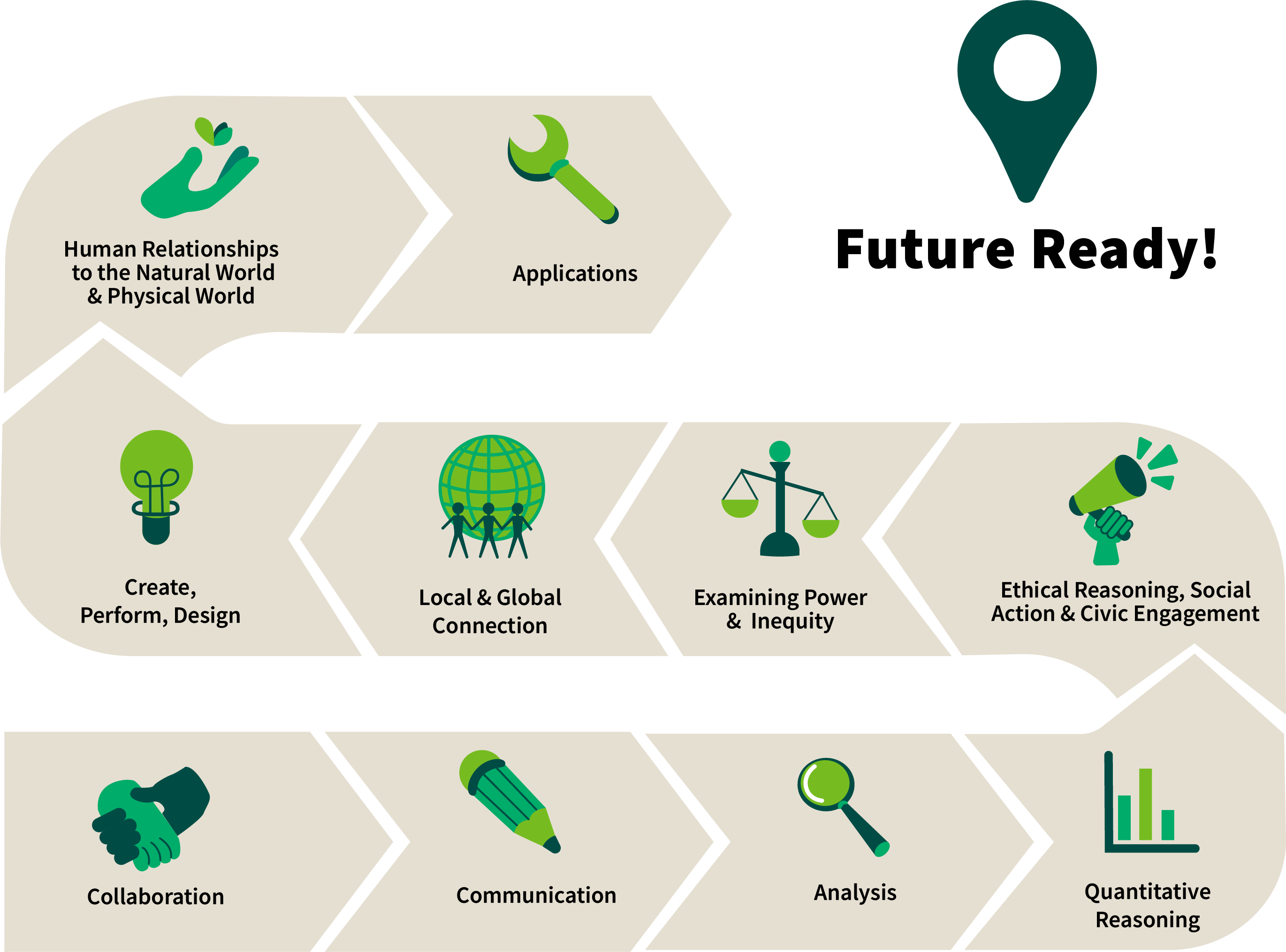 The CommonLynx: a path to your unique degree plan.
Through the CommonLynx, you can get creative and choose courses based on learning outcomes and your goals, rather than simply checking boxes in each subject area. The new curriculum integrates coursework in the arts and design with numerous liberal arts and science majors, including psychology and applied therapies, education, business, social work, the sciences—for greater collaboration and opportunity to pursue a degree plan and career path that is uniquely yours.
Outcomes
Foundational Outcomes

In your first year, you will take innovative courses that introduce the first four foundational skills—collaboration, analysis, quantitative reasoning, and communication. These skills will provide you the bedrock to support your work at Lesley and beyond.

Collaboration

You will take unique courses to explore critical issues and develop skills to work collaboratively with your peers, such as:

Art and Social Justice
Thinking Outside the Bubble
Romantic Relationships
Prison Stories
Doing Good and Looking Good
Image in Context

Analysis

You'll take a course that enhances your skills to critically examine media, literature, and visual images.

Quantitative Reasoning

You'll take courses that sharpen your skills in using numbers to analyze and solve real world problems.

Communication

You'll take a course that inspires powerful expression.

Perspective Outcomes & Inquiry Methods

The main part of The CommonLynx curriculum is arranged around these next five outcomes. By looking at issues from multiple viewpoints, you gain new perspectives for improved solutions. Faculty encourage students to pursue their areas of interest and explore critical issues and different ways of problem solving to promote a more just and sustainable future.

Create, Perform & Design

Sample courses:

Art and Craft of Screenwriting
Swing Dance
Figure Painting
Principles of Art Therapy

Human Relationships to the Natural World

Sample courses:

Why nature?
Environmental Politics and Policy
History of Science
Astronomy
Environmental Sustainability

Local & Global Connections

Sample courses:

Comparative, International, and Alternative Medicine
World Mythology
Art Across Borders
Children in Global Perspective
Anime: Roots to Modern Day

Examining Power & Inequity

Sample courses:

Young Adult Literature
African American History
Tech-Disaster Films
Challenging Racism
Cross-cultural Psychology
Gender, Race, and Animation

Ethical Reasoning, Social Action, & Civic Engagement

Sample courses:

Activism and Change
Embracing Diversity in Classroom Communities
Disability Studies
Postcolonial History and Literature

The Applications Course

The capstone of The CommonLynx is one of our newly designed Applications courses. In these problem-based, transdisciplinary courses, you will engage with others and reflect on your learning through exciting community projects and real issues facing today's world.

Sample courses:

Urban Ecological Gardening
Active Hope
Politics and Climate Change
Children's Literature, Mindfulness, and Human Development
Public Space and the Politics of Representation
Thinking about transferring here?
Funding
The redesign of Lesley's general education was supported by a grant received from the Davis Educational Foundation established by Stanton and Elisabeth Davis after Mr. Davis's retirement as Chairman of Shaw's Supermarkets, Inc.
Lesley University is SAT Blind
Faculty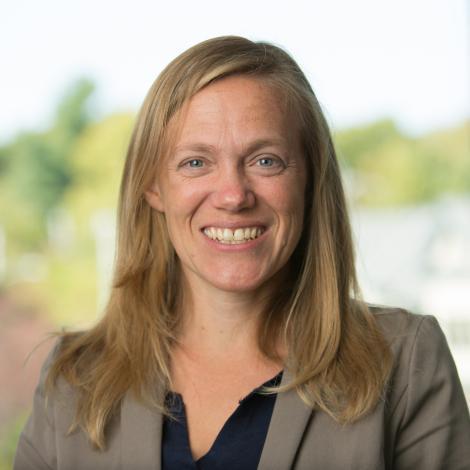 Summer Clark
Associate Professor
Dr. Clark is passionate about re-envisioning the classroom as a community grounded in equity, caring, and wonder.
During her thirteen years of teaching prior to joining Lesley, her students awakened and inspired her in ways she would have never before imagined. Her K-12 students in Mississippi, Atlanta, Morocco, DC, and Baltimore, and her hundreds of college and graduate students in Maryland taught her the power and complexities in constructing classroom communities. Today Dr. Clark continues to illuminate what transformative literacy teaching might be through collaborative action-oriented research. She explores the possibilities for education as a process of awakening and social action.
Dr. Clark has a M.Ed. from University of Mississippi, Ed.S. from University of Georgia, and Ph.D. from University of Maryland, College Park. 
Publications,
In the News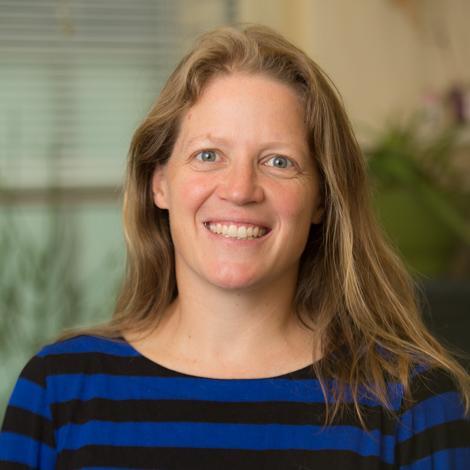 Julie Shoemaker
Associate Professor
A biogeochemist by training, Dr. Shoemaker's work has involved studying Earth's biological systems using geochemical approaches. Her research focuses on understanding and predicting methane emissions from wetlands and forests and their impact on global climate. Her areas of academic expertise include: earth science, climate change, and carbon and methane biogeochemistry. At Lesley she is dedicated to mentoring her students.  She holds a PhD in Biology from Harvard.
Publications,
Presentations,
Posters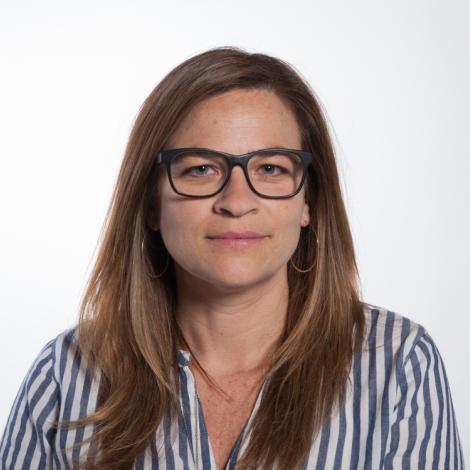 Christine Collins
Associate Professor, Photography Department Chair
Christine Collins received her BA from Skidmore College and her MFA from Massachusetts College of Art and Design. In addition to the courses she teaches with us, Christine also teaches photography workshops at Maine Media Workshops and Anderson Ranch Arts Center. Her editorial clients include The New York Times Magazine and Bloomberg Business.
Publications,
Exhibitions,
Personal Website