All Threshold students begin with the two-year academic program. After they graduate, they can choose to continue on to programs that support them as they work toward independence: Bridge Year or Transition Year.
Bridge Year
A 9-month program where students live on campus in the residence halls, and work in internships. Bridge Year is the next step for a small number of our graduates.
Transition Year
A 10-month program where students live off campus in an apartment and look for paid employment. Transition Year is the next step for most of our graduates.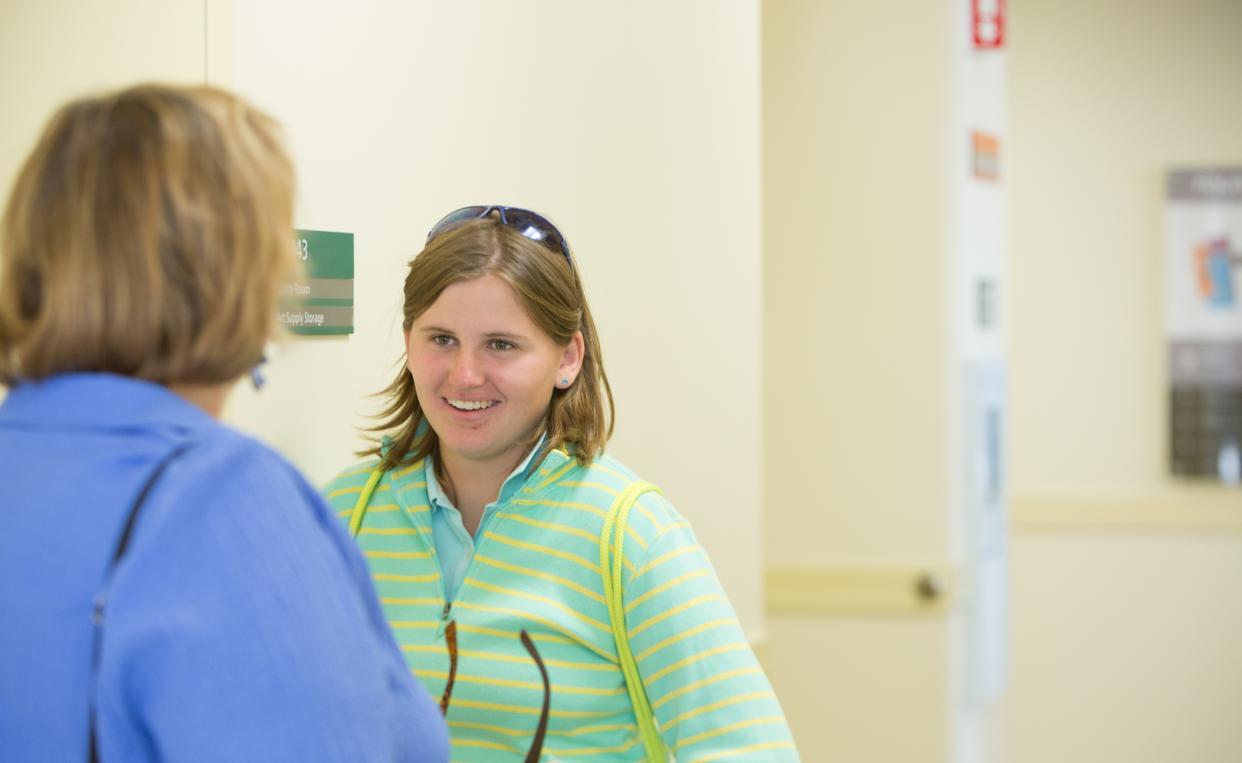 Victoria watched her two older sisters experience college, and always dreamed of doing the same. The Threshold program gave her that chance. After completing Transition Year, she's thriving in her job at Massachusetts Eye and Ear Infirmary in Boston, and living in an apartment near Harvard Square.
Bridge Year
Bridge Year strengthens your work, independent living, and social skills in a structured setting.
In Bridge Year, you'll live on campus in the residence halls, typically in a single room. You'll build upon the skills learned in the two-year academic program through courses, internships, and advising.
Advising & Academics

Bridge Year provides individualized supports to help you strengthen your confidence for living on your own. After Bridge Year, most students enroll in our Transition Year program.

Bridge Year begins in September, after graduation from the academic program. You'll work four days a week in an internship, on or off campus, and take 4–6 courses. A vocational advisor meets with you one-on-one each week to talk about progress in your internship.

Curriculum

The curriculum is designed to help with these skills:

Health, safety, and wellness
Job seeking and workplace behavior
Problem solving
Making responsible decisions
Money management
Meal planning and cooking
Social interactions
"Bridge Year gave me the extra time and practice I needed to feel confident about living on my own."
Bridge Year Graduate
Transition Year
We recommend Transition Year for most students. Alumni who complete the program are more likely to be employed and live independently. They report having higher satisfaction with their social lives and levels of independence.
In Transition Year, you'll build upon social, job, and life skills in a less-structured environment. You'll live in an apartment off campus and work toward getting a paid job, all with support from advisors and staff. Afterward, you'll earn 3 college credits and a certificate of completion. But more importantly, you'll feel ready to live and work on your own.
Seminar

In June, after you graduate from the academic program or conclude Bridge Year, attend a six-day seminar to prepare for the fall. At the seminar, you'll:

Make roommate decisions
Look for an apartment for September
Learn about social activities
Set up routines
Start your job search
Register for state employment supports

Curriculum

The curriculum has three components:

One 3-credit course: To help navigate adult issues and responsibilities
Independent Living Advising: To help reach goals for independence and to apply the skills from the two-year academic program
Employment Advising: To help pursue employment goals through one-on-one job search support, coursework, and training

Advising & Support

An independent living advisor regularly visits you at your apartment to discuss budgeting, meal preparation, wellness, and living with roommates. An employment coordinator supports you as you search for a job.

Other available supports during Transition Year include:

Access to alumni events and activities 
Assistance with state and federal benefits
Counseling
Applying
You can apply for Bridge Year in the second year of your academic program. You can apply for Transition Year in the second year of your academic program, or during Bridge Year.
Admissions decisions are made for both programs in March, based on student performance. We accept students into the program who are motivated to build upon social, job, and life skills.
77%
of Threshold alumni are living independently from their families.
Contact the Threshold Program
617.349.8181 or 857.360.5039
Mailing address
29 Everett Street
Cambridge, MA 02138-2790