Michele Dow knows firsthand the challenges that transgender people face—and she is committed to helping them, specifically trans educators.
Michele devoted her studies to this subject as a PhD student, pouring years of research and writing into her dissertation, titled "The Experiences of Transgender Educators," for which she has a publishing deal in the works.
"It's really about the urgency of this issue," says Michele. "People think when they see a politician or celebrity, like Laverne Cox on 'Orange is the New Black,' that everything is moving forward. But an ordinary trans person in a school system has a really tough road. Some days it feels like an act of heroism to just step out the door and face the world."
The data are alarming, she explains, and her Lesley dissertation research confirmed the struggles, including the high rate of suicide attempts, job discrimination, and family isolation among trans people.
"We are forced to make these 'Sophie's Choice' decisions about being ourselves," she says. "I've been excluded by some of my family members."
For Michele, the struggle with gender identity is personal.
"Some days, I wonder if it's all worth it," she reflects, "but I have had to come to an acceptance about who I am in order to move forward." She adds, "I think if people knew how much we have to sacrifice to be ourselves, they wouldn't question our identities so much. I've lost a lot."
My community is becoming more visible and making some gains because we're getting more organized, but it's still a nightmare out there.
Michele Dow
'19, PhD in Educational Leadership
She has found support among the trans community at Fenway Health (an LGBTQ health care, research and advocacy organization in Boston), her Lesley classmates and in her Jewish faith community, but she too has struggled with accepting herself and telling her story.
A key turning point happened at the 2019 American Educational Research Association conference in Toronto, Canada, where she went to share her Lesley dissertation research. At the conference, she connected with publishers and was welcomed by scholars in queer studies, through which she gained an appreciation for her unique position.
"I saw how critical 'positionality' is in academic studies — telling people where you're coming from and what your background is to help establish your credibility," she says. "People were more willing to speak with me and trust me. Being transgender, I've been through a lot of the same things."
Helping transgender teachers
Before transitioning, Michele had a long career in educational leadership at the secondary, university and state levels, including a stint as the state director of English Language Learner (ELL) programs for the Massachusetts Department of Elementary and Secondary Education. She also held a senior leadership position in the Boston Public Schools as part of the negotiating team on a major settlement agreement with the Department of Justice, U.S. Department of Education Office for Civil Rights and the City of Boston.
During her tenure with a local school district, however, things deteriorated when she came out as transgender.
"I went from being an inspiring, magnificent teacher to someone on a performance improvement plan," she recalls, "and that's the story I heard over and over again from everyone I interviewed for my research. Even in places you imagine would be wonderfully welcoming, you get below the surface, and the inclusivity is not very different from other places."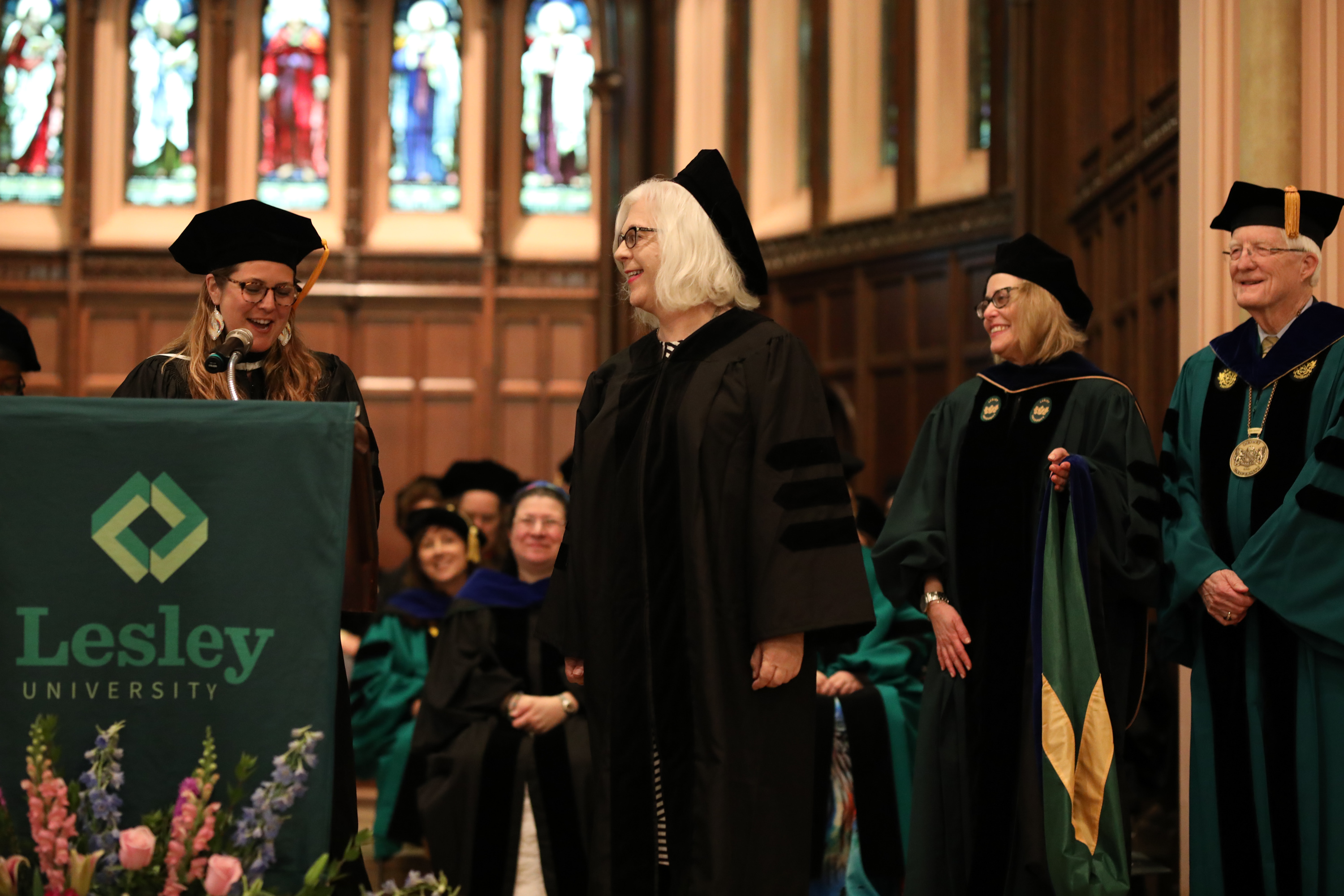 Her experiences were part of her inspiration to enroll at Lesley in 2015 and conduct her doctoral research to help fill the void of data and resources for transgender educators.
"Lesley was the perfect place because my work really focused on educators," she says. "I was also accepted at the University of Pennsylvania, but I chose Lesley because of its deep roots in the local educational environment. I would really like to help the teacher in the classroom."
While at Lesley, she spent nearly two years surveying and interviewing trans educators, from teachers up through principals. Her research confirmed that many transgender educators feel isolated and alone, particularly in more conservative geographic areas.
"Others feel like they have to be the experts," she notes. "They're not only going through the coming-out process, but they're also being called on by their school districts to educate others. So you combine the isolation with the pressure to be experts, and it becomes overwhelming."
Michele hopes her dissertation work and pending book will mark a turning point for trans educators, providing resources to help schools become inclusive employers and giving educators a road map for coming out and connecting with resources.
"I really want to make this into a manual for school leaders," says Michele, whose Ph.D. is in educational leadership. "My community is becoming more visible and making some gains because we're getting more organized, but it's still a nightmare out there, especially with what's going on in Washington."
"Her research on transgender teachers is on the forefront," notes professor Amanda Wager, who was Michele's doctoral advisor. "Michele's contributions will make educational spaces more just and equitable places for our students and teachers."
A journey marked by passion and determination
Michele was on her personal gender journey while studying the subject for her doctoral degree, which was a taxing undertaking.
"Michele demonstrated tremendous determination to reach her goals, taking one step at a time," Amanda recalls. "It took strength, passion and honesty to create an eye-opening call for educational leaders to make changes in the ways trans educators are treated in the workplace."
Resources like Michele's will help to pave the way for trans and non-binary educators and for youth struggling to find themselves in a system that doesn't always represent their best interests.
Mason Dunn, director of advocacy for Keshet,
former director of the Massachusetts Trans Political Coalition
Michele says the support was critical.
"Amanda was an amazing help to me and encouraged me when I nearly considered giving up," Michele recalls. "Most people going through this are dealing with enormous stress outside of the workplace — issues of how to deal with family, where to get emotional and psychological support and where to get good medical services. It's all still relatively new for me, too."
She encourages people to support their transgender friends and colleagues in any way they can. "Any type of affirmation of a trans person's gender identity is so incredibly helpful," she says.
Despite her Ph.D. and three decades of educational leadership experience — including being a licensed superintendent, principal and ESL (English as a Second Language) teacher in Massachusetts — Michele continues to struggle to find suitable work in educational leadership.
"I've been a finalist for many positions that I haven't gotten, and I wonder how my trans identity plays a role," says Michele, who lives in Jamaica Plain. "I am having the same difficulties as the teachers and school leaders I studied."
Mason Dunn, who is director of advocacy for Keshet (an organization that supports LGBTQ equality in Jewish life), says tools and resources like this are critical for school systems, educators and youth.
"Resources like Michele's will help to pave the way for trans and nonbinary educators and for youth struggling to find themselves in a system that doesn't always represent their best interests," says Mason, who was formerly the director of the Massachusetts Trans Political Coalition. "Hiring trans and nonbinary talent in education is important, not only from the school/employer perspective, but also in making the lives of trans and nonbinary youth better by providing relatable mentors who reflect a similar identity and lived experience."
Michele is hopeful about her book, which was recently accepted by Lexington Books and is slated for publication in hardcover and e-book as early as next summer.
"I'd like to help take the burden off trans educators and explain the main supports to educational leaders that would make the job easier," she says. "There is a lot of work to be done."
Michele also holds a master's degree from Elms College in bilingual education and English as a Second Language (ESL), and a bachelor's degree in economics from Wesleyan University.
Related Articles & Stories
Read more about our faculty, alumni, and students.