Deepen mathematics content knowledge. Hone implementation of instructional routines. Build professional capacity.
The Center for Mathematics Achievement is dedicated to ensuring that every student has access to the highest quality mathematics teaching and learning. The center has improved the content knowledge and teaching of math teachers nationally and internationally, having a profound impact on thousands of students.

Directed by Hilary Kreisberg, the center supports teachers, coaches, specialists, teacher leaders, and administrators through workshops, professional development, coaching, and consultation. Whether you travel to Lesley University or we travel to you, you'll be engaged in a process that will benefit both you and your students. View our fall newsletter.
In addition to providing professional development, the center is involved in cutting-edge research:
The Center for Mathematics Achievement envisions a world in which mathematics is embraced by all who see and appreciate its beauty, its usefulness, and the opportunities it affords.
Professional Development at Schools or Districts

If your school or district is looking for math professional development, we offer a variety of services that will increase student achievement and lead to improvement in student and teacher perceptions of mathematics. Explore our offerings, and contact us (see below) to discuss how we can help you. The best option is a combination of services. According to the Institute of Education Sciences (PDF), effective professional development displays three primary characteristics:
- It's sustained over time
- It's collaborative
- It allows teachers to practice concepts.
That's why we offer professional development through various opportunities. We want to ensure that our collaboration and partnerships are effective.
Save the Dates: Summer 2020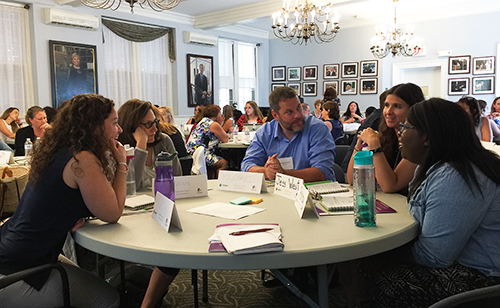 Hone your practice, deepen your content knowledge, earn professional development points, and network with educators from all over. 
"The facilitators were obviously experts who are very passionate about what they do and extremely willing to share their expertise so I and all the participants can improve our craft."
June 30–July 2: Routines for Reasoning Institute.

Educators and leaders of grades 4 - 10 will learn how to transform students' mathematical habits through specific instructional routines that lead to opportunities for all learners to develop powerful mathematical thinking skills.

The Routines for Reasoning Institute is presented in collaboration with Fostering Math Practices. It features math education experts Grace Kelemanik and Amy Lucenta, the authors of Routines for Reasoning. You and your team will learn, plan, and rehearse habits that will deepen understanding and knowledge, establish school-wide systems to support your learning, and more.

July 6–8: Math Content Coaching Institute

Prospective coaches, active coaches, and administrators learn how to transform school cultures into multi-generational learning communities through mathematics content coaching.

The Math Content Coaching Institute is presented in collaboration with Metamorphosis Teaching Learning Communities. It is a powerful, research-based model designed to transform school cultures into vibrant multi-generational learning communities rooted in proven practices that improve student learning and academic achievement through enhancing teacher instruction.
Looking for the handouts from Hilary Kreisberg's "Adding Parents to the Equation" session from Build Math Minds Virtual Summit? Complete this form to subscribe to our mailing list and you'll receive the free downloadable PDFs in your welcome email! And, if you're looking for the handouts from Hilary Kreisberg's "Adding Parents to the Equation" presentation or the references from Tina Cardone's "Nix the Tricks" session from Make Math Moments Matter Virtual Summit, complete this form to subscribe and receive the free downloadable PDFs.