Kalafus recently dyed her hair purple with the help of Cyndi Lauper and Lauper's stylist, Jutta Weiss. Image credit: Acacia Evans.
When Caitlin Kalafus '17 first saw a picture of Rush drummer Neil Peart's drum set at the age of eight, she was awestruck.
She grew up listening to Rush and Led Zeppelin, inspired by the hard-hitting beats of Peart and Zeppelin drummer John Bonham, but it wasn't until the last day of second grade, when she heard the sound of drums coming out of her own basement, that she had the opportunity to play herself. Her father, a middle school music teacher and guitarist in his own band, had brought the school drum set home for the summer.
"We started jamming out that evening," she recalled.
Kalafus hasn't stopped drumming since. This summer, following an improbably-successful audition, she's on tour with 80s pop icon Cyndi Lauper, playing venues from the Hollywood Bowl in Los Angeles to New York City's famed Madison Square Garden.
"It's been so unbelievable to play in a full arena every night and to look all around and know they're all watching us on stage," said Kalafus, checking in from the tour bus on the way to her next show. "It's been really fun to be on stage with Cyndi. She has amazing energy and really knows how to get the crowd going."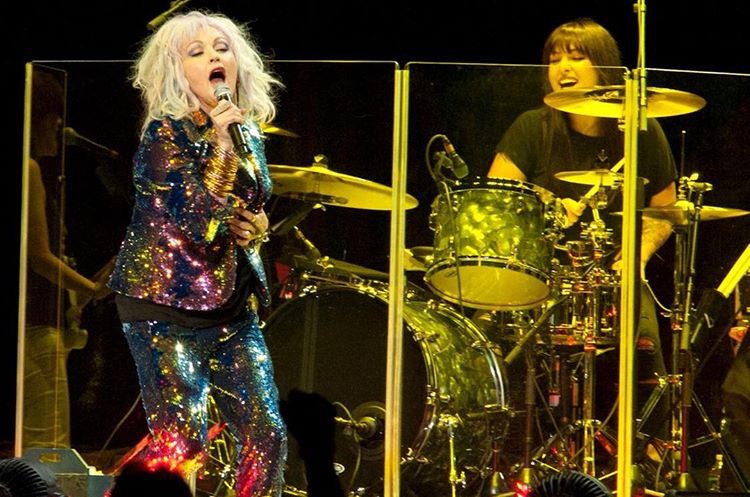 Kalafus cites her artsy and creative spirit as the driving force behind her passion for both music and graphic design, which she studied at Lesley.
"I can see things from the perspective of someone who has a creative vision of their product or their band, but they need a brand around it," she explained. "I understand how the passion and the artistic vision come together, and I know how to design for it."
From drumming to graphic design
Kalafus spent most of her childhood home-schooled, playing gigs on weekends and performing on Disney Channel shows with the band Kicking Daisies. Her time in that band wrapped up just as she was finishing high school and deciding what she might do next. She enrolled at Housatonic Community College (HCC) in Bridgeport, Conn., where her professors suggested Lesley's College of Art and Design.
"I wanted to get a degree in something and I didn't want to go to school for music," she recalled. "I wanted to explore some other creative aspects of myself and my teachers there mentioned that Lesley was a school where a lot of the credits would transfer and that would be really great thing to do."
Kalafus had already completed most of her core academic requirements at HCC so she transferred to Lesley and dove into the design program, studying typography, visual communications and more.
"I loved all of my classes," she recalled. "I just loved being creative and learning as much as I could."
In her two years at Lesley, Kalafus not only continued playing gigs at venues like Okemo Mountain, but she found time to study graphic design abroad at London's Central Saint Martins school and spent the summer before her final semester on the Vans Warped Tour with the band Mother Feather. Her two passions, music and design, merged seamlessly. For her final senior showcase project, she made art using her drums, designing different symbols and notations for each drum hit. 

Kalafus showcased her design work through music for her senior final.
"Music gave everything she did a strong conceptual meaning. Everything was on purpose," recalled Associate Professor of Design Heather Shaw. "The sign of a more mature student is embracing those connections and really capitalizing on them. She took a whole other medium – sound ­– and figured out how to bring that into her design work. She was all in, both as a student and musician."
Drummers just want to have fun – and create art
Kalafus learned about the possibility of the summer tour gig through a friend's Facebook message, letting her know that Lauper was still in need of a drummer. Kalafus sent in some YouTube videos of her work which landed her an in-person audition in New York City, but she got into a serious car accident a few weeks before and broke her right foot, which she drums with.
Undeterred, she learned to drum with her left foot and hobbled into the audition room on crutches. Lauper and her team were shocked when they realized Kalafus was injured.
"I did a lot of physical therapy but I wasn't able to play with my actual foot for the audition," she said. "I told them I wasn't there to waste their time, I learned how to play with my left foot for this audition, which was difficult."
Difficult or not, Kalafus nailed the music, noticing that Lauper and the other band members were relaxed and having a good time while she played.
"I thought I was doing well because they were clearly enjoying it. Cyndi was facing me and moving her hands around like she does onstage," Kalafus recalled. "When I was finished, I thanked them and said it was a lot of fun, and they said 'It's about to get a lot more fun,' so I kind of had a feeling about it."
A few minutes later, after Kalafus had left the building and was crutching down the New York City sidewalk, she received a call that they wanted her to come back right away.
"Cyndi came outside and she was like, 'You got the gig!'" Kalafus recalled.
A half hour later, one of her managers called her with the complete rundown. She sent in her passport and they had flights booked the next day.
"It all happened really fast," she said.
Kalafus is touring the United States and Canada and she'll be on the road through September. She has downtime in the beginning of her days where she creates work for her freelance design clients remotely, continuing to balance her two passions. She can play with her right foot again but it's still healing, so she switched her wardrobe from the 4-inch wedge boots she usually wears.
"I just kind of keep it simple with a T-shirt and jeans," she said. "With my foot still healing, I needed to change it up and wear a cozy shoe."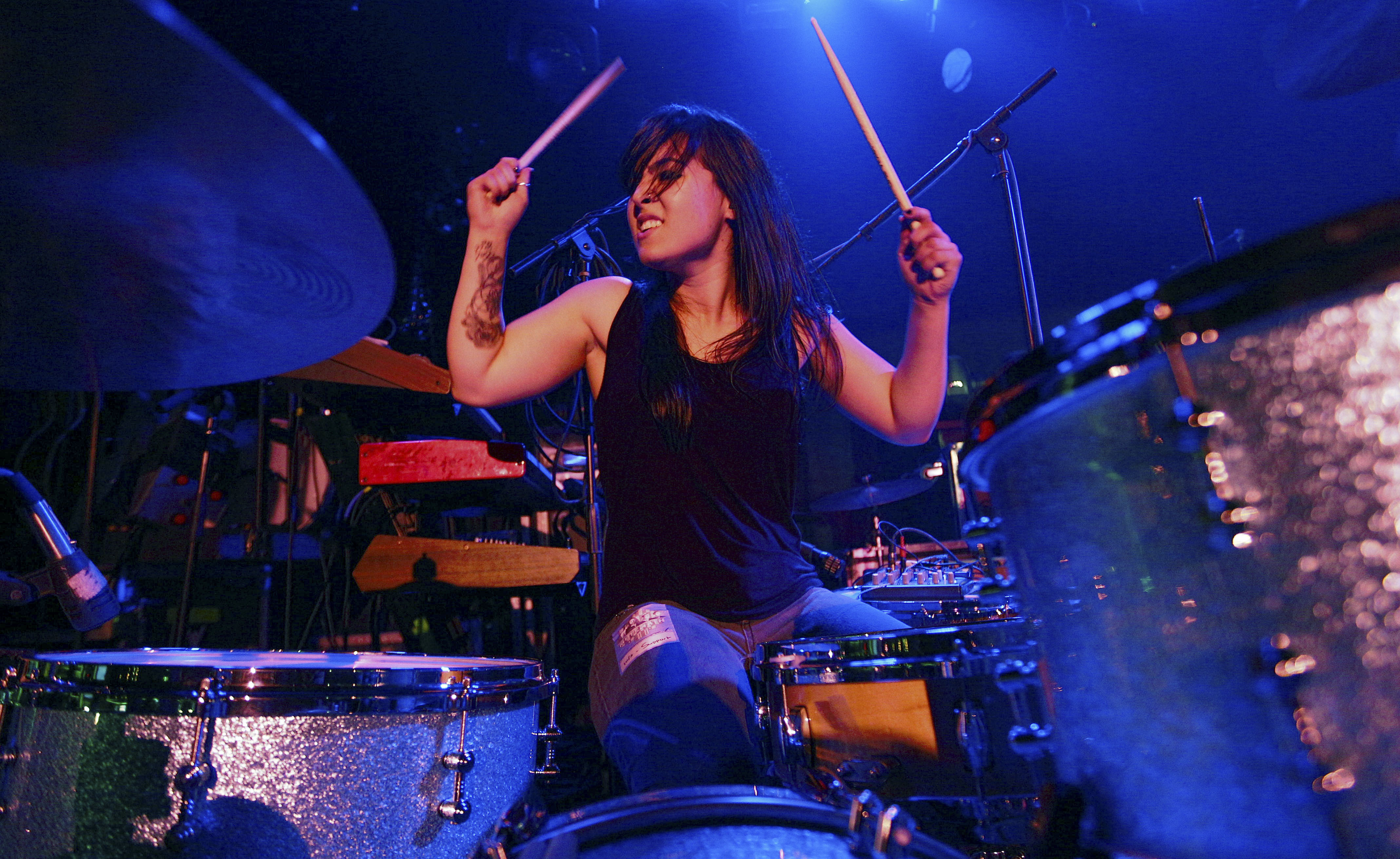 She's most excited about playing Madison Square Garden and having the opportunity to explore Canada.
"I've never even seen a show at Madison Square Garden so I'm very excited about that and of course, many of my family and friends are coming to that show," she said. "And I actually haven't had the opportunity to go to Canada yet, so that'll be really cool."