Honoring Agency and Citizenship: Infants and Toddlers as Initiators, Informers, and Contributors in a Reggio Inspired School
Day 1 - Saturday, May 5, 2018
The educators from the Cyert Center will be focusing on Infants and Toddlers
What do we believe about infants and toddlers and how does that lens drive our practice? How can our dispositions inform the development of our foundational and organizational systems? What roles do reciprocity and collaboration play in negotiating curriculum with infants and toddlers? The presenters will explore these essential questions with participants through large and small group dialogues, mini-stories, and highlights of current work. Together we will build an understanding of how every intentional choice we make can be a moment of advocacy for young children, families, and educators.
Guest Speakers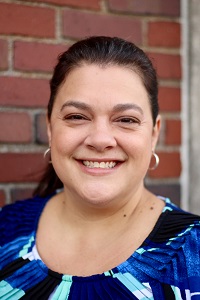 Suzanne Grove has been a Studio Educator at the Cyert Center for Early Education-Morewood Avenue for the past ten years. She began her journey at the center in 2001 where she was as an educator and Educational Coordinator in the youngest three classrooms which served infants and toddlers and their families.
Brianna Moskal has worked in the field of Early Childhood for over a decade. After receiving her bachelor's degree in Applied Developmental Psychology, she began her study of the Reggio Emilia Approach in 2007 as an educator at the Cyert Center for Early Education, Carnegie Mellon University, Pittsburgh, PA, working with children ages 3 months-4 years. Ms. Moskal is an Educational Coordinator of infant and toddler classrooms, supporting programming and mentoring educators.
Beverly Paul is an Educational Coordinator of infant and toddler classrooms at the Cyert Center for Early Education, Carnegie Mellon University, Pittsburgh, PA. Previously, she had worked as an educator with children ages 12 weeks to 3 years. Since receiving her degree in early childhood and elementary education, Mrs. Paul has presented at the AEYC conferences locally and in other cities, and continues her own professional development by attending various workshops and conferences given by local early childhood organizations and by Carnegie Mellon University.
Mary Moore is the Assistant Director for the Younger Cluster at the Cyert Center for Early Education, Carnegie Mellon University, Pittsburgh, PA. With a background in psychology, child development, and family relations and 27 years of experiences working with children 6 weeks through age 4, Ms. Moore offers comprehensive experience with the development of pedagogy and curriculum deeply influenced by the Reggio Emilia approach.
About the CYERT CENTER – CARNEGIE MELLON UNIVERSITY
The Cyert Center for Early Education is a year-round early care and education program in two sites at Carnegie Mellon University in Pittsburgh, PA. Founded in 1971, the center is inspired by the fundamental principles of the municipal infant-toddler centers and preschools of Reggio Emilia since 1993 and continues to be involved in the serious study of the approach. At the core of the Cyert Center's values is professional development; many of the educators are involved in local and national initiatives which support the dialogue around the values of the Reggio Emilia approach.
---
Day 2 – Sunday, May 6, 2018
The educators from the Bishop Strachan School will focus on children in preschool through the early primary grades.
Investigations and Expressions of the Reggio Approach at the Bishop Strachan School: Educators from BSS will be focusing on the environment, documentation and integration of graphic materials with children from the Junior School.
GUEST SPEAKERS
Ainsley Gibson has a Masters degree in Child Study and Education, and taught in the primary grades at the Bishop Strachan School for the past 5 years. She is currently teaching Grade 1.
Heather Evelyn has taught at the Bishop Strachan School for over 20 years. She has taught JrK to Gr. 3. She is currently attending and contributing to the Emergent Curriculum Certificate Course. This year, she is teaching Junior Kindergarten.
Shelley van Benschop has taught at the Bishop Strachan school for 11 years. She is currently the Atelierista for Junior K to Grade 6 and Lead Teacher supporting project development across the grades.
About the The Bishop Strachan School – TORONTO, CANADA
The Toronto Bishop Strachan School is an independent school for girls in Junior Kindergarten to Grade 12. BSS aims to inspire girls to be fearless and to educate them to be leaders. In the Junior School, they have been practicing the Reggio approach for over ten years. We are proud of our extraordinary past, super excited about our future and enthusiastically present for the girls who walk through our doors every day.
Lesley University has hosted the Reggio Emilia Institute for the past 25 years. The Reggio Emilia focuses on fostering relationships between children, teachers, parents, and community. It builds on the idea that each child has the desire to connect with others, engage in learning, and enter into a relationship with his or her environment. The hands-and-minds-on exploration of materials and media is an essential part of the approach.
Lesley University Speakers
Lella Gandini serves as the liaison for the dissemination of the Reggio Emilia Approach in the United States, where she conducts professional development programs, lectures, and publishes articles on various aspects of early childhood education both in the States and in Italy. She has published several books for children and has been a regular contributor for Bambini a journal for teachers.
Joanne Szamreta, PhD, has taught both preschool and Kindergarten in urban settings and has also administered Early Intervention programs. Currently a professor at Lesley, she teaches courses in early childhood education and developmental psychology and is part of the Executive Board of the Boston Area Reggio Emilia Alliance. Joanne consults with teachers and schools about the Reggio approach, collaborating with families, and child development issues.'
Institute Fees:
Day 1: $160
Day 2: $160
Both days: $310