The health and wellbeing of our university community and members of our extended community are always first, so in keeping with federal and state health and safety guidelines related to Coronavirus 2019 (COVID-19), Lesley University has postponed this exhibit. We're monitoring this situation and will make rescheduling decisions as soon as circumstances allow. Please continue to consult lesley.edu/events and lesley.edu/covid-19 for updates.
Lesley University's Strauch-Mosse Visiting Artist Lecture Series presents Teddy Cruz and Fonna Forman
Unwalling Citizenship
In our increasingly walled world and the surge of anti-immigrant sentiment everywhere can the idea of citizenship be recuperated for more emancipatory and inclusive political and social agendas?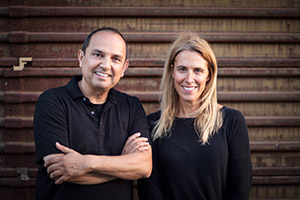 Cruz & Forman are principals in Estudio Teddy Cruz + Fonna Forman, a research-based political and architectural practice in San Diego, investigating issues of informal urbanization, civic infrastructure and public culture, with a special emphasis on Latin American cities. Blurring conventional boundaries between theory and practice, and merging the fields of architecture and urbanism, political theory and urban policy, visual arts and public culture, Cruz + Forman lead variety of urban research agendas and civic/public interventions in the San Diego-Tijuana border region and beyond. Together they lead the UCSD Community Stations, a platform for community-engaged research and teaching on poverty and social equity in the border region.
This event is free and open to the public. Reception to follow.
Learn more about the Strauch-Mosse Visiting Artist Lecture Series.
Header image: "Embajadores" by Cruz + Forman