To Andy Pritchard, questing is about asking questions with curiosity, allowing the answers to come, noticing them, and then finding a way to express what has been found.
Andy asks questions with a guide using Internal Family Systems, Feldenkrais, and other modalities involving the body and spirit. She uses the personal myths and stories that come from these inquiries to make large-scale colorful tapestry collages out of a variety of repurposed fabrics. Andy features many characters in her work such as the inspiring fog, a mermaid and her sea horse/bull consort, a parentified child, a shamanic wolf, as well as a choice between hopscotch and lists. Andy's artwork draws inspiration from Interplay and Expressive Art Therapies principles to create dreamlike visions. 
Through My Heroine's Quest, we encourage the community to not only view but experience Andy's vibrant tapestries as they are on view in the Marran Gallery through Sept. 29.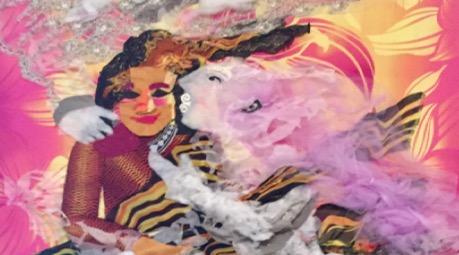 We invite you to experience the artwork in person while enjoying light refreshments at our opening reception on Tuesday, Sept. 10 from 3:30-6:30 p.m. During this reception, Andy and Expressive Therapies alumna CC King will use InterPlay to demonstrate ways of finding meaning, interacting, and exploring gesture through the tapestries. For the findings of any quest only make sense when others bring their own meaning to what has been found.