To anyone thinking of doing this program,
The MS in Ecological Teaching and Learning program has made my life richer in so many ways. 
I have filled journals with what Ecological Teaching and Learning has offered—and continues to offer—me. No, a teaching certificate wasn't one of those things, but I wasn't looking for one. I was looking for a better way to teach; I was looking to learn more about who I am as a teacher and find ways to reconcile that with what I was doing with kids in my classes at the nature center where I work and the wildlife refuge with which we partner.
 
Would a certificate-based program open more doors? Sure. So would a program that certifies you as a vet or a doctor or a lawyer. Every graduate program opens doors. You have to ask yourself which doors you want opened.
 
For me, this program made me take a really hard look at what I was good at doing and an even harder look at what I wasn't doing well. Most of the issues teachers have with students—that I've seen, anyway—stem from an inability to meet kids where they are. Every single kid is different, and that can be a hard, hard task when you have 28 of them every day, and a statewide, required curriculum is calling the shots.

Ecological Teaching and Learning helped show me that until I know who I am as a teacher—where my values and philosophies come from; where my prejudices lie and how well I juggle it all—I can't possibly connect with students. At least, not well or authentically.
 
That's the philosophical stuff. The tangible stuff? I used to paint way back when I was in high school. I turn 54 in February, so that is a long time ago. Through the required reflective and illustrated journaling, I found that I missed that part of me. I am now a locally successful painter and have just entered my first international show. People actually buy my stuff! I never would have found that part of me in a traditional certificate program.
The journaling we did in this program resulted in my creating journaling field trip curriculum for six grade levels at my nature center and my being asked to teach illustrated journaling workshops throughout my state.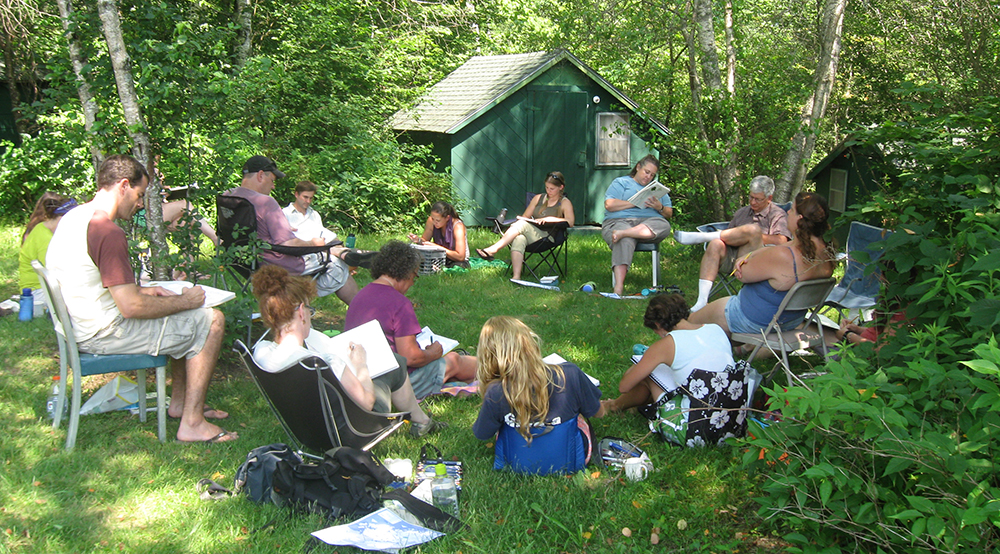 Through what I gleaned from our discussions, I created six new field trip curricula for the nature center (beyond journaling); found my niche as an early childhood environmental education (EE) educator; now teach early childhood teachers how to teach outdoor education, and co-created the statewide training program for those who seek to become facilitators for Growing Up WILD and the Project Learning Tree early childhood program. The year I graduated, I was named Utah Environmental Educator of the Year.

I tell you all this not to brag, but to try to illustrate that the Ecological Teaching and Learning program has made my life richer in so many ways. Shoot, I even play a native flute for the kids in our fall field trip programs and have become a regional speaker on a variety of EE and nature topics—all because of the confidence and skills I gained from the program. The program showed me how to teach from who I am, rather than whatever the curricula tells me I have to be. That reaches people. It is sincere and passionate and people listen.

Going to graduate school, for me, was never about getting a job. I think folks risk selling themselves and their one precious life short thinking that is all that graduate school is for. In my state, I can't teach in any public, charter or private school without a teaching certificate. A new charter school is opening next year, and I have been asked if I would enter an alternative credential program to be a teacher there.

But it just doesn't fit, and I know that through the reflective teaching practice I learned in Ecological Teaching and Learning. It's not the door I want to pass through even if it is opened for me. Deciding whether this program is right for you is as simple as deciding which doors you want opened, and whether the number of doors, rather than the door itself, is more important.

Thank you for reading to the bottom. Good luck in your decision and your future! I am glad another thoughtful teacher is joining the ranks in whatever capacity you choose.

Sincerely,

Susan Snyder '11
Ecological Teaching and Learning graduate