Gain skills in Cambridge, MA this summer.
Lesley University's Threshold Program offers a five and a half-week residential summer program. This program is perfect for Threshold students who want to keep up their skills during the summer, as well as current and recent high school graduates. In this program, you'll live in college dorms, take classes, gain skills, and explore Boston. And it all happens with close support and supervision in the world's best college town, Cambridge.
Discover if inclusive college is right for you.
Our summer program combines academic instruction with hands-on employment training and weekend events in Boston. Designed on the three pillars of our program, you'll spend the summer gaining employment training, acquiring independent living skills, and learning social skills development through the use of drama therapy using all assets of the human arts.
If you're in high school or if you've recently finished, our program is a great introduction to learning what life is like in an inclusive college experience. Commuter options may be available on a case-by-case basis.
The program runs from:
July 8 to August 15, 2020
Applications open in late February of 2020 and space is limited.
Program of Study
You'll spend 4 shifts each week at a community-based practicum (internship) as a primary component of the summer program.
Each afternoon after the internship, you'll take courses designed to support your career readiness, independent living skills, and self-determination.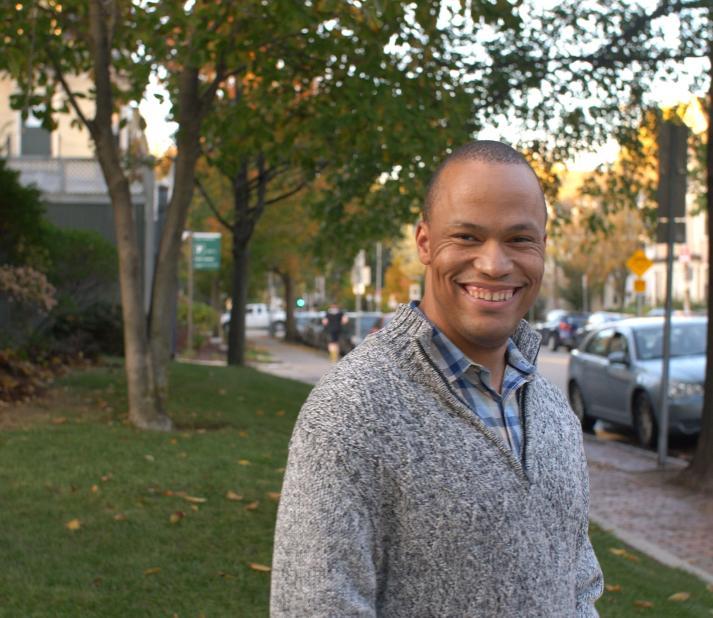 Dudley Williams III '10
A resident of Somerville, MA and a Marketing Coordinator at John Hancock, Dudley lives a full, independent life, which he credits to the support he gained at Lesley University.
Living on the Lesley campus and in the Boston area.
You'll stay in a college dormitory next to the Threshold offices. Lesley University Residence Life is modeled after the typical undergraduate residence life experience with live-in resident staff who are on-call on nights and weekends. A curfew will be set but we do not perform bed-checks.
We provide three meals a day on weekdays and two meals a day during the weekend. Additional meals or snacks will be at the student's expense. As a participant in the program, you'll explore the Greater Boston area with Lesley staff on Fridays and weekend. You'll also get to know our active alumni community (over 700 strong!) through joint activities with our Alumni Center.
Who can apply?
Summer program applicants are young adults ages 18-25 with a documented learning, intellectual, and/or developmental disability. Students must also be independent with self-care and taking medication as well as be able to live safely in a dormitory setting with a level of supervision consistent with college residence life.
This includes:
Students already accepted into Threshold's core program for fall
Students already enrolled in Threshold's First Year OR enrolled in the Second Year AND planning to do the Bridge Program as their next step. *Other Second Year, Bridge, and Transition students are not eligible.
High school students who are eligible for Free Appropriate Public Education (FAPE) until age 21 or 22
Young adults who have completed high school (with or without a diploma)
Students enrolled in another program without a summer program (college-based or not) who want to continue to build skills during the summer
During our summer residential program, you'll explore Cambridge, make friends, and learn how to travel on the Boston subway. Feeling confident traveling to and from home is one of the keys to living an independent life.
Request Information about Threshold
Learn more about our Threshold Program. Fill out our online form and we'll contact you soon.
85%
That's how many Threshold alumni are currently employed.
Application Requirements
The online application, other required forms, and pricing information will be available beginning in late February, 2020. The application and the following supporting materials must be submitted by April 1, 2020.
Create an online account before you start your application. This account allows you to stop your application and return to complete it later. Once you've begun your application, and until you submit it, you can work on it as many times as you want.
The application process is as follows:
Contact the Threshold Program
800.999.1959 ext. 8181
or 617.349.8181
Mailing address
29 Everett Street
Cambridge, MA 02138-2790