When Ya La'Ford created her first mural, she didn't know the meaning of the word and she wasn't too particular about either her materials or her canvas.
"I think my artistic journey began soon after (my mother) gave me crayons," says Ya. "These crayons were surely intended for coloring books. I needed a larger canvas. I favored these clean white surfaces."
Those "clean white surfaces" were her parent's walls and the beginning of her artistic journey.
Today, Ya's large-scale and much sought-after works are featured in cities from Florida to California.
Her pieces have broad appeal. The abstract geometric patterns command attention, not only for their size but also for the maze-like intricacies of their bold overlapping lines. Each installation has a distinct modernness to it, yet Ya says her art is informed by history, culture, and place.
A first-generation Jamaican who grew up in the Bronx, Ya says, "When you're born in the city, it's cemented in your soul." But everywhere she's traveled (Europe, northern Africa, and Asia) and lived (Washington, D.C., Virginia, Texas, and now Florida) have imprinted on her work as well.
"It all served as a nexus for the development of a personal narrative," she says. "When I started creating, I wanted to make sure that I was able to build this connection that was more macro."
Although she started creating art early, Ya pursued a law degree before getting her MFA in Visual Arts at the Art Institute of Boston (now the Lesley University College of Art and Design). Both degrees developed and shaped her artistic practice.
Law, she says, "gave me the backdrop to create stronger, more connected and deeper philosophical work." Guided by mentors such as Assistant Professor Ben Sloat and guest mentor Radcliffe Bailey in her MFA program, Ya layered her understanding of art within the landscape of time and place.
"I think the journey for me is to orchestrate a conversation between history and art," she says. "I believe art is a necessity for social and cultural and political engagement and revolves intricately throughout all aspects of life and related decisions."
As her studies began to form the philosophy of her work, color field artists of the 1950s and '60s, such as Mark Rothko, Helen Frankenthaler, Jules Olitski, and Alma Thomas, informed her visual identity with their abstract expressionist paintings in the form of large, colorful, flat shapes.
Ya, who works in sculpture and video in addition to paint, began to put all of these ideas and visuals into practice as a full-time artist.
During a residency early in her career, her plans were upended when her canvas and materials never showed up. For Ya, who prides herself on being organized, this felt like a disaster, but she rallied, and says she bridged a new understanding of space and the metaphysics therein, deciding to instead paint the actual blank wall.
"These moments were defining for me and gave me the confidence to explore the dynamics of painting these large-scale murals to transform these places and spaces," says Ya.
Since then, she has been commissioned to work on high-profile projects with brands including Nike, the Tampa Bay Rays, and the Toronto Blue Jays. She has collaborated with David Adayje, who was the lead designer of the Smithsonian National Museum of African American History and Culture, and has exhibited at the Tampa Museum of Fine Art and Orlando Museum of Fine Art with another exhibit at the Ringling Museum this summer. On a smaller, but no less important scale, Ya has been active at a grassroots level.
"My aim is to mobilize citizens and all of humanity to challenge the conventional thinking and understand the intrinsic value of exercising creative license with their community," she says.
Ya has worked with thousands of children on several mural projects and has organized the community around public mural installations. It's this work that most embodies Ya's art ethic and have made her perhaps the most well-known present-day artist in the Tampa Bay area where she lives.
It has also kept her busy.
Despite the pandemic, she has more work than she knows what to do with. The NFL commissioned Ya to create 75 individual works of art in celebration of the Super Bowl LV, which are now in progress. She is also working on a memorial for the Courageous 12—the 12 Black police officers who sued the St. Petersburg Police Department in the 1960s due to discriminatory practices that prohibited them from arresting white citizens and restricted them to patrolling predominantly Black neighborhoods.
"Being able to live in a space in which I can work where these heroes lived and acknowledge important contributions and contribute in historical landmark is a magical space," says Ya.
She imagines her work as planting seeds of truth and hope in her community while reflecting the spirit of what has come before—embodying both the future and the past. How that looks evolves with Ya's art practice.
"I think redefining my impact daily is what brings me relevance. I am constantly growing. I'm never complacent, I'm always reaching, pushing the boundaries. I'm always trying to do better and figuring out ways to give more of myself. I'm always trying to spread the good of humanity."
Find out more about our MFA in Visual Arts
Our flexible low-residency MFA in Visual Arts program is one of the oldest and most recognized in the country. We are a vibrant community of artists who work with students in a program that combines 80% independent studio work with intensive mentorship and academic advising. You'll pursue your creative work, in your own community, with support from artist-mentors in your area. And every January and June you'll join artists from across the country for 10 days on our Cambridge, MA campus.
Related Articles & Stories
Read more about our faculty, students, and alumni.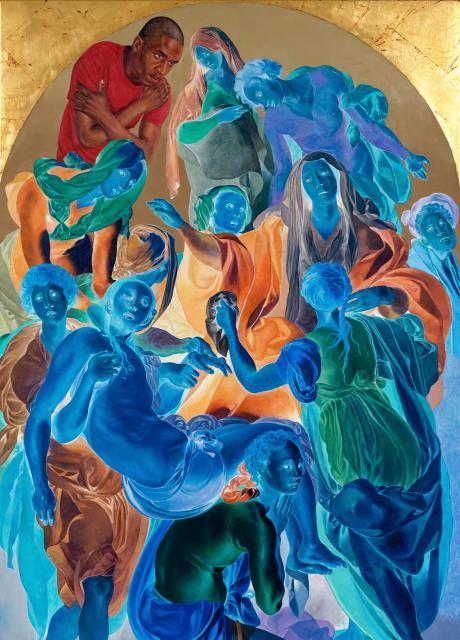 Work From MFA in Visual Arts Program