Rose McGee's sweet potato pie. Image courtesy of Rich Ryan
When there is a crisis, Rose McGee '04 does what she knows how to do best — she bakes sweet potato pies.
"Don't expect me to make a chocolate cake because that's just not what I do," says Rose, who received a master's degree in Integrated Teaching Through the Arts.
Rose is the founder of Sweet Potato Comfort Pies, a nonprofit that bakes the classic southern dessert while encouraging racial reconciliation and understanding while supporting communities in crisis.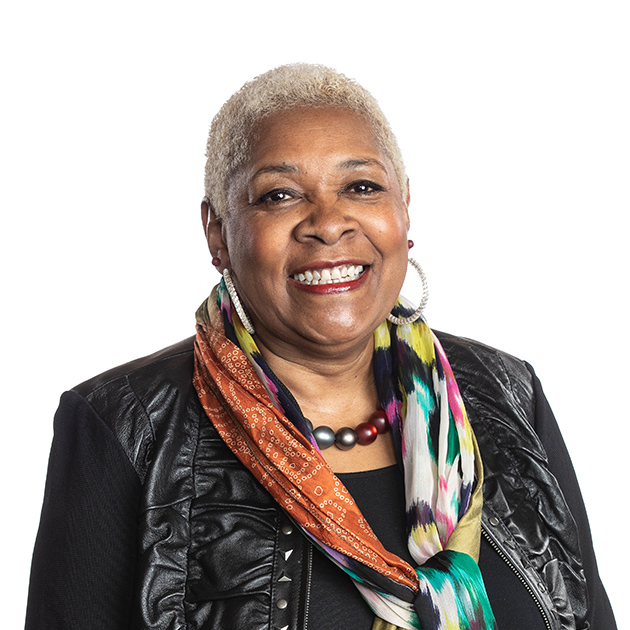 Giving people pies was what you did in Jackson, Tennessee where Rose grew up. Her grandmother and great grandmother baked sweet potato pies for families with a new baby or grieving from the death of a loved one. 
"Sweet potato pie is the sacred culture of black people," explains Rose.
When she moved away, Rose missed the pies and called home for the recipe. She eventually started her own sweet potato pie business, after perfecting her process with tweaks such as adding fresh lemon that she picked up from home bakers she met in her travels across the United States.
But Rose, a resident of Golden Valley, Minnesota, had moved on to work with the Minnesota Humanities Center, a nonprofit, when she felt called to return to the kitchen and bake pies for the people of Ferguson, Missouri, following the 2014 police shooting of Michael Brown and the ensuing riots.
"I felt the Lord spoke to me and said, 'Get up and go make some pies and take them down there.'"
Rose, a devoted Christian, did exactly that. She loaded her car with 30 pies and drove 500 miles to Ferguson.
"I took the pies and started asking people who lived there if they would like one. I saw that they just wanted to talk and be heard," she says.
With Minnesota Humanities Center, McGee facilitates communication and relationships at public schools through story circles, an inclusive setting where educators can resolve conflict, share experiences and learn from each other.
"When you meet and gather in circles, there's no head, there's no tail. Everyone is equal. When you do that things will get resolved in a more positive way. That's my theory," she says.
When Rose returned from Ferguson, she wanted to employ some of those techniques to talk about race in the Twin Cities area and to offer comfort during crises, always with a slice of pie, of course.
"I've always been interested in doing things a little more creatively," says Rose, which is what drew her to study Integrated Teaching Through the Arts.
When you meet and gather in circles, there's no head, there's no tail. Everyone is equal.
Rose McGee
'04, Integrated Teaching Through the Arts
She began hosting yearly Martin Luther King, Jr. Day pie baking summits, with volunteers baking dozens of pies, talking about issues in their city and bringing pies to their communities.
Since 2014, Rose and volunteers have made 3,000 pies and delivered them to people whose lives have been shattered by tragedy. Rose went to Charleston, South Carolina after nine black congregants were killed at Emanuel African Methodist Episcopal Church. She brought pies to Philando Castile's mother after a Minnesota police officer shot him seven times during a traffic stop. She baked pies with indigenous women in Nebraska and brought them to the Standing Rock protest. Sometimes, it's just Rose and a friend baking pies in her kitchen, like when she discovered that a young poet in her community died in an accident.
Most recently, Sweet Potato Comfort Pies partnered with a Jewish community in Golden Valley to bake and package 50 kosher sweet potato pies accompanied by student-written poems for the synagogues affected by the Tree of Life shooting in Philadelphia.
Rose served the pies to a standing-room-only crowd the next day. The grief was palpable, but many said the event brought them joy.
"I try not to get so bogged down with my own woes when I think about what others are going through," says Rose. "I try to get busy to find something else to do."
Every trip is emotionally difficult, but meaningful for Rose and made more so by her partnership with local communities.
"We don't just show up. We try to work with the community in a way that is respectful," she said. Often those bruised and battered communities donate to Sweet Potato Comfort Pies so the organization can continue its work.
And the idea is catching on. Rose has been asked to talk about her pie mission with groups across the upper Midwest, including the Bush Foundation (no relation to the presidential Bushes).
This year, Rose became a Bush Fellow and will begin a multi-faceted, two-year personal development project through the program with the goal of becoming a stronger leader. Rose will focus on fitness and nutrition — which she says is a particular struggle for black leaders — and tour historically black colleges and universities, tribal colleges and Ivy League universities to explore the divide between young people and elders, how students are addressing race and more.
Rose, who also has a children's book coming out in spring 2021, is committed to continuing Sweet Potato Comfort Pies. While the work is hard, she pauses to consider its value now, just as her grandmother and great grandmother did all those years ago. Then she turns on the oven and gets to work.
Related Articles & Stories
Read more about our faculty, alumni, and students.