Animator Josh Pinker '14 in avatar form.
As an aspiring animation major, Josh Pinker came to Lesley missing one notable skill.
"I didn't draw."
While many animators have fond memories of high school art class, filling notebooks with doodles and sketches, and copying favorite Pixar characters, Josh didn't have a strong interest in art. "I was more interested in sports than drawing." A pragmatist, he became interested in animation late in high school when he started thinking about college applications and his future career plans.
"I knew that I didn't want to wear a suit and tie. I didn't want to sit in a cubicle. I wanted to do something fun and I knew that I wanted my degree to be in the field that I was going to work in." His love for cartoons like Dexter and Cat Dog made animation seem like a natural choice. And despite starting at a disadvantage, Josh has not only found a successful career as an animator, he's written a book, Your Animated Journey, designed to help other aspiring animation artists develop the skills they need to thrive in the field.
Starting from scratch
His own journey wasn't always easy. Arriving at Lesley, Josh faced a steep learning curve. "I had no portfolio. I loved cartoons, but I didn't know that it took a whole studio to make one!" He learned not only how to draw but about all of the different roles and production elements behind the scenes. "I really learned the backstory of how a cartoon comes together."
He graduated from Lesley with a BFA in Animation & Motion Media in 2014 and went to work as an animator, building a broad range of experience and skills through a combination of freelance and in-house work with studios like Cartoon Network and Adult Swim. To date, he's worked in a variety of roles within the production pipeline that goes into creating a finished animation project. His business card is a colorful pastiche of animated characters from shows that he's worked on.
As his own career progressed, Josh was continually struck by the number of young people in the animation industry who had a hard time getting a foothold. "There are so many people in animation who are really talented but they don't have all of the skills they need to get ahead. When it came to networking, researching, branding themselves, they really struggled. There's so much anxiety about being a good enough artist, but there are so many other skills you need to succeed."
Skills for success
He conceived of a self-help guide for young people in the animation industry, leaving technical wizardry and artistic talent aside and focusing on all of the other skills that an artist needs to thrive—creating a résumé, building a portfolio, networking, and working as part of a team. He originally self-published Your Animated Journey as an eBook, then self-published it in print. "I've been in the industry for six years and worked for 15 different studios. I've gone through all the hurdles of networking and freelancing. Basically, I combined all of my knowledge and skills into this book."
Lesley Adjunct Professor of Animation and Motion Media Becky Bettencourt has invited Josh to speak to her students, appreciating the experience and perspective he offers. "Being friendly, kind, helpful, a good team player, professional, are all qualities that we try to emphasize in our students and Josh is a great example of what happens when you have those qualities. Not only is it great for students to see what our alumni are doing, but Josh has had an interesting journey in the industry and it's helpful to get a different perspective," Becky says.
Josh is living in Toronto, Canada—an animation industry hub—working as a senior level animator on a series called "Doomsday Brothers" for Adult Swim and a PSA series about binge drinking called Drunken Rewind. The bold decisions he made during his senior year of high school have resulted in a career that he loves and one he hopes to encourage others to follow.
"The animation industry isn't struggling at all right now. It's a dream job—it's tough at the beginning but you can have fun and make money. I'm just hoping to give back a little bit and help other people have the same success."
Related Articles & Stories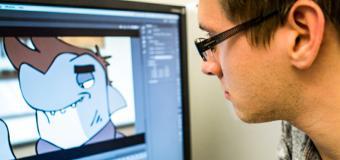 Where Our Students Have Internships