There's a gender imbalance in the music industry from backstage to frontstage, and Carly Eaton '16 is ready for it to change.
"Two percent of all music producers are women, 12 percent are songwriters, 24 percent are artists," she says. "Imagine if this gap didn't exist, the amount of music we would have."
The data inspired Eaton to found ShatterFest, a female-focused festival to celebrate women in all aspects of the music industry and raise awareness about inequalities. Eaton planned to welcome musicians, speakers and artists to a 400-seat auditorium for what would be the capstone project of her yearlong audio arts master's program at Syracuse University.
COVID-19 upended those plans, but rather than canceling ShatterFest, she transformed it into a five-night Instagram event.
Too cool for music
Eaton has been a musician and music enthusiast since her early years, but it took time to figure out her niche in the music world. As a kid, she was part of her school's chorus and band, but thinking herself "too cool" for that as she entered high school, Eaton opted to play sports instead of music.
"As I got older, I realized that is the dumbest thing ever. This is what I like to do. This is what I want to be around for the rest of my life."
While searching for colleges, Eaton came across a brochure for Lesley and decided to visit campus.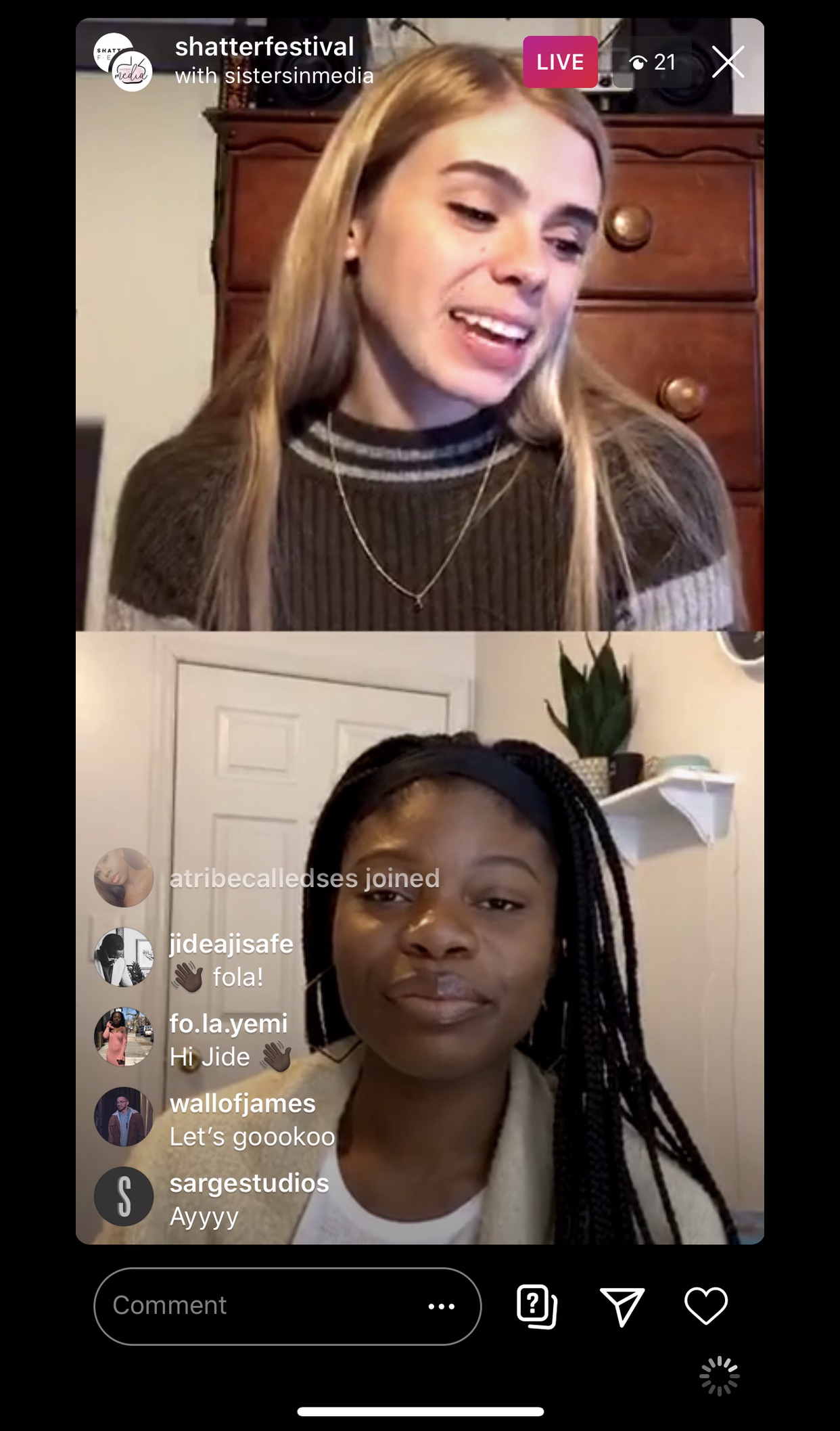 "The atmosphere I got from there – a small school in a big city — was exactly what I was looking for," she says. "The small classes and the beautiful buildings in Harvard Square, it all came together for me."
Eaton switched to business with a minor in psychology after she realized music therapy wasn't the right path for her. She was still active in music as a founding member of Ladies First, an a cappella group on campus, but still wasn't sure what her role in music would be long term.
"I didn't really think about doing music as a career," she says. "I just kind of liked it and thought it was a cool hobby and really enjoyed finding new music."
Carly Eaton's EP of original music was recorded during her master's program.
Still, she kept playing and recording music at home and searching for new musicians online. After graduation, while also working as an assistant at a private equity firm, Eaton began working part time with Sofar Sounds, a company that hosts small concerts in secret locations. Getting a look behind the scenes inspired her to go back to school to learn the business side of the music industry. Syracuse University happened to have one of the best programs for audio arts in the country and was a mere 10 minutes from her childhood home.
The yearlong program combines music business and audio engineering and has allowed Eaton to record original music and to develop her own business idea with ShatterFest.
"I always knew whatever I did in music I wanted to make sure I was also helping the community and giving back and trying to make it better," says Eaton.
Say goodbye to the glass ceiling
In her experience in the music industry, Eaton noticed that men were often treated with more respect than women, who frequently waited to speak and spoke with less authority than their male counterparts. Eaton couldn't let it go, and ShatterFest, with the tagline "Why break glass ceilings when we could shatter them?" was her response.
Moving the festival to Instagram allowed her to draw from a larger pool of musicians for what would be nightly livestreamed concerts. She began direct-messaging musicians on social media, from independent artists to Taylor Swift. T-Swift didn't respond, but artists from Nashville, Boston, New York, Syracuse and Toronto — many of them Sofar alumni — did.
Ola Idowu, a Twitter employee and founder of Sisters' Media, which promotes women of color in entertainment, and Sarah Gil, an A&R (artists and repertoire) manager at Sony music, also spoke about being and promoting women in a predominantly male industry.
All of the women volunteered, and the audience could make donations via GoFundMe that were given to the nonprofits Women In Music, Art Table and Artist Relief Fund.
The event had around 100 unique viewers each night, with fans and those unfamiliar with the musicians tuning in. Several male friends texted Eaton in awe of the lineup, which included Brigetta, Kathleen Regan, Sarah Gross, Nellie and Kaovanny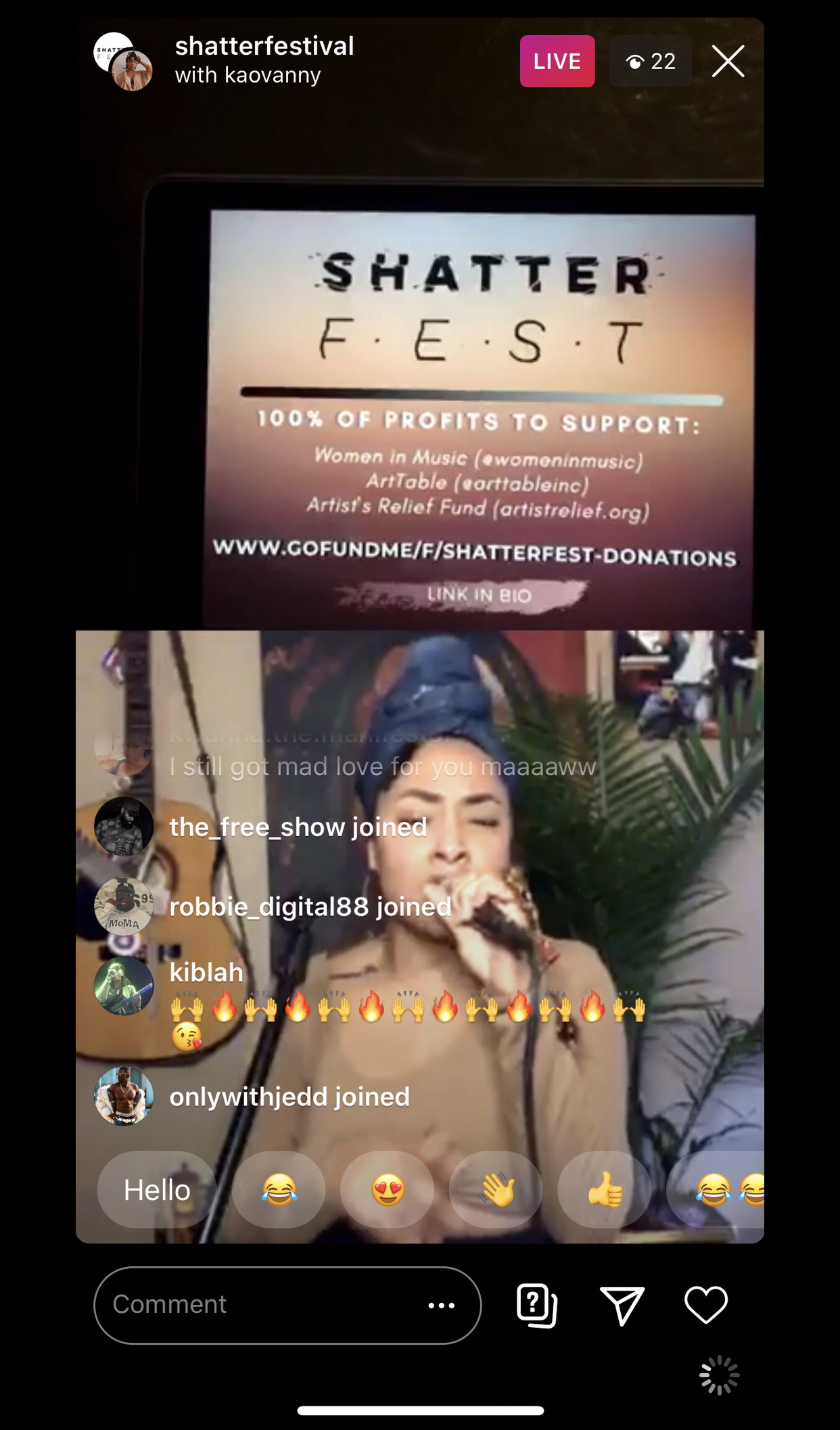 "All these women are so cool!" wrote one friend.
"This," she says," is the reason why we have done this."
Eaton wants to continue ShatterFest with bimonthly Instagram events even as she looks to enter the music industry herself. This summer she has a virtual internship with the New York-based advertising agency Jingle Punks, an "audio creative agency." After that, she wants to move to New York to work full time in the music world.
So, if a few months from now you suddenly hear a loud crash, don't worry, it's just Eaton taking a sledgehammer to that glass ceiling.