Hans D. Strauch, vice chair of the board of trustees, has a deep-seated interest in the importance of education and literacy in inner cities that is rooted in his fascinating family history.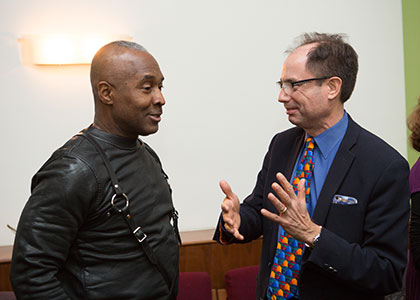 Hans Strauch (right) and performance artist Nick Cave speak at Cave's
lecture as part of the Strauch-Mosse Visiting Artist series. Cave is
a former Alvin Ailey dancer best known for his "Soundsuits."
His passion found a grateful partner in Lesley University, where Strauch has made an impact through his service and philanthropy for well over a decade.
"I see such quality in the delivery of education by amazing instructors and professors at Lesley University. What is being offered is so important," reflects Strauch, who joined the board in 2004. "It's really about what's happening here, and how it's transforming students in such a positive way."
A Cambridge-based architect, Strauch hails from a long line of German architects and artists. He is president of HDS Architecture, Inc., and he is vice chair of the 24-member all-volunteer board of Lesley trustees.
"I've always felt that Lesley University is a bit like a hidden jewel. We are a unique institution that can help people, through education, the arts, mental health counseling and social justice programs. We have so much here, and the more we focus while we grow, the greater the impact will be."
Honoring a history of education and service
Strauch is a descendent of Rudolf Mosse, creator of a major publishing and advertising enterprise in Germany whose flagship newspaper, Berliner Tageblatt, was an outspoken critic of Adolf Hitler and the National Socialists, for which the Mosse family became a symbol of the hated "Jewish press."
Mosse's family members were forced from Germany in 1933 and the Nazi government confiscated their property, including the Rudolf Mosse Company and the Berliner Tageblatt, as well as the family's prized art collection. 
Hans Strauch's aunt, Dr. Hilde L. Mosse, a child psychiatrist, settled in New York after fleeing Germany and dedicated the rest of her life to helping young children in the inner city overcome obstacles to literacy and mental health, working primarily with minorities who lived in difficult conditions. Dr. Mosse created the Mosse Foundation with a modest amount of funds prior to her death in 1982.
"The Mosse Foundation grew in its value as a result of successful restitution claims after the Berlin Wall came down in 1989," Strauch recalls. "It became clear we had an opportunity to make an impact." Strauch, along with his brother, Roger, is co-president of the foundation.
Strauch was originally introduced to Lesley by Trustee Emerita Patricia R. Squire, and became a friend and donor to the university before joining the board in 2004. 
"I was drawn to Lesley as a place where my family foundation could help improve education, which continues to be one of the greatest challenges that our country and many countries are facing," says Strauch. "Lesley provides access to information, but also teaches students how to think deeply about the information they are provided."
Strauch-Mosse Visiting Artists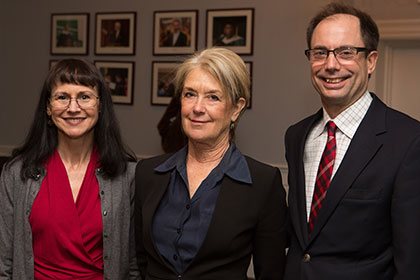 Hans Strauch (right) and his wife Darisse Paquette (left) gather with
Strauch-Mosse Visiting Artist Suzanne Lacy during her visit to campus.
Lacy is an artist and activist whose provocative work has been an
instrument for social justice for over 40 years.
In 2009, Strauch led the establishment of the Strauch-Mosse Endowed Fund for Visiting Artists through a $1 million gift. 
The series has welcomed a wide array of influential artists and social commentators to Lesley, including famed choreographer Twyla Tharp, human rights photographer Sebastiao Salgado, "Arthur" creator Marc Brown, jazz musician Hugh Masekela, Nobel prize winning poet and playwright Derek Wolcott, and many others.
Strauch says the depth and variety of artists has been critical to the series' impact.
"These are not simply fine artists exploring shade and shadow," he says. "These are people who are trying to make an impact on society in some fashion. They are interpreting, giving ideas for interpretation, and offering new ideas as well as commentary, which is all so important."
Adds Strauch, "That's what distinguishes this series, and it may very well distinguish the Lesley University College of Art and Design from other art schools because of its commitment to social justice."
Scholarships for MFA students
The Strauch-Mosse awards were launched in 2015. Each year, up to five Master of Fine Arts students are named as Strauch-Mosse Scholars, earning awards of $10,000 or more for each of their two years of study. The awards are merit-based and determined by portfolio review. Four inaugural Strauch-Mosse Scholars were named in the 2015-16 academic year.
"Young people who cannot afford to go to school lose out in so many ways, and not only do they lose out, but the whole society loses out," says Strauch.
The Strauch-Mosse scholarships complement the variety of actions the university is taking to address college affordability, ranging from cost transparency to various programs for assistance and scholarships.
"Hans Strauch and The Mosse Foundation are long-time friends to Lesley University and the College of Art and Design," says Richard Zauft, dean of the College of Art and Design. "By bringing exciting artists to the community for students and citizens to learn from, Hans Strauch has helped us in our multi-faceted mission to serve students, the community and society. The scholarships now provide an additional dimension to our commitment to educate smart artists and designers who will contribute their ideas to society." 
Creating the Lunder Arts Center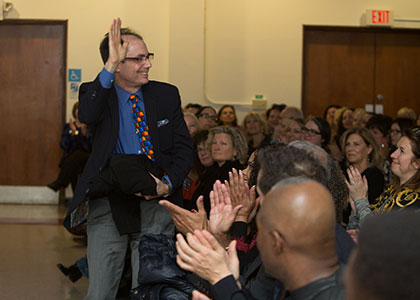 A packed audience in Washburn Auditorium applauds Hans Strauch
(standing) during a Strauch-Mosse Visiting Artist lecture.
During his years of service, Strauch has witnessed how fundamental the arts are to a Lesley education, not only in the fine arts programming, but in education, mental health and social science curriculums.
He says it was exciting to help create a nexus for the arts through the Lunder Arts Center, which opened in 2015 in Porter Square as the new home of Lesley University's College of Art and Design.
Strauch was a driving force behind the project, and his architectural expertise and philanthropy helped make it a reality. Through The Mosse Foundation, he made a lead gift to the Arts Center construction. The Strauch-Mosse Studios, dedicated in honor of his contributions, provide individual spaces for students to work on their projects outside of class.
"This helps them consider, reevaluate, and develop their physical work – which is an essential part of the creative process," notes Zauft.
Strauch says he has witnessed Lesley blossom and evolve as a leader in the arts while deepening dynamic programming, talented faculty and a motivated student body.
"A beautiful building was created, but its purpose is to support the programs, the students and faculty ," says Strauch, whose architecture projects include the Mosse Palais in Berlin, Germany, which was the first building constructed in the demilitarized zone after the fall of the Berlin Wall.
"The Lunder Arts Center is a home for the dynamics of what happens in it, and it was an important way to demonstrate Lesley University's commitment to the arts," says Strauch.
Strauch's visionary guidance and generosity have made an immeasurable impact on the university, our students and the surrounding community.
"Hans once told me that running his own firm enables him to tackle projects of all sizes, types and purposes," says Janis Martinson, vice president of institutional advancement. "His breadth of vision, and his architect's understanding of the necessity and interdependence of various pieces, makes Hans an ideal partner for Lesley. He wants to support teachers and artists, individuals and the spaces that facilitate their work. We are very fortunate to have him as a Lesley advocate."