Even when things seem dire, you can effect change if you believe in yourself and view adversity not as a barrier, but as an opportunity.
"I wish you a life rich in adversity," said adventurer Erik Weihenmayer, the first blind person to have summited Mount Everest, speaking at Lesley University's morning Commencement ceremony for our Graduate School of Education and Graduate School of Arts and Social Sciences.
Nearly 1,000 people received doctorates or master's degrees at this year's morning ceremony.
Weihenmayer, who earned an M.Ed. from Lesley in 1993, discussed how setbacks – losing one's eyesight, losing one's legs – can be opportunities for innovation. He also spoke about how seeming destruction can lead to healing. Discussing his exploration of a volcano, he said that "volcanoes annihilate, but they leave the earth with a second skin."
Though Weihenmayer's climb was a literal climb, he said other summits include ascending to the top of social problems such as violent ideologies, poor health care and other ills. But the people who find solutions to those problems will be the ones who don't curl up and settle into despair.
"Sometimes we end up in a dark place. We're stagnating. We're camping," Weihenmayer said. "If I could see, I'm sure I'd be looking at some climbers out there."
Throughout her remarks to the graduates, and de facto introduction of Weihenmayer, Lesley President Janet L. Steinmayer used climbing metaphor.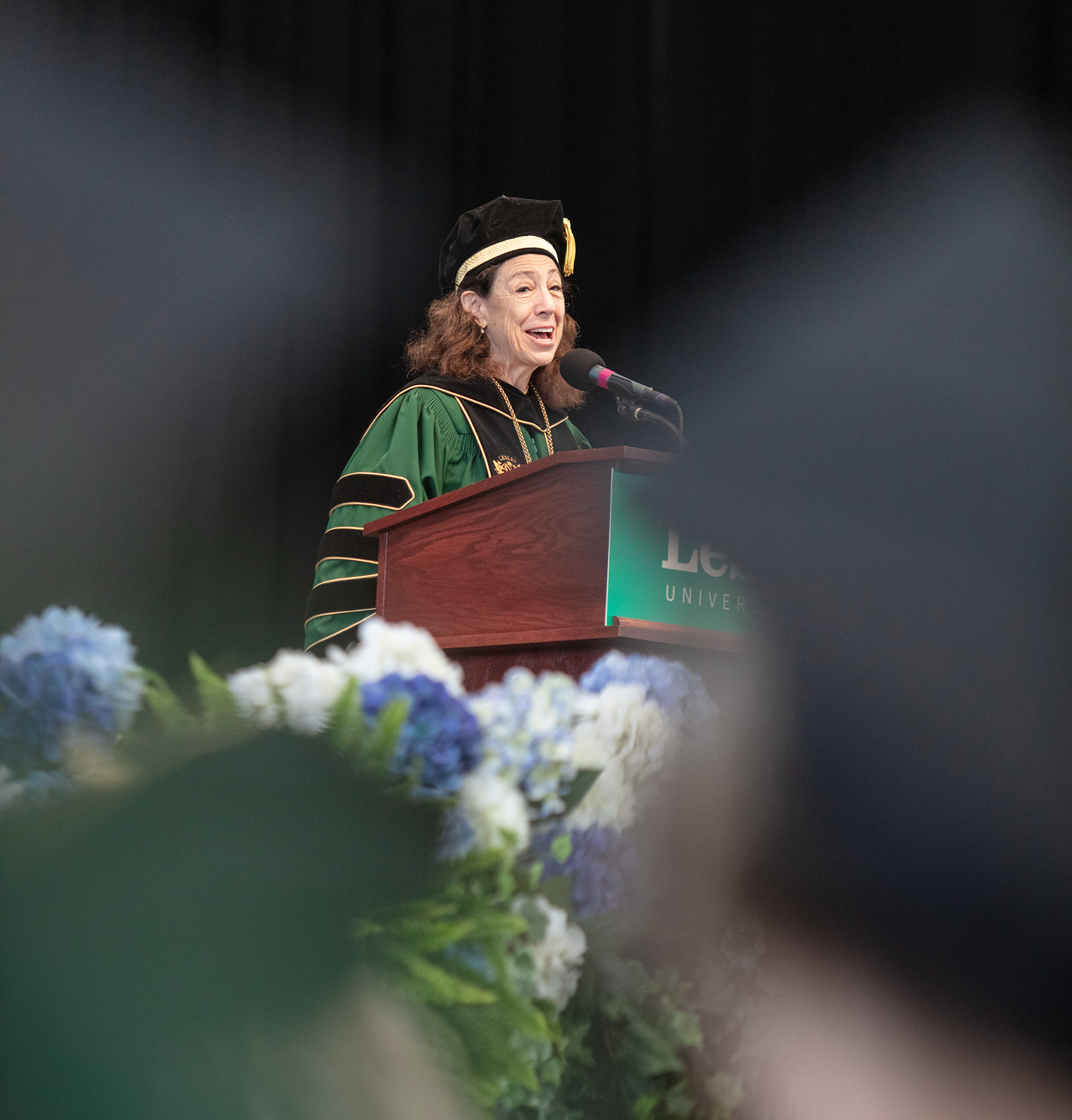 "We do know that the essential work you will do for your community is likely to feel at times like an upward path, with nothing but dusty rocks ahead," President Steinmayer said. "There is much more, of course, to the experience, and sometimes you need someone who has summited before to tell you that."
Steinmayer then offered some examples of overcoming obstacles.
"Not all mountains are literal," she said. "That was case for a Massachusetts woman almost 140 years ago. With poor vision and few prospects for marriage, her family sent her to an almshouse; she finagled her way into getting an education. Eventually, she agreed to try and teach a little girl who could not see, hear, or speak.
"Anne Sullivan was called the Miracle Worker by Mark Twain for teaching Helen Keller to communicate with the world."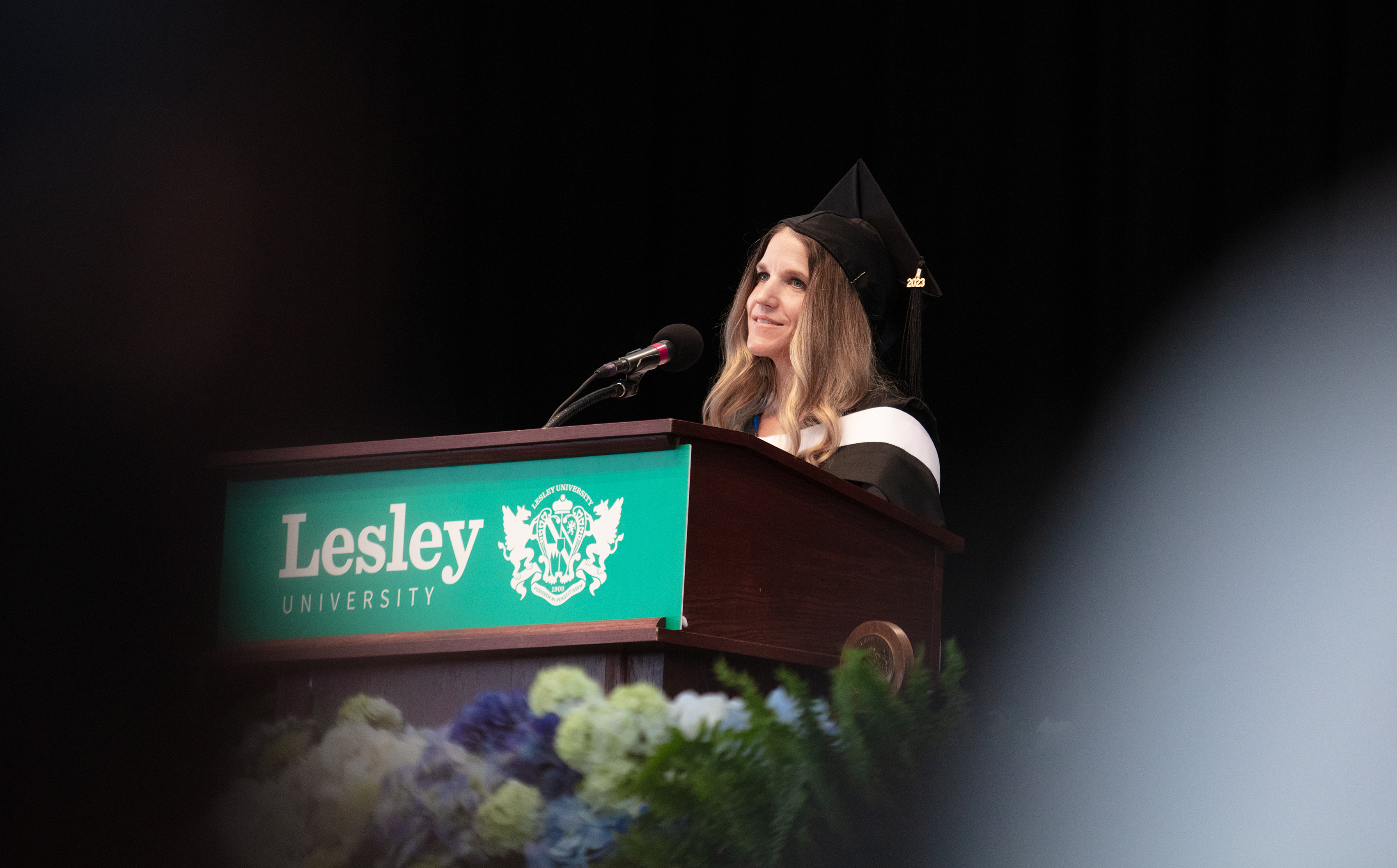 The student speakers highlighted the need to face immense challenges with confidence and authenticity.
Though GSASS student speaker Emily Haranas used to pride herself on never crying, things are different today.
"I cry every day," she said. "The state of the world is…what it is, right? War, hunger, poverty, the devastating impacts of climate change, gun violence, police violence, mass incarceration, the opioid crisis, the banning of books, the banning of women's bodily autonomy, children — CHILDREN! — dying in school."
However, she finds a reason for hope.
"Knowing that there are people like you out in the world. The educators, the people who believe in music and dance and art as pathways to healing, those of you who view returning to the breath as a form of medicine," Haranas said. "Your existence gives me hope. It balances out all the sorrow."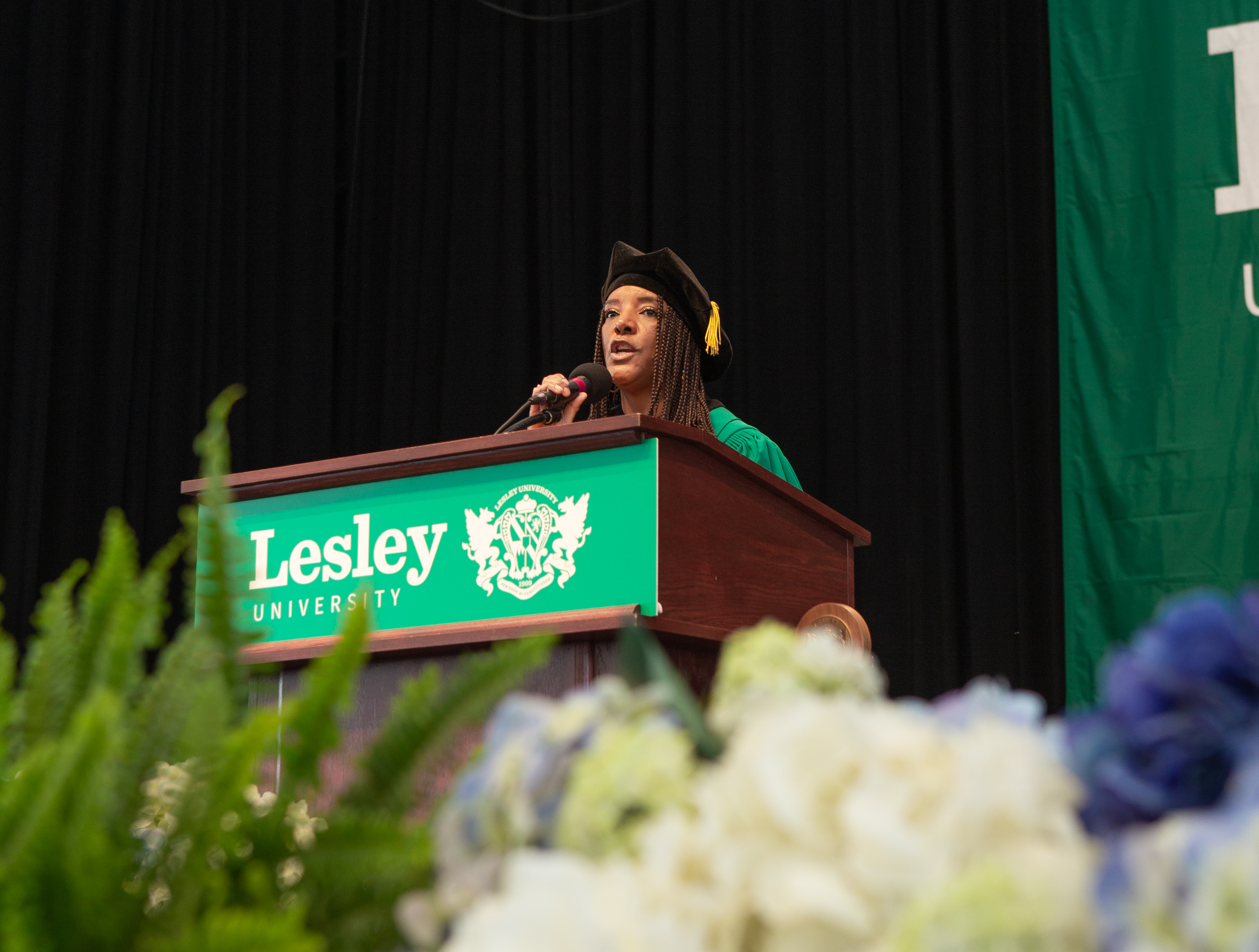 GSOE student speaker Anna-Maria Jones, a former broadcast journalist and a person with dyslexia and ADHD, also initially painted a dire picture.
"For the past three years of our Lesley University academic journey, we were confronted with unbelievable adversities, turmoil, and chaos," Jones said. "Let's talk about it … we just lived through one of the most tumultuous times in our history," from Covid to the Jan. 6, 2022 riots at the U.S. Capitol.
Nevertheless, people – especially Lesley people – are resilient.
"At home, we adapted to the isolation. We found new ways of studying, living, working, caring for our loved ones and for ourselves," Jones said. "We gained new ways of learning, knowing, understanding, and meeting on Zoom. We survived."