Our Threshold Program for neurodiverse learners has long espoused something that employers are beginning to understand: Neurodiverse people bring value to the workplace.
That message was repeated many times on Nov. 2 by Carolyn Jeppsen, the first speaker in the 2023-24 season of the Thought Leadership Series at Lesley University. Jeppsen is co-founder, CEO, and President of BroadFutures, a Washington, D.C.-based nonprofit committed to empowering young neurodivergent people through a training, mentoring, and internship program.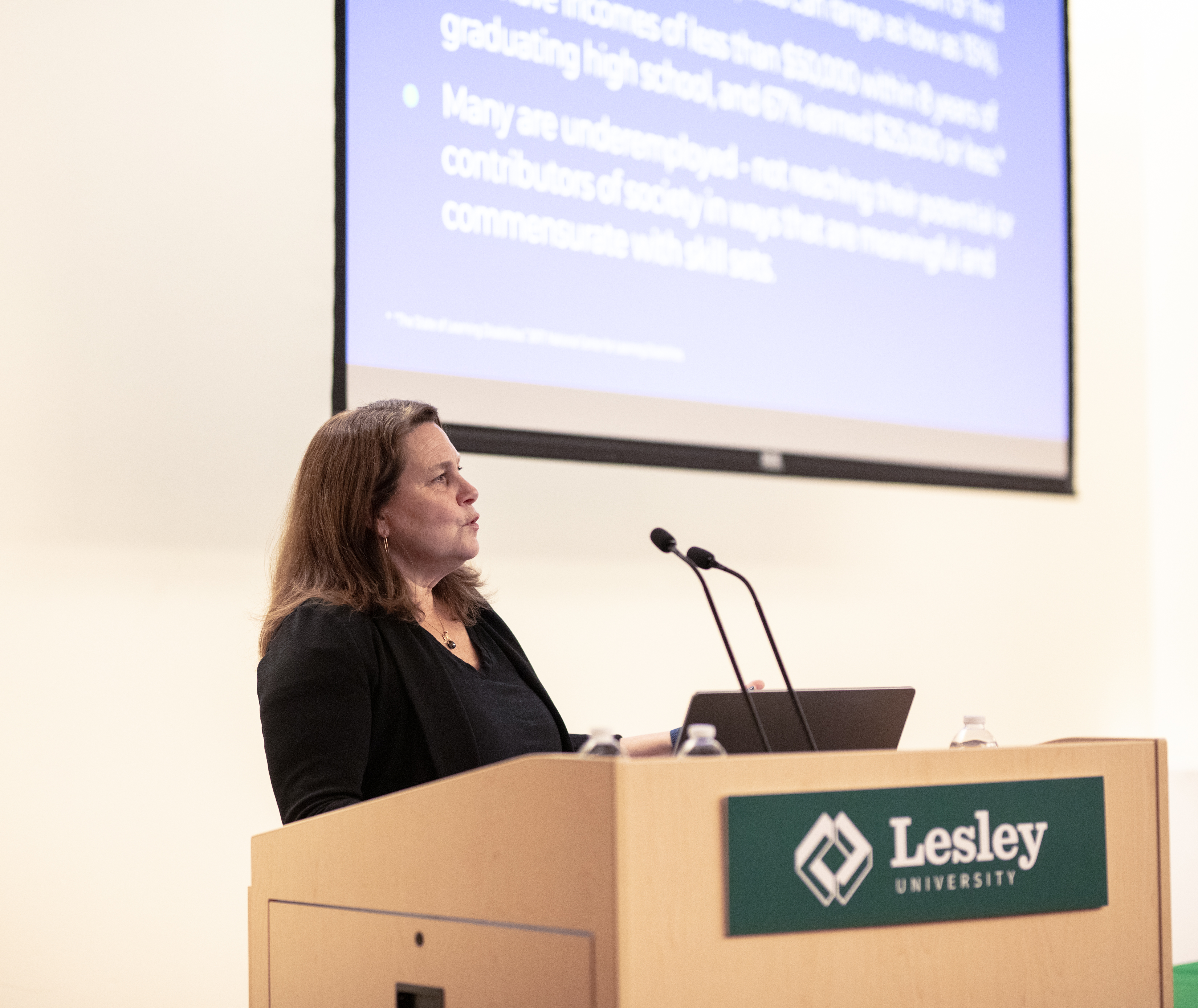 "I'm an impatient advocate," Jeppsen explained as she recounted her own history as a child of academics, including a learning disabilities specialist, who was "raised to think outside the box." She also discussed her connection to Threshold, her daughter, Mia, a student in the program who, Jeppsen said, "is thriving here at Lesley."
But neurodiverse, or neurodivergent, young people are seldom so well-supported when they leave secondary school.
"It seemed that young people are fairly well supported while they're in high school," Jeppsen said, "then they graduate high school and their disabilities don't go away," but the support does.
For this reason, Jeppsen gave up a career as a litigator so she could focus on neurodiversity advocacy full-time for the past decade.
"We're not living to the norm," Jeppsen said. "We're not trying to make sure everyone is average. We're trying to embrace our differences and, in so doing, we can have a more inclusive society, and of course we have better outcomes for everyone."
Jeppsen indicated that at least 20 percent of the population is neurodivergent, including people on the autism spectrum, people attention deficit hyperactivity disorder, people with learning disabilities, etc.
"If you've met one neurodivergent person, you've met one neurodivergent person." Jeppsen quipped about people's tendency to try to lump neurodivergent people into one category. "It's a huge spectrum."
Yet neurodivergent people, when supported, recognized and respected, are integral to organizations of all types.
"It's a competitive advantage to have an inclusive team that includes neurodivergent talent," Jeppsen said, highlighting their ability to think creatively and approach problems in new ways.
"It benefits everyone."