Above: "Fast Enough" is based on the story of Bessie Stringfield, the first African-American woman to travel solo across the United States on a motorcycle.
(For the podcast transcript, visit our episode page.)
Joel Christian Gill has been a storyteller his entire life.
Growing up in the projects in a small city in western Virginia, his stories were often tall tales.
During a recent presentation in Sherrill Hall's third floor amphitheater, Gill started off with a picture slide of his hometown, gesturing to different landmarks, including the statue of Confederate General Jubal Early, which was the site of a Ku Klux Klan march during his childhood in 1983. He recalled living against the backdrop of the crack cocaine boom of the 1980s and losing his father, who drowned when Gill was only 5. He grappled with emotional and sexual abuse. He pointed out the places of significance in his early life, such as "the strip mall where I shoplifted a lot of toys."
"All these things I did growing up poor in the South," he said.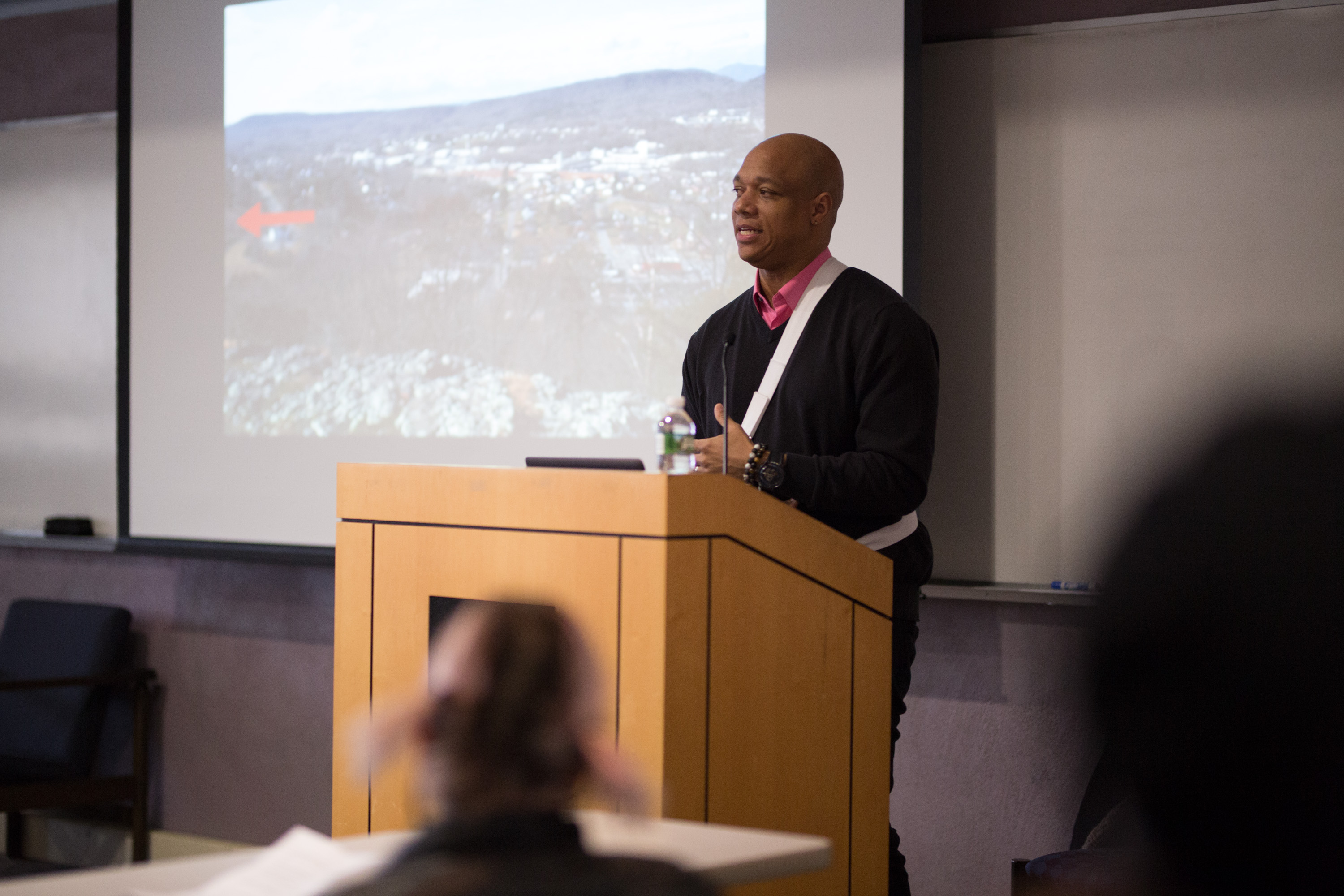 Gill, who presented Lesley's annual Finnegan Lecture on April 10, provided rapid-fire reflections on his childhood and the serendipity and hard work that propelled his journey from storyteller and high school dropout to successful cartoonist.
He recalled how, as a poor child, he longed to own all the popular toys and coveted items. When asked if he had these things, he would fib "Yes, it's at my grandma's house."
"That was my first foray into telling stories," Gill said. "That was me telling the story of who I wanted them to see, as opposed to who I actually was. … Kids who are poor are disaffected millionaires."
He discovered comics on the spinner rack at the store and instantly fell in love. Art became an outlet. By age 10, he had created his own comic book about a dystopian world where the planet had blown up because of global warming. He also channeled his creative talents into making money carving designs in people's hair.
"Instead of selling crack, I was cutting hair," he recalled. "I would carve Bart Simpson into people's hair. All the drug dealers would come to my house for haircuts."
He didn't finish high school, married young, and got a job at plastic molding company.
But at 20, he enrolled in community college, where he pursued painting. Then he earned a scholarship to Roanoke College where he excelled as a student, creating powerful series of paintings about lynchings. He won awards and eked out the life of a struggling artist.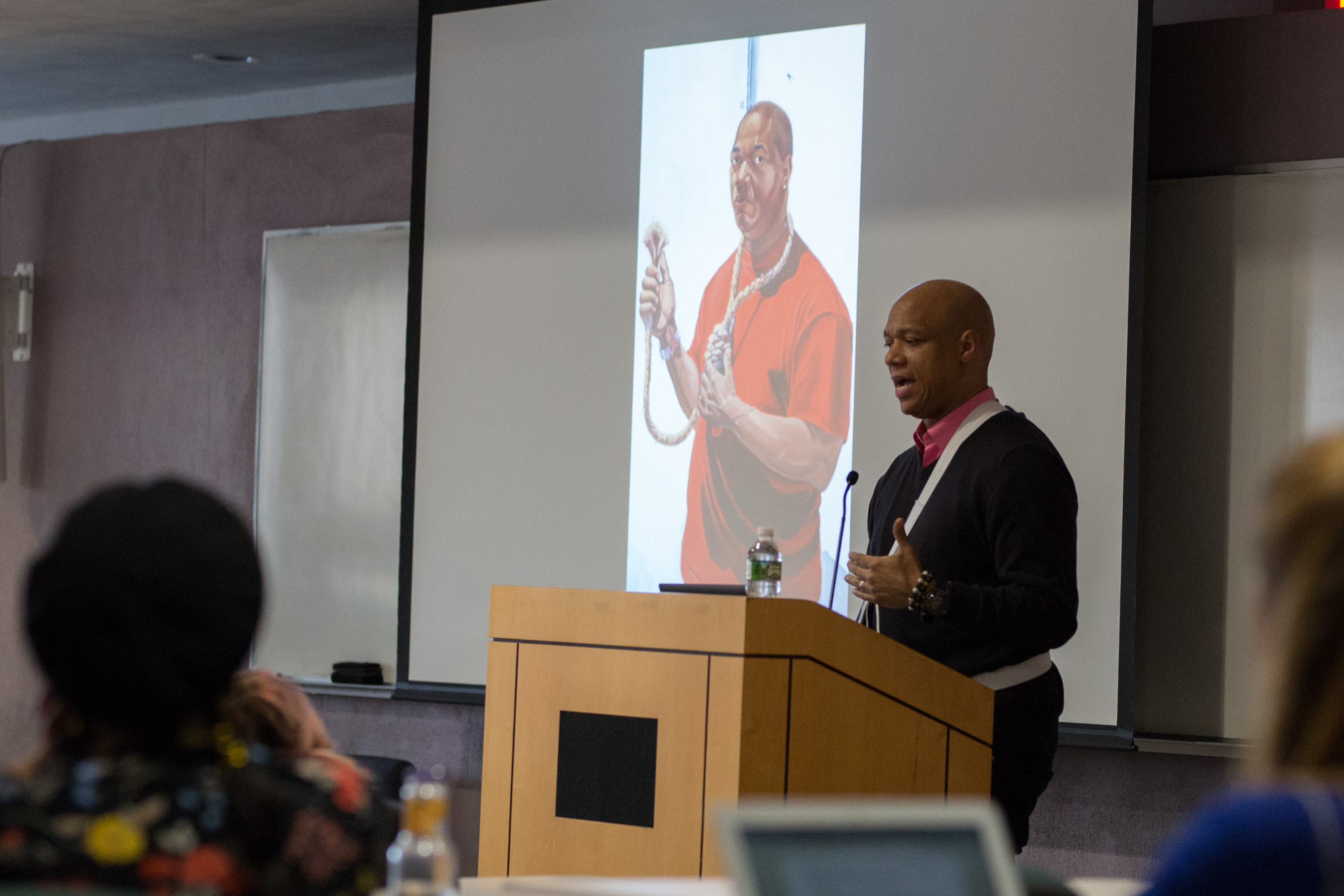 Then he got a full scholarship to earn his master of fine arts at Boston University, and he moved his wife and four children to the city.
"Moving from southwestern Virginia to Boston was a culture shock in many ways," he recalled. "I was surprised to learn that, above the Mason Dixon Line, there is also racism. I really spent a lot of time being insular."
Eventually, feeling like he was trying but failing to tell stories through his paintings, he turned his eye back toward comics to incorporate language into his artwork.
He joked about earning a "library degree," his way of describing "a library card and a will." He spent many hours at the library, poring over old texts and periodicals to discover forgotten figures in black history, which was the genesis of his "Strange Fruit" series, for which he's gained wide recognition.
"This amazing thing happened: People started telling me more stories," he recalled. "I'd do one story, and someone would come back and say, 'Have you ever heard of Harry Lew, the first black basketball player to play in Massachusetts?'"
He hustled to sell his comics and went to every comic convention he could, all the while celebrating black people's stories.
"It may sound arrogant, but I really believe I am a cartoonist who is trying to change the world," Gill told the audience. "When you meet a person for the first time, the first thing you do is share who you are, and that creates empathy within the person. … If we all share our stories, we will make a better world."
His fan base grew. Then through persistence and serendipity, he persuaded famed historian and television personality Henry Louis Gates, Jr. to write the forward to his "Strange Fruit" collection.
"I did everything I possibly could to contact him" to no avail, Gill said. "Then I posted on Facebook, 'Does anybody know him?' and then I realized I went to high school with his niece, so I sent the same email through the address I was able to get from her."
With each project and connection, Gill has unlocked more opportunities, such as his first animated design, which he did for NPR StoryCorps.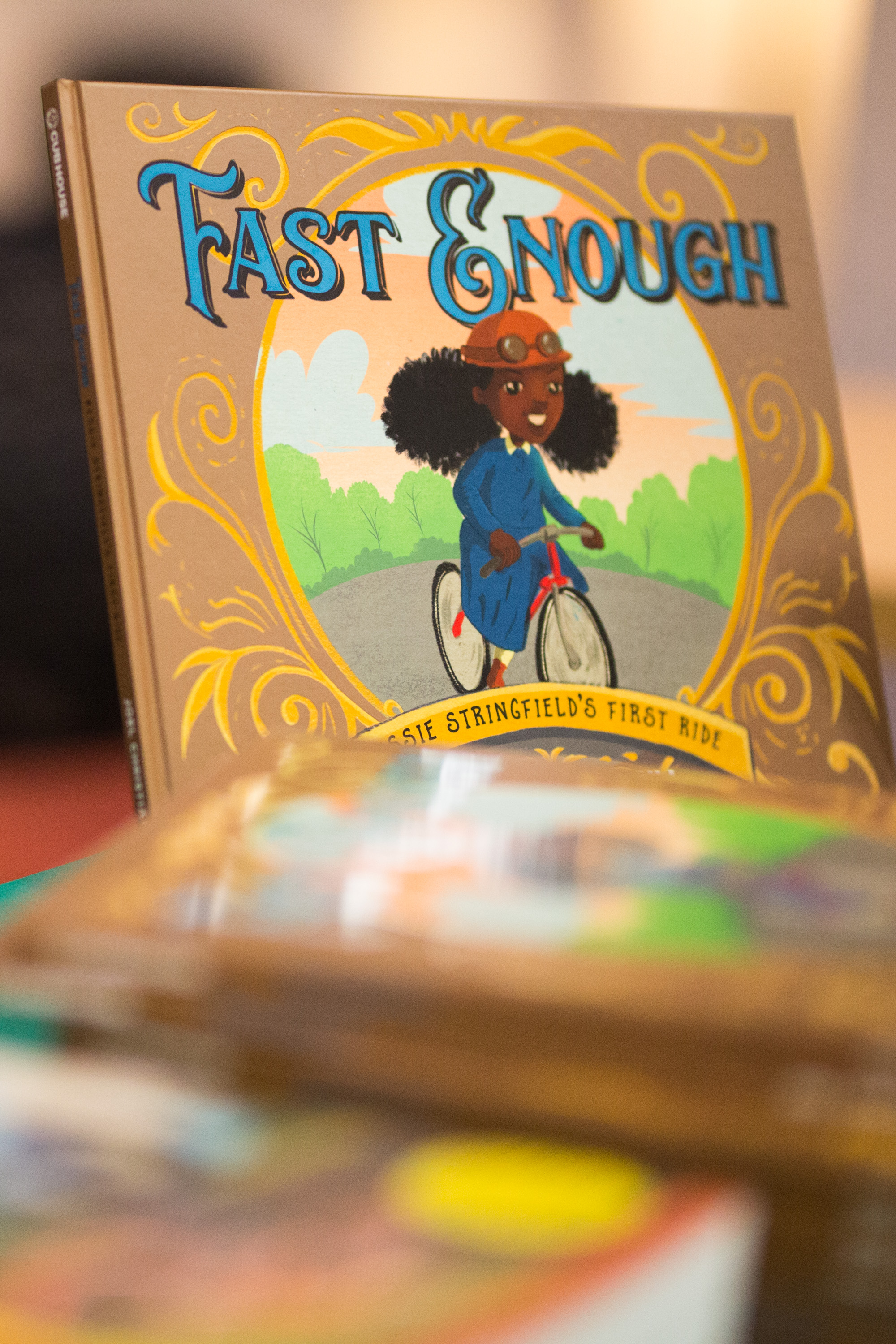 In addition to the two volumes of his award-winning graphic novel series, "Strange Fruit: Uncelebrated Narratives from Black History," Gill published his first children's picture book this year, titled "Fast Enough," which is based on the story of Bessie Stringfield, the first African-American woman to travel solo across the United States on a motorcycle.
"I wanted to show a black girl with natural hair on the cover, because there's not much representation of them in the media," said Gill, who is chair of the Comic Arts program at the New Hampshire Institute of Art.
Lesley illustration professor Louisa Bertman, who was mentored by Gill during her post-graduate teaching fellowship, introduced him at the Finnegan Lecture. She praised him for his advocacy as the founder of #28DaysAreNotEnough, a campaign to incorporate black history throughout the year, rather than relegating it to one month. Bertman hailed Gill for his commitment to teaching and his dedication to "telling stories that rebuild empathy and humanity."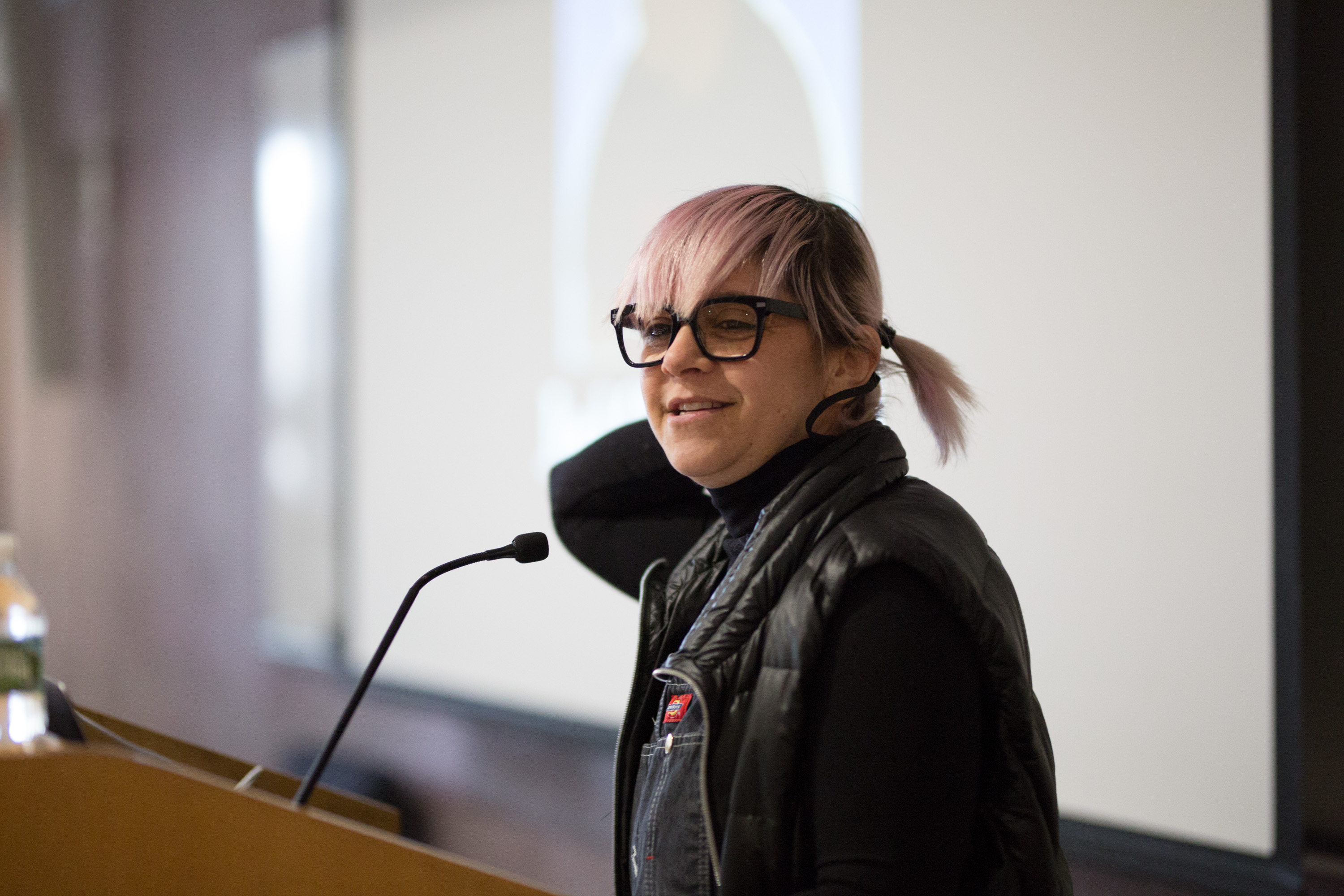 Gill believes that honest art changes the world.
"When (archeologists) dig up a society, we don't have their lawyers and accountants – we have their art," said Gill. "I challenge people to go a week without anything creative. Art is the true value in society."
Lesley's Evelyn M. Finnegan Children's Literature Lecture Series is supported by the philanthropy of Lesley alumna Evelyn M. Finnegan '48, for whom the Evelyn M. Finnegan Children's Literature Collection in Sherrill Library is also named.