Jason Reynolds has won the prestigious Kirkus Prize for young readers' literature for "As Brave as You," his tale about 11-year-old Genie who visits his grandparents in Virginia and learns about his African-American grandfather's childhood during the Jim Crow era.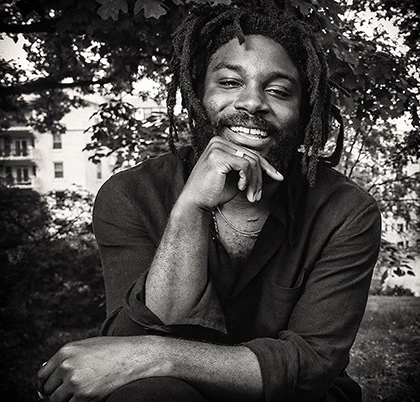 Jason Reynolds teaches in the MFA in Creative Writing program.
Photo by Jati Lindsay
The Kirkus Prize comes with $50,000, and winners were selected from a pool of more than 1,100 books, according to NPR.
This is the latest accolade for Reynolds, who teaches in the MFA in Creative Writing program and is also a finalist for the 2016 National Book Award for young people's literature for his book, "Ghost," about a young man who wants to be the fastest sprinter on his elite middle school track team, but whose past is slowing him down. 
"The National Book Award is on par with the Pulitzer Prize as one of the two most prestigious literary awards in the United States," notes Stephen Haven, director of the MFA in Creative Writing program. Read a recent interview with Reynolds about "Ghost" in Entertainment Weekly.
Reynolds has also garnered praise for his young adult novel, "All American Boys," co-authored with Brendan Kiely, which looks at an instance of police brutality from the perspectives of two high school classmates, one black and one white. The novel was a 2016 Coretta Scott King Author Honor Book, and recipient of the Walter Dean Myers Award for Outstanding Children's Literature.
He will take part in a National Book Award Finalists Reading on Nov. 15, the evening before the awards are announced on Nov. 16, according to Haven. The award winners each receive a $10,000 cash prize. (Finalists who are not selected as winners receive a $1,000 prize.)
Reynolds writes on his website, "I practice every day and do the best I can to be better at this writing thing, while hopefully bringing some cool stories to the world." 
He hopes to inspire young people to read, particularly young men.
"Here's what I know: I know there are a lot — A LOT — of young people who hate reading," he writes on his website. "I know that many of these book haters are boys. I know that many of these book-hating boys don't actually hate books, they hate boredom. If you are reading this, and you happen to be one of these boys, first of all, you're reading this so my master plan is already working (muahahahahahaha) and second of all, know that I feel you. I REALLY do. Because even though I'm a writer, I hate reading boring books, too. 
"Here's what I plan to do: NOT WRITE BORING BOOKS. That's it, and that's all."
Reynolds is scheduled to give a reading on campus on Friday, Jan. 6, 2017, at 5 p.m. in Marran Theater.