John Adriance proposes to Daniela German-George at the Museum of Printing
Even before the swoon-worthy proposal, Daniela German-George knew John Adriance was her type.
It was the dad joke on his Hinge profile that caught her attention: "What would make you fall for a girl," it read. "Well, she'd have to trip me first."
"I thought that was hilarious," says German-George, a senior graphic design major at Lesley. She sent him a message and they went on one date, then another. "Then I kind of already knew that was it," she says.
Fast forward almost two years and Adriance, a machinist at Sig Sauer in New Hampshire, asked German-George if she would go on a date to the Museum of Printing in Haverhill, Massachusetts. Due to the coronavirus, German-George had been hesitant to venture out in public too much, and although they had discussed visiting the museum together, the plan sounded a little fishy. She knew it wasn't even open on Thursdays. Adriance explained that the museum, which he knew was a favorite spot for his font-loving girlfriend, offered private weekday viewings.
German-George was still suspicious, but when the two arrived for their date on Aug. 13, she saw a sign indicating that the museum was indeed open for weekday appointments. Plus, the prospect of having the letterpresses, metal type, and especially the typewriters to herself made her forget her wariness.
Just her type
Although she doesn't own one yet, German-George remembers learning to type on a real typewriter at her high school in the Dominican Republic. When she moved to the United States in 2015 and enrolled in Middlesex Community College she fell in love with graphic design and type during a course with graphic design professor Joe Eiler. He introduced her to Lesley, where her passion for print and design continued to grow. When asked her favorite fonts, she responds, "I've been waiting for that one!" and quickly lists the top three: Georgia for serif, Archer for slab serif, and Avenir for sans serif.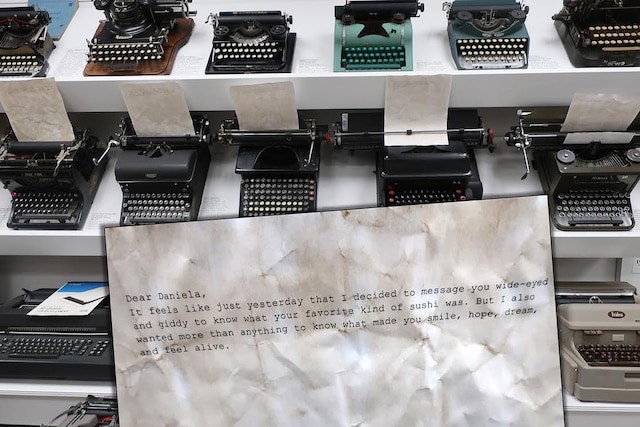 So, with the Museum of Printing to herself, German-George naturally wanted to go straight to the typewriter room. She was dissuaded by the museum president, who directed her to a new exhibit, but she says, "The whole time I was trying to get to that part. Little did I know that's where he was going to propose to me."
When they entered the typewriter room, German-George noticed papers propped on several of the machines. Adriance encouraged her to take a look and as she read, she realized the pages, printed in a typewriter font and dipped in tea to give them an aged look, weren't old letters, but missives from Adriance detailing his favorite moments with her. Then, German-George realized their song, "I won't give up" by Jason Mraz, was playing in the background. She turned to find her would-be fiancé on one knee with a jewelry box.
Adriance didn't have to press German-George for an answer. She said yes.
The romantic proposal was on-brand for Adriance. He and German-George often write love letters to each other for special occasions, and before they officially started dating, unbeknownst to German-George, he visited her parents to ask for permission, a tradition in the Dominican community.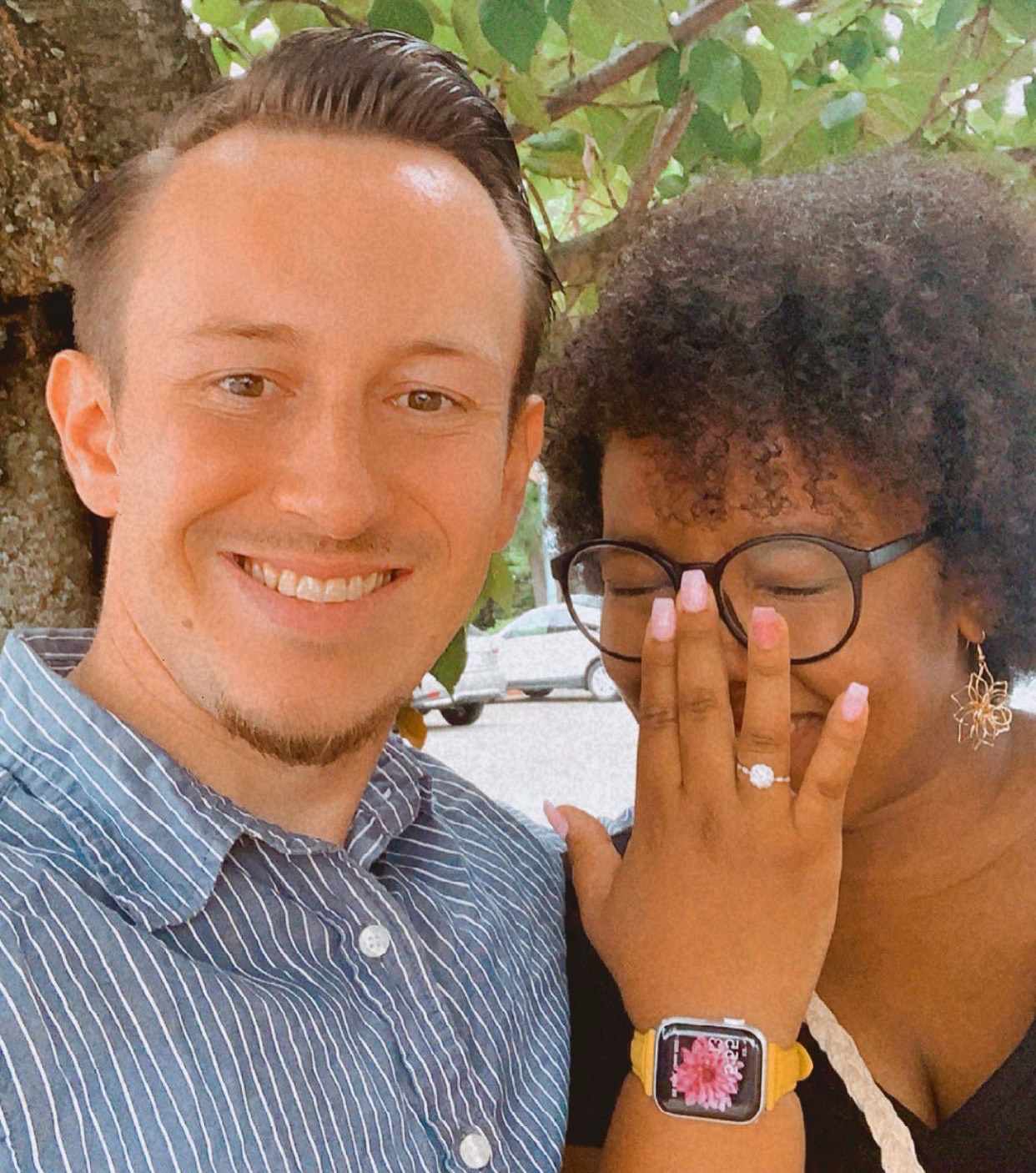 Plus, he's got character.
"He makes me laugh a lot. He just takes really good care of me and I appreciate that," says German-George.
The couple is planning an August 2021 wedding with a nod to their mutual love of words and their a-type-ical engagement.