By Karyn Regal   
 Amid jolly. bobbing bouquets of green and white balloons, a cohort of proud, snazzily dressed graduates made their way to festive tables at the Washburn Auditorium on Lesley University's South Campus for the Threshold Graduate Celebration Luncheon. It was a party marking far more than academic achievement.  
Fifteen students comprise the Threshold Program's Class of 2023, graduating from the first transition program for neurodiverse young adults on a college campus. They learned employment and life skills they need to make their way in the world and make a tangible contribution in the lives of others.  
Last Friday, Lesley feted the 40th class of Threshold graduates, something noted by university President Janet L. Steinmayer, who personally congratulated the graduates at the ceremony. Steinmayer's own son is an alumnus of the program.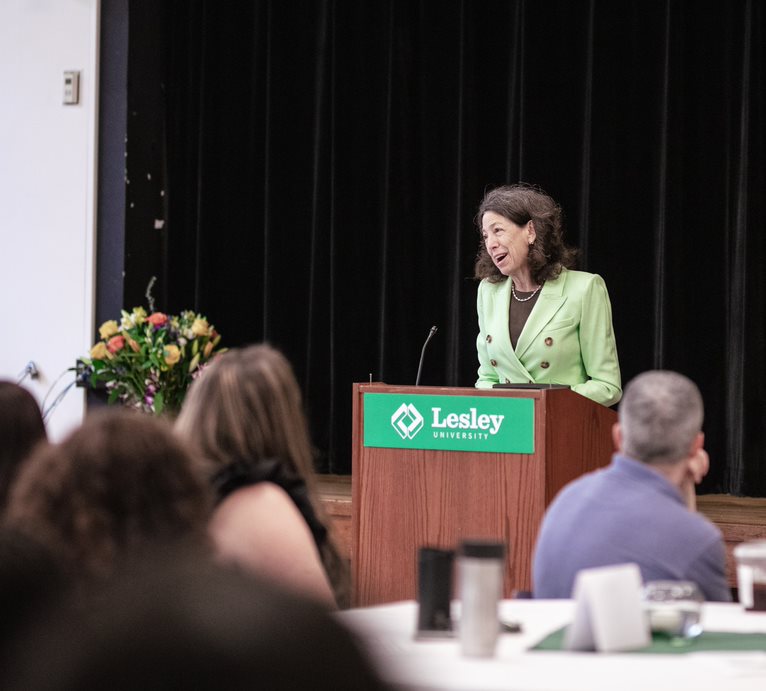 Threshold also formally thanked several of its community partners with the presentation of awards:
Arlyn J. Roffman Founders Award — Rock and Roll Day, East Cambridge, presented to Program Director Cole Mosely by Beth Nyhan Santos, Threshold early childhood instructor
James S. Wilbur Award — Somerville Media Center, presented to Kat Powers, executive director, by Threshold's Director of Career Services Catherine Horan
Special Recognitions — Sean McEliheny, Threshold Class of '24 and Threshold Assistant Executive Director Louise Perryman
Guests heard from a selection of student speakers graduating this year, each of whom related the contributions to their lives of the university's groundbreaking program. 
Graduate Ben Forester stood at the podium, which was draped in Lesley Kelly green, and told the gathering two things about himself. Ben is living with learning differences, and he enjoys things related to the medical field. Not only has Forester completed the Threshold program, but he also has, simultaneously, finished a number of college-level courses at Lesley.  
Graduate Katherine Fuller was an energetic speaker. With comedic flair, she told us Threshold taught her persistence and patience.  
"It was all the beginning of a pandemic!" she recalled. "Obviously, things were just slowly getting back into the stream of things."  
Citing Greater Boston's legendary transit headaches, she said: "I learned to travel on my own. Overall, Threshold has taught me to problem-solve and be more independent." 
Graduate Casey Guerin thanked Threshold for making her 'the best I can be," and honored her classmates.   
"When we go, we will do great things," she said. She quoted Taylor Swift. "The scary news is, you're on your own now. But the cool news is, you're on your own now." 
And Threshold Graduate Dylan Welch said simply and beautifully of his life before Threshold: "I wasn't sure how to be." He has a girlfriend now. It's serious.  
"We hope to get married and raise a family," he said. 
Threshold Class of 2023
Congratulations to our 2023 Threshold graduates: 
Sydney Brooks, Chloe Conway, Ben Forester, Katherine Fuller, Jillian Giroux, Casey Guerin, , Mia Jeppsen, Alexander Liu, Sophia Lothstein, Alena McMahon, Liam Savarese, Joseph Wagner, Brendan Weil, Dylan Welch, Lauren Wybieralla.