Filming Off Campus Proves Beneficial for Bausemer
Students in their final year of the Digital Filmmaking program at Lesley Art and Design are assigned their final senior thesis film, a project they have been building up to over the course of their study. The films are completed for the end of the spring semester in May and are shown at the Brattle Theatre in Cambridge, outside Harvard Square. Filming often begins early in the fall semester or earlier in the summer, as many seniors recruit friends from the film department and other departments across Lesley Art and Design. For Scott Bausemer, filming brought him and his crew off campus to a location that would help bring his story to life.
---
Where did you get the idea for the film's premise? 
The seed of the idea really started at the beginning of the summer. I had just watched "Seinfeld" and it kind of blew me away, like many people I just fell in love with it. I finished the school year and planned to use the summer to develop. I did some research on writing comedy and writing for television, the result was basically an episode of my day. The "Scott" character becomes an internet meme on his way to work, eventually makes it to his job at the grocery store, only to be held up at a liquor store later in the day. The very first draft was a sitcom pilot, but was about 20 pages too long. Then the summer ended and I had to hone in the story and narrow it down to just the grocery store workplace. I removed myself and created a cast of characters who had really been there all along.
What was it like filming on location in Quincy?
Once I decided to just focus on the characters at work, I figured out how to shoot on location at a Stop and Shop in Quincy, MA. I'm originally from Quincy and I work at this particular Stop and Shop store, though I didn't think they would say yes because they're a bigger chain. However, I asked the store manager who was cool with it and the idea went up the ladder and I got permission to shoot overnight on a Saturday. The night started off meeting at school, we picked up the equipment and headed to the location. We shot all the exterior scenes except for one and then set up inside the store and shot from about midnight to 6 am. We finished with the final exterior shot and called it a wrap before getting a much needed McDonald's breakfast. Time moved incredibly fast that night, definitely was not on our side, but we got what we needed.  
Did your initial vision change as you started shooting?
It's a whole new game when you start shooting. You spend months preparing and doing as much you can for that first day, but things change. When you're on set you see things through a different vision, going from a screenwriter to directing you have to change that mindset. You're paying attention to the actors performance, which is where the first change happens in terms of the script. It's incredibly important to let the actors come in and do their thing and bring their own interpretation to the character, that's why you cast them in the first place. Now that shooting is over, I need to go to the process strictly as an editor. Scenes or performances that we worked hard on during filming don't matter if they don't look good on screen, so you need to detach from the footage a bit. If it doesn't work, it doesn't work.
Any advice for other students filming outside of Lunder? 
Just be as prepared as you can to shoot on location. Scout and find your ideal locations. It's much easier to move forward with blocking the actors and making a shot list when you know what you can do in that location. Ask anyone and everyone too because you really never know, it feels great landing a solid location. Bring all your gear and then some, keep lists and make sure you have everything from your reservation before you leave school. Test the stuff out and make sure it works because when you're on location you won't have the time to get equipment. You have to buy batteries for the TASCAM too so remember to do that.
Favorite project you've worked on? 
My film right now is definitely my favorite project that I've worked on. I've never had full control of a film like this and it's really a great feeling making a film. Something that is yours from start to finish, it almost becomes your identity. I've had an excellent crew and cast which certainly makes my job easier.
Out of your classmate's work, whose film or other work are you most excited to see? 
I'm very much looking forward to seeing everybody's work, they'll all be playing at the Brattle Theater when we screen our final senior thesis films. I'm really looking forward to Sean Peloso's Granna. He wrote a great script, but I wasn't on set for the filming so I'm totally in for a surprise. I was on set for most of my classmate's films and they're all looking great from what I have seen.
Who would you thank in your Oscar's acceptance speech? 
Ariel, LA+D Film, Larry David and Stanley.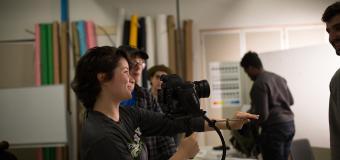 That's a Wrap! The First Class of Film Students Graduates.