(Sarah Groh working with U.S. Rep Ayanna Pressley, by Meredith Nierman, WGBH News)
It's been quite a year for Sarah Groh. In early 2018 when then-Boston City Councilor Ayanna Pressley announced that she'd be running in the Democratic primary against veteran Massachusetts Congressman Michael Capuano, Sarah started advising as a volunteer. By May she was managing Pressley's campaign.
Unknown to many outside her district, the 45-year-old Pressley was considered a long shot to unseat the popular incumbent, but an energetic grassroots campaign pushed her to a primary victory in September. She ran unopposed in November and in January 2019 was sworn in as the first African-American US Representative from Massachusetts, part of a historic wave of women, people of color, and LGBTQ candidates elected to Congress.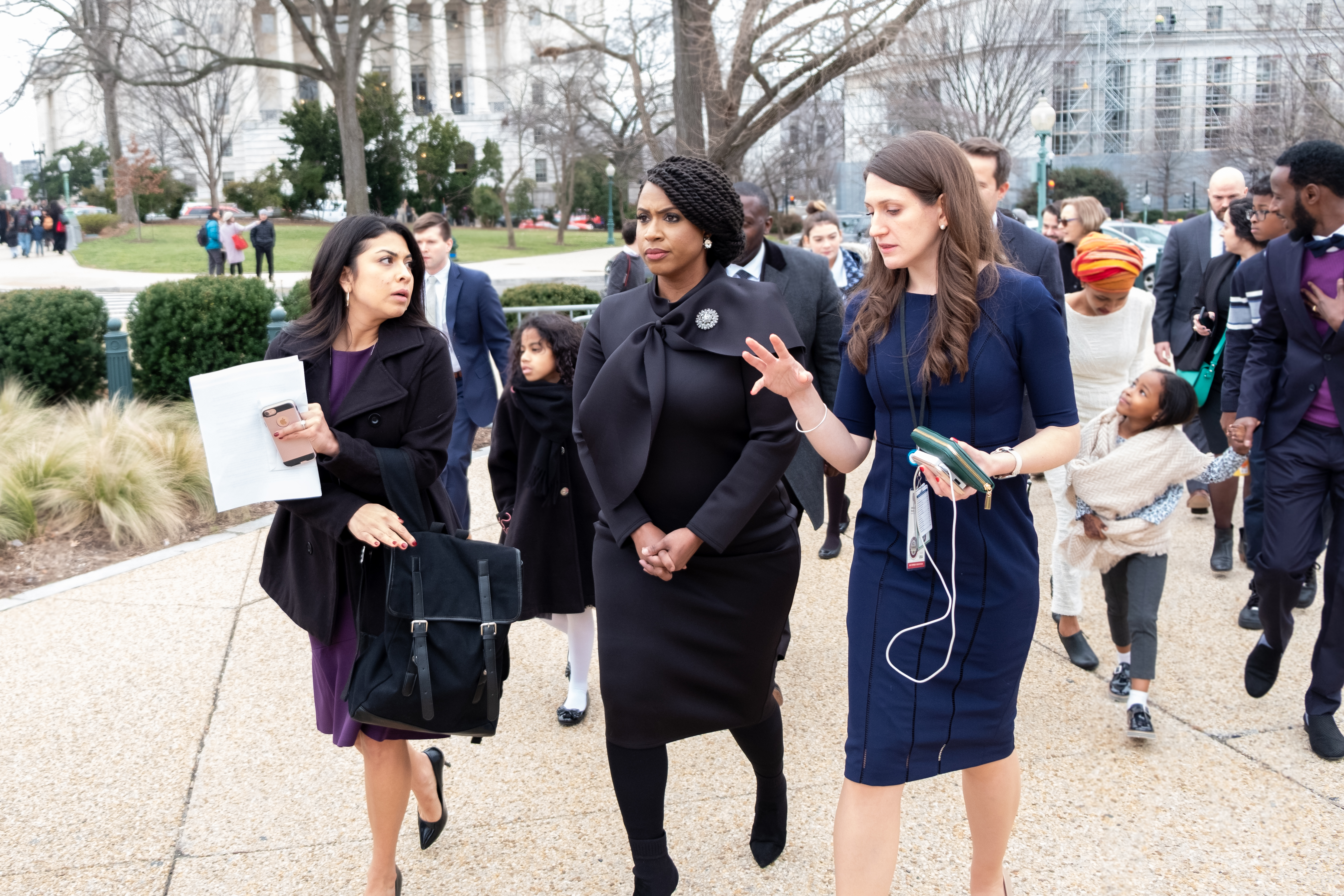 Joining the newly-minted Congresswoman as Chief of Staff seemed like a natural step for Sarah, whose roots as a political activist run deep. "I was fortunate to have incredible parents who taught me to embrace the questions I had about the world—I was the kid at city hall protesting school committee meetings and testifying." A scholarship brought her to Lesley where she majored in Human Services and Global Studies, played soccer, and was elected Student Government President. Sociology professor Robin Roth remembers her as a remarkable student with a strong interest in fighting inequality but also as a compassionate student citizen and a natural leader. "Sarah's not pushy—she doesn't elbow her way to the front of the room—but she has a real ability to understand issues and to problem-solve."
"I was fortunate to have incredible parents who taught me to embrace the questions I had about the world—I was the kid at city hall protesting school committee meetings and testifying."
At Lesley, Sarah found opportunities to try out different roles and make an impact, from internships that bridged the space between politics, government and the non-profit world to grassroots organizing and political protests. "My time at Lesley defined so many things for me. Being on that campus and being in Cambridge and Boston opened my eyes to so much meaningful work and equipped me with a framework to address the social injustices that I felt passionately about. I was fortunate to have really good mentors while I was there—Robin Roth and Alice Diamond come to mind right away. I also had such a great community around me—friends that I traveled to El Salvador with, and the soccer team. That team continues to have my back in all kinds of ways. When my mom was going through cancer treatment they all showed up to see if they were a stem cell match for her. Coach still texts me from time to time to check in."
After getting her Master's degree in Education Policy & Management from Harvard, Sarah spent several years in Boston doing policy and advocacy work for the Massachusetts Adoption Resource Exchange, America Forward, and the non-profit Horizons for Homeless Children. She was already intrigued by then-City Councilor Pressley. "I thought she was doing such meaningful work and I kept bumping to her—often in spaces where other politicians weren't."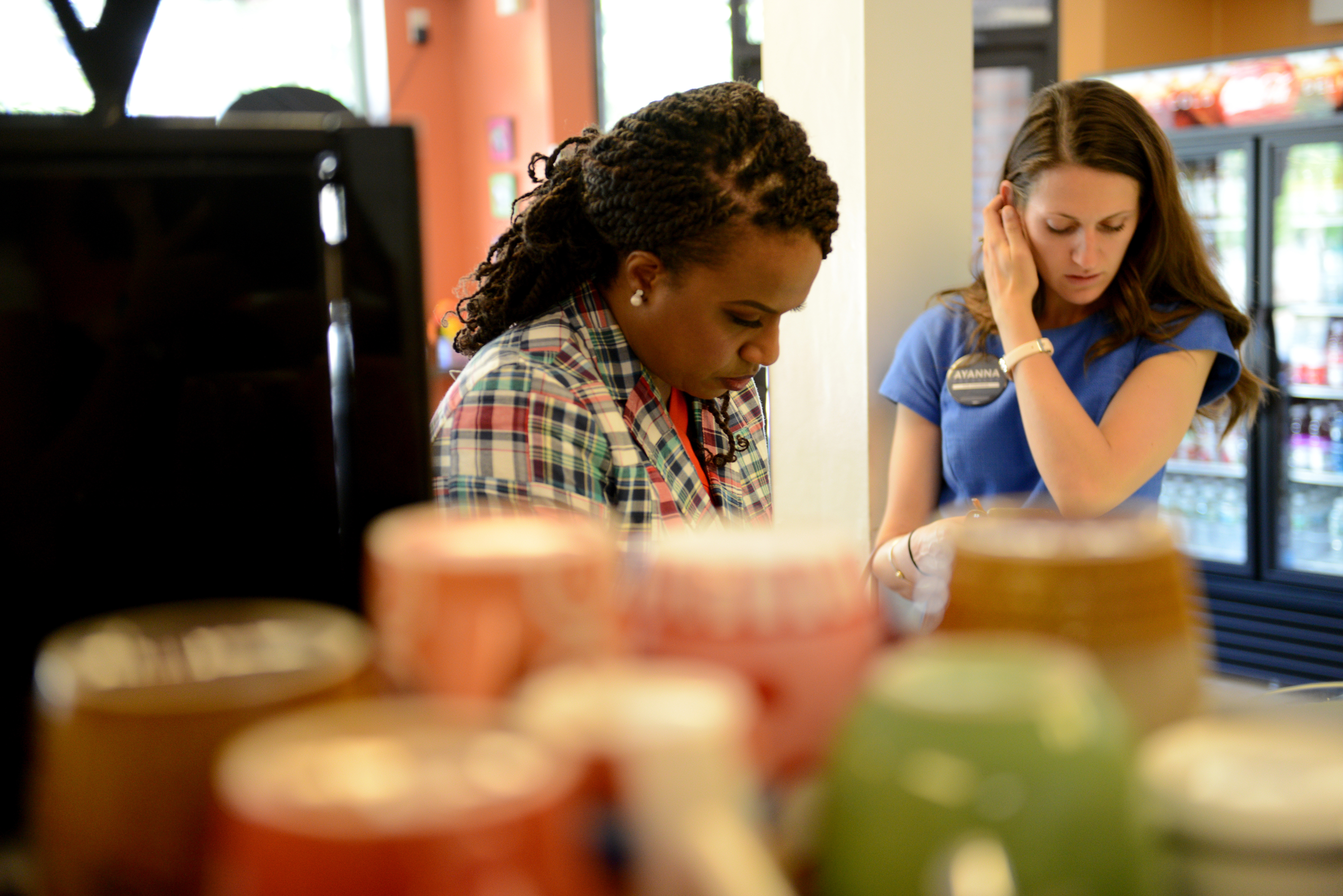 The two women first met in person when Sarah was working at Horizons for Homeless Children and Councilor Pressley convened a round table to talk about housing costs and housing instability. During graduate school, she volunteered for the councilwoman, working on housing policy research and developing a deep appreciation for her municipal leadership. An event at Lesley played a formative role in bringing the two women together again. "I was at the Women and Girls Conference organized by Amy Rutstein-Riley. I'd been working in politics and non-profits in Boston and doing a lot of health care organizing work locally. My mom had battled leukemia—she'd been given a 16% chance of survival and then a couple of weeks into treatment she'd lost her insurance. I'd been organizing with a lot of folks who were coming to D.C. and doing civil disobedience and risking arrest to influence the health care fight.
At the conference, I shared with the councilwoman how I was feeling about the injustices related to health care and fighting for my mom and others who had faced down both a diagnosis and the potential for a health event to destroy you financially. She offered me an incredibly thoughtful response in front of the audience but then she pulled me aside at the end and spoke about the strength of her amazing mom who had also had battled leukemia—she had passed away in 2011. She wrapped me in her arms and said 'I often say to folks who've had this experience that the best parts of them we carry with us. You're so fortunate that your mom survived and she's here with you, but I see that same fighting spirit in you.'
"I feel so clear about the vision of this office, the moment in time, the history we carry."
Sarah had been among the local voices urging Pressley to run for Congress and when she announced that she was entering the race, Sarah jumped in to help, writing policy briefs and co-hosting grassroots events. "Initially I'd be at a round table of maybe twenty people providing input on something and then one Friday I walked in and there were just four of us, and I thought 'wow—I'm really in this!'" Not long after that, Pressley asked Sarah to manage the campaign. She accepted wholeheartedly.
"It's been the blessing of a lifetime to get to do this work. She is one of the most values-driven people that I've ever met but she's also a real person and the real person is even better than what you see publicly. I've seen her wrestle with impossible decisions and I've seen her in moments when no one else is watching and I have such respect for her. I feel so clear about the vision of this office, the moment in time, the history we carry. We're definitely in start up mode but I'm grateful everyday she's in Washington."
A few months in to her first term in Congress, Pressley is already catching her stride and gaining notoriety on a number of policy issues. "I didn't hesitate when it came to picking Sarah as my Chief of Staff" said Pressley. "In this work you want someone beside you who shares your values, who is clear about what we're here to do. She was steady in that way throughout the campaign and we share a deep commitment to the work ahead."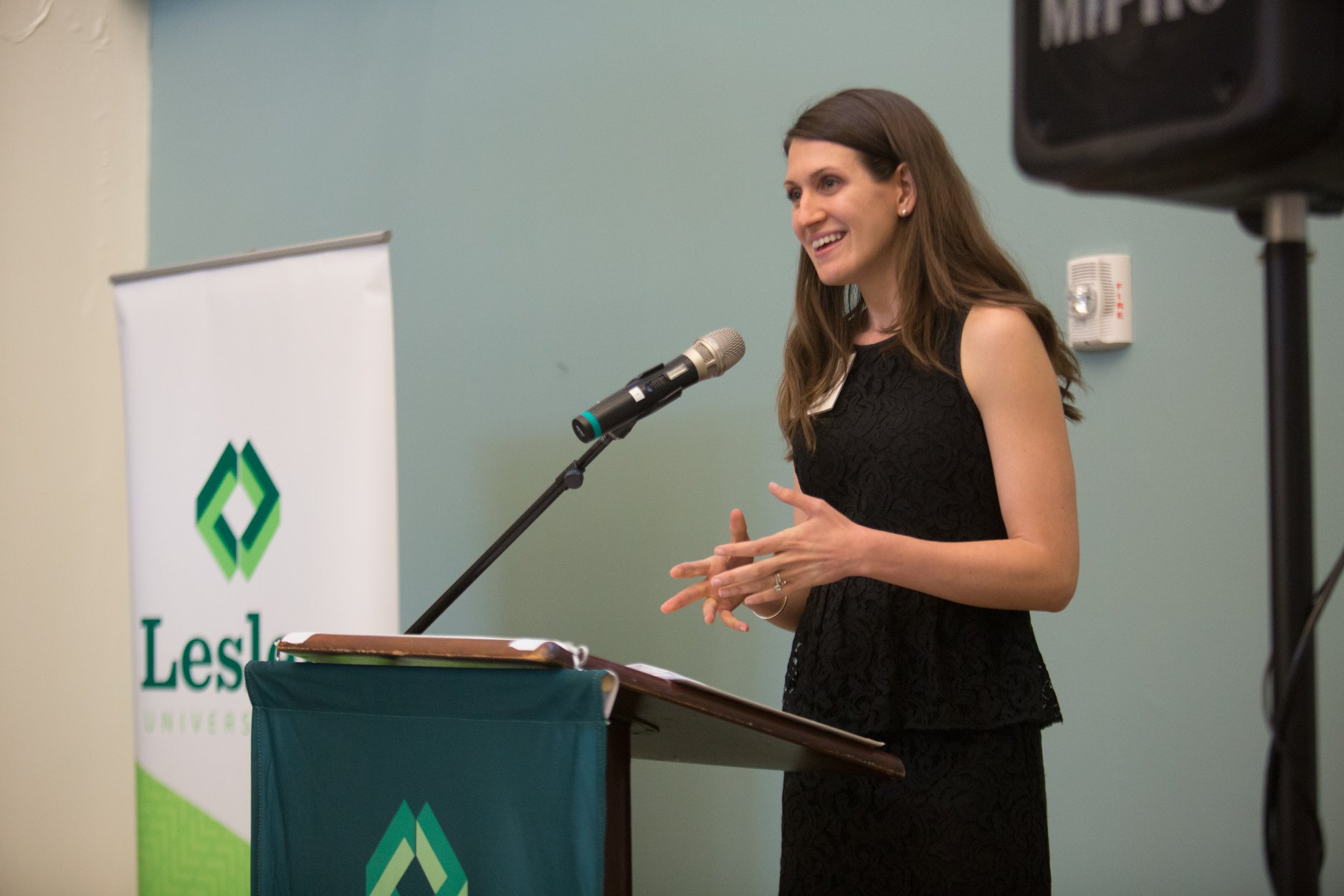 Sarah has moved to Washington D.C. full time, her husband Brian (a 3rdgrade teacher and 2010 Lesley graduate) and her dog Milly in tow, but she travels back to Massachusetts frequently. The political arena can be tense and combative, but Sarah's excited to help put the Massachusetts Congresswoman's energy and ideas into action. "To have spent the past year talking to folks in the community about what she can do from this platform and about the persistent issues that impact people in the 7thDistrict and now to see her in a space where quite literally we can move on that. Right now we're trying to get back pay for contract workers—cafeteria workers, security guards, janitorial service--who were affected by the government shutdown. On the campaign, we would have been vocal about that, put out a policy paper—now we can file a bill. Every day we're operating with a real sense of urgency and I hope it does some real and meaningful good for folks back home."