Small groups of children scatter across hallways and labs.
They are observing how objects react when dropped or pushed down a ramp, peeling bark off a log in an attempt to make a natural dye, drawing a scale model of an ant, and replicating a science experiment they observed on YouTube.
These are the types of activities young students are engaging in at the new Wonder Lab program, launched by the EcoNet Lab September at our Graduate School of Education.
Supporting students, teachers and families
During the inaugural semester, 20 local schoolchildren in grades K-6, attended weekly afterschool sessions focused on integrated STEAM (science, technology, engineering, arts and math) explorations of the environment, food studies, weather, air, soil, the water cycle and other subjects and the program continues to grow and evolve.
Lesley science and education faculty members Susan Rauchwerk, Nicole Weber and Amy Mertl created a program that allows educators-in-training to explore and grow along with their students in a safe, nurturing and inquisitive environment in the heart of the Lesley campus
The idea was to establish a "lab school" setting where pedagogies are practiced, educators learn by doing, and research informs practice.
Authentic science and science-education research are deeply integrated in every aspect of the Wonder Lab. Dr. Rauchwerk, an associate professor in our Graduate School of Education, oversees curriculum and program implementation, working closely with nine Lesley students employed as staff, to assure the program is responsive to the needs and interests of the faculty, staff, children and their families.
The world is your lab
The university's physical footprint allows the explorers to experience labs, dance studios and all of our amenities, as well as the challenges of learning from nature in an urban environment
Each session has an outdoor activity, taking advantage of the community gardens, area playgrounds and parks. The program also serves as an asset for graduate students completing their field work, engaging with the young students on interdisciplinary STEAM-based learning.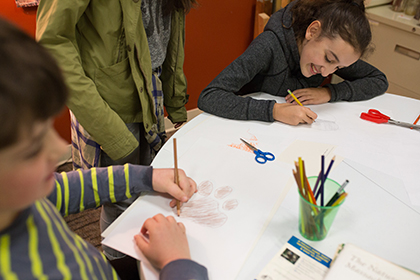 Unfolding journey explores diversity
The spring 2017 theme for Wonder Lab, "Diversity Creates Stability," aims to guide both students and faculty on an unfolding journey through science and community that ultimately serves the program's overarching approach to collaborative learning.
By looking at different facets of diversity - from trees and buildings in Porter Square, to difference in their small groups of learners and educators - no stone is left unturned. Before delving into actual scientific inquiry, the young
scholars had a discussion on the meaning of diversity, stepping back to look at the definition of their exploration.
This semester, they're supporting the ongoing citizen science research of one of the program's creators, Dr. Mertl, by studying the abundance and diversity of ants in urban environments. Dr. Weber is leading the discussion with teachers and families to collaboratively develop research methodology that represents learning within the community.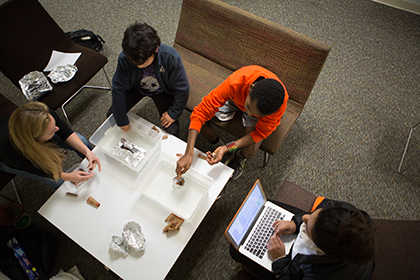 Building a creative approach to science education and exploration
Wonder Lab weaves together resources that benefit both the Lesley educators as well as their young lab assistants. The program provides data that can be used to advance real-world research, and the students feel a strong sense of pride and ownership in their contributions.
"Since Lesley places such an emphasis on the exchange of ideas and opinions, the Wonder Lab was found on a creative and collaborative approach to education," notes Wonder Lab coordinator, Laura Kathrein, who is a graduate student here. "Lesley core values of inquiry, diversity, community and citizenship, in a sense, serve as Wonder Lab's core values as we place an emphasis on science inquiry, community building and place making, diversity among learners, and a greater sense of citizenship in the local and global community through understanding one's role and impact in the natural world."
Does playdough conduct electricity?
The lab works as a living think tank, with teaching learning, research and practice at the core. It is a space where mistakes can be made, theories can be tested and all voices are encouraged.
Children have a say in their own learning, and their questions often inspire the curriculum. When one student questioned whether or not playdough could be used to conduct electricity, Wonder Lab facilitators found themselves researching playdough circuits for an upcoming session.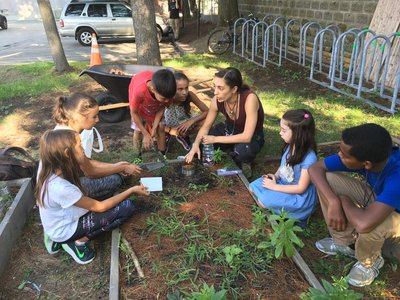 Wonder Lab will continue to evolve, with an eye toward school vacation and summer programming.
Since the concept of "try it and see if it works" is a staple of Wonder Lab thinking, faculty and educators are encouraged to design a day's worth of curriculum, see how students respond and workshop from there. Stay on the lookout for more exciting Wonder Lab news as the intrepid urban explorers seek to question a fast-paced, ever-changing world.