Heidi Lee, Susan Loomis-Wing, Ruth Rieffanaugh and Christine Winship attended Lesley at different times, and pursued different majors and degrees, yet something already connected them.
It was only when they founded a pioneering Boston visual arts organization that they identified their common thread.
"I think the similar thing that drew us to Lesley is what drew us to Unbound Visual Arts," muses Rieffanaugh, who came to Lesley for both her BFA and an M.Ed. in art education.
"I think it's about service and serving the community," reflects Loomis-Wing, who earned her master's in 2008 in interdisciplinary studies with a concentration in women and art.
The group of Lesley alumnae vary in age and careers, but they are all working artists who recognized a problem they wanted to address. In a culturally rich city with world-class museums and galleries, the Allston-Brighton neighborhood felt like an arts desert to them.
The women shared a vision to create spaces for local artists to showcase their work and to bring affordable art to the community, so they thought, "Let's get together and make this happen," recalls Winship, who earned her BFA in illustration in 1994.
So, in 2012, Loomis-Wing, Rieffanaugh and Winship joined forces with Founding Member John Quatrale along with Louise Bonar to launch the nonprofit organization, Unbound Visual Arts (UVA).
One year later, Lee joined the board of directors.
In six years, the organization has grown to nearly 150 member artists and puts on a variety of curated exhibitions, educational programming, classes, demonstrations and workshops.
"We wanted to see art around and see it valued, not just on Newbury Street and in the Seaport district," says Rieffanaugh, of Brighton. "There are a lot of talented people around here."
The latest exhibit, "Battle of the Sexes Revisited: The Sexual Harassment Volley of Today," curated by Brenda Gael McSweeney and Quatrale, is on view through April 27 at the Honan-Allston Library Art Gallery in Allston.
"It's reflecting what's important to people in society now," says Loomis-Wing, who is treasurer of UVA and works in administration at Lesley. "Having exhibits that reflect the culture is important."
Art collecting should be for everyone
It's been intense and rewarding to spark something that's making an impact.
"It's building with each show and event," says Rieffanaugh, a high school art teacher in Boston. "Calls-for-artists and planning art shows take time to grow."
"We're constantly learning," says Winship, of Allston, who has written two books and specializes in children's illustrations and pet portraits.
Artists pay a $40 fee to join UVA and can show work multiples times a year if they are accepted into the organization.
"Our fee is nominal, so that elitism is taken away," says Rieffanaugh, president of UVA.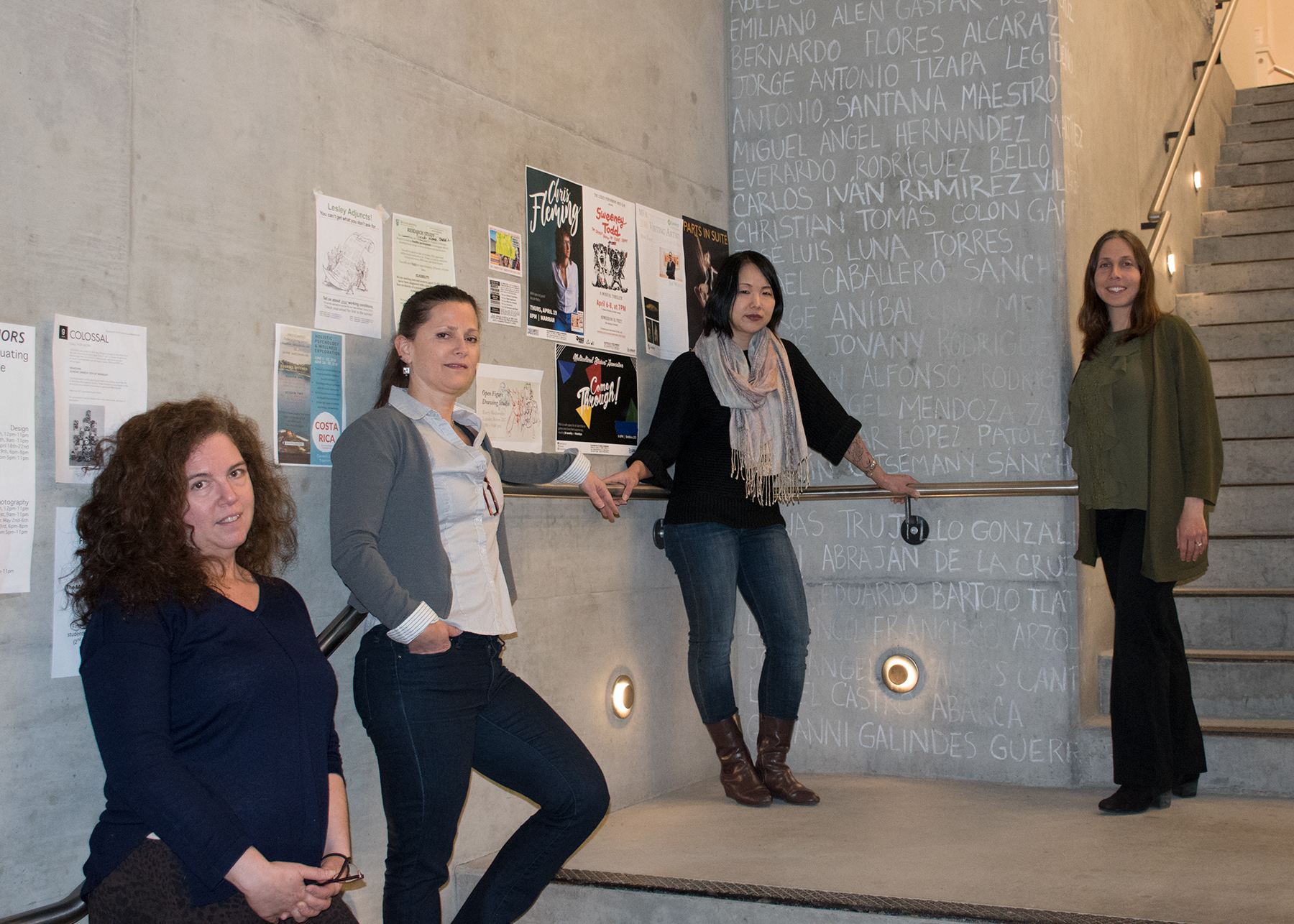 UVA also aims to set affordable prices for the artwork at their shows.
"We want art collecting to be attainable for everyone, including a younger demographic," says Loomis-Wing.
For Lee, who works with the homeless as an art educator and serves as vice president of UVA, the organization's commitment to education is key.
"A big part of UVA is educating the public to understand the value of hearing from artists, learning where artwork comes from, and offering demos," says Lee, of Jamaica Plain, who has an M.Ed. in visual arts education. "We're educating the public about the creative process so that we're not just out there to sell art, but to bridge the gap."
In addition to the four Lesley alumni on the UVA board of directors, Lesley student Elisandra Lopes has joined the organization more recently.
"This is bigger than just one person," says Rieffanaugh. "There must be a thread within all of us on some level."
Get in touch with Unbound Visual Arts by visiting www.unboundvisualarts.org.
Learn more at the artists by visiting their websites:
Heidi Lee | www.unboundvisualarts.org/heidi-lee
Susan Loomis-Wing | www.unboundvisualarts.org/susan-loomis-wing
Ruth Rieffanaugh | www.ruthrieffanaugh.com
Christine Winship | www.thepedigreeartist.com
Caption for lead image: Lesley alumnae (l to r) Heidi Lee, Ruth Rieffanaugh, Susan Loomis-Wing and Christine Winship are co-founders of Unbound Visual Arts. Background artwork is by current students Rocky Cotard (center) and Elisandra Lopes (left, titled "Where I'm from and Who I am").