Scholar Athletes, an acclaimed program that supports academic achievement through athletics in Boston and Springfield schools, has become the latest community partner in Lesley University's Urban Scholars Initiative (USI).
Lesley created the USI in the spring of 2013 to help talented and highly motivated, yet financially disadvantaged, students fulfill their dreams of earning a college degree.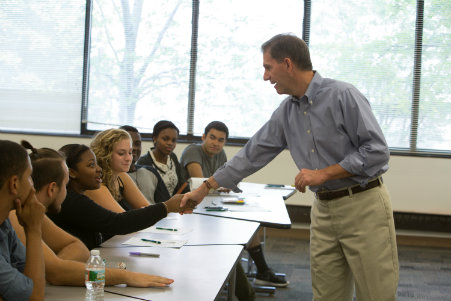 President Joseph Moore speaks with Urban Scholars.
Lesley's Urban Scholars Initiative is not an alternative-admissions program. Graduating seniors who are recommended by one of Lesley's community partners and meet the university's admissions criteria are admitted to Lesley and are provided with a 50 percent tuition scholarship. The scholarship follows them for four years as long as they maintain the academic standards set by the program. In this way, the program supports young people with a vision of a better life for themselves and their families.
But USI doesn't stop at covering half of the tuition. In addition, a full-time program director serves as an adviser to the USI students, who participate in monthly success workshops. Along with the support of the director, students are assigned a peer mentor from USI to support them through their first-year transition. The customized support these students receive boosts their academic and personal confidence, helping Urban Scholars integrate fully into the university community and assume leadership roles.
Some USI students have been selected as community advisers in the residence halls, orientation leaders, and admission Ambassadors. USI is not only preparing students for advanced degree programs or employment, it is preparing them to assume leadership roles in their communities and beyond.
The Scholar Athletes organization strives to enhance the student-athlete experience, provide regular instruction to coaching staff and improve young people's academic performance and personal growth. The organization supports 19 "zones" within Boston public schools, as well as two in the Western Massachusetts city of Springfield. Each zone is a dedicated school-based learning center that encourages students to set academic and athletic goals and provides a support system to help young people stay on track and enhance opportunities for success.
"In today's competitive, global society, a college degree is essential for success," says Selase Williams, Lesley University provost and vice president for academic affairs. "Low-income, urban youth who have the capacity for greatness and are ready to put in the effort, and receive coaching and other support from organizations like Scholar Athletes, can achieve their goals through multi-institutional collaboration.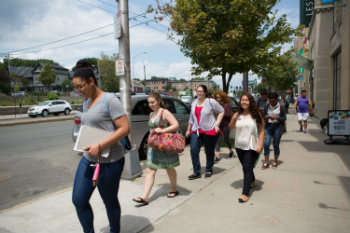 Lesley's Urban Scholars embark on an outing.
"Studies as well as classroom observations point to the link between vigorous, healthy activity and successful learning outcomes. I am thrilled to be teaming up with Scholar Athletes. Together, we can help student conquer the obstacles that often inhibit their attainment of a four-year degree."
Lesley's Urban Scholars Initiative doesn't stop at covering half of the tuition. On a competitive basis, those admitted into the USI are eligible for a number of endowed scholarships through the generosity of friends of Lesley. In addition, a full-time program coordinator has been hired and serves as a mentor and adviser to the USI students, who enjoy monthly success workshops and special outings.
The Urban Scholars Initiative originated from discussions between Lesley University President Joseph B. Moore and the Karp family, notably Lesley alumna and Board of Trustees member Jana Karp. The family's philanthropic vision led to the first significant gift for this endeavor. That effort was followed by a signature matching-gift challenge from Lesley alumna Tashia Morgridge of $500,000. Once the challenge was met, the Morgridges topped it with an additional $500,000 to increase the endowment. Lesley is in the process of raising $5 million for the initiative's endowed scholarships to make a college degree a reality for more needy and deserving students. The Scholar Athletes organization is one of 15 community partners who can refer students to Lesley. Those partners can be found at http://www.lesley.edu/undergraduate/urban-scholars-initiative/.
"This partnership with Scholar Athletes is an exciting one for USI as this program works closes with students from many Boston and Springfield public schools that otherwise might not have a pathway to Lesley," said USI Director Maritsa Barros. "While extending our reach, this organization also brings a spirit that is vibrant and ties in well with the spirit of USI."
"Partnerships are key to the success of our work with high school students. They expose our students to a variety of experiences and expanded opportunities," said Rebekah Salwasser, executive director of Scholar Athletes. " I am excited when a partnership leverages opportunities for our members to envision a future beyond Scholar Athletes that has unlimited potential. Our partnership with Lesley University creates those opportunities for our young people."