Don't tell Lesley's undergraduate Class of 2016, or retiring Lesley President Joseph Moore, that college isn't the real world. The experiences of the university community — from the devastation of the 2013 Boston Marathon bombings, to the joy of a Red Sox World Series title, to a relentless fusillade of snowstorms burying the region in 8 feet of snow — put that notion to rest.
"College is not really an escape from real life," said Moore, who later was presented with an honorary degree (which he humbly contrasted to the "hard-earned" degrees of the undergraduates).
In addition to the triumphs and troubles realized by all, Lesley students contended with challenges of their own, especially those in the College of Art and Design, uprooted from their longtime Kenmore Square home to the new, state-of-the-art Lunder Arts Center in Porter Square.
Other highlights related to this class of 461 bachelor's recipients included the first graduating cohort of Lesley's partnership with Bunker Hill Community College, as well as the university's first graduate of the Urban Scholars Initiative.
"We all learn through the formal curriculum, and also through the process of living," Moore added, a theme echoed throughout the undergraduate ceremony.
Richard Blanco: Live life first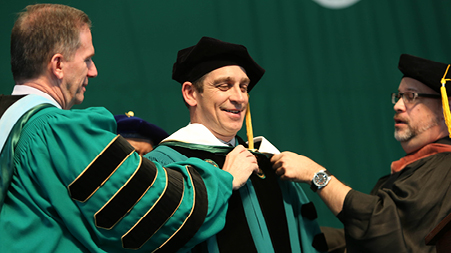 Commencement speaker Richard Blanco
As Lesley graduates prepare to launch into their careers, commencement speaker Richard Blanco began his message by warning them not to lose sight of living life. Take time to drown out the whir of jobs, responsibilities and "chronic careerism that can plague us," he urged.
"Regardless of your career or degree or station in life ... our creativity flows from living our lives first, and not necessarily the other way around," he said.
Blanco is a poet, author and civil engineer, who was born in Spain and emigrated with his Cuban-exile family to the United States.
"From where I stand before you today, from where you sit, it may seem like I've always had it all together, always known what I've wanted to do, and ingeniously plotted every detail of my life," said Blanco.
But the truth, he confided, is that there have been countless days when he almost gave up, and wanted to run away from art and himself. But putting life first has propelled him forward.
"What you're also not seeing are the things that saved me," said Blanco, such as picking up shells on the beach, playing tug of war with his dog, belting out James Taylor's "Fire and Rain," dancing salsa by himself in the basement, and "sitting on my deck amazed by the maze of stars."
"All that stuff we often regard as goofing off is actually the very stuff that makes our life a life," said Blanco, "and more important, it's the stuff that inspires our work in a subtle yet powerful ways."
Nick Cave: Use art to make a difference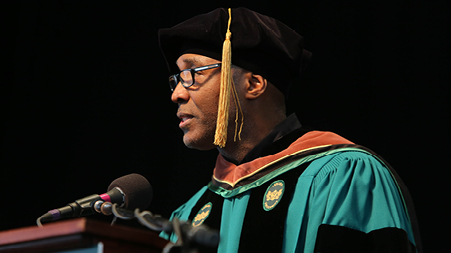 Commencement speaker Nick Cave
Multifaceted visual and performance artist Nick Cave, who works in a variety of media, including sculpture, installation, video, sound and performance, urged graduates to make their art the center of their life.
At the same time, he reminded graduates to use their art to effect change in the world, as he has done with performance pieces inspired by the 1992 Los Angeles riots following the Rodney King verdict.
"Take the time out to find what really matters to you," Cave said. "You must be a creative change agent … art is like diplomacy; use it to make a difference."
Rose Heller: Class of 2016 is ready for the 'real world'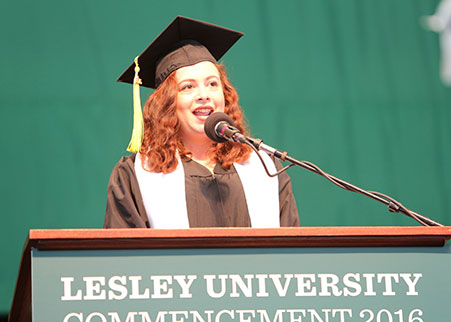 College of Liberal Arts and Sciences student speaker Rose Heller.
College of Liberal Arts and Sciences student speaker Rose Heller dreads the question that many graduates are asked: "How do you feel about entering the real world?"
She asserted that the Class of 2016 has already been living in the real world the past four years at Lesley. Students have engaged in transformative service projects around the globe, interned at major companies and started their own businesses – and the women's soccer team won the NECC division championship all four years.
Heller and her peers weathered trying times such as the Boston Marathon attacks their freshman year, and stood up with the Black Lives Matter movement as seniors, "showing the world that we may be a small school, but we have big voices."
"We want to help. It may sound simple, or a little romantic, but it's true," said Heller, a double major in child studies and early childhood education. "Every student sitting here today, no matter what major they are or what field they want to go into, (is) dedicating their lives to helping others. We are teachers, we are therapists, we are entrepreneurs, we are artists, we are professionals and we are citizens who want to change the world."
She added, "Here's the best part, we already have."
Shannon Reed: Rolling (and thriving) with the changes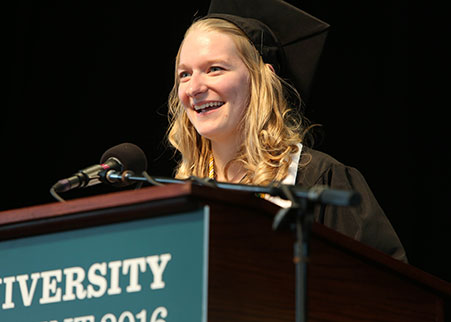 College of Art and Design student speaker Shannon Reed.
Shannon Reed's college career got off to an ignominious start, as the BFA in Design and minor in Photography student showed up an hour-and-a-half late to her first class. But she turned things around, earning the highest grade point average of any graduating student in College of Art and Design.
"When I first came here, I felt I wasn't good enough. I felt my artwork was subpar in comparison to my peers and I was completely uninvolved," Reed said during her commencement speech. "I had this sinking feeling like I wanted to go home because I felt I couldn't make it."
As the semester progressed, in "a year of breakthroughs and breakdowns," she found her community and where she fit in her classes. Before long, she and her peers literally found themselves in a new place, as the college moved from its home in Kenmore Square to a new building in Porter Square.
"We've had a lot to adjust to, like making the hop across the Charles from Boston to Cambridge," she said. "It's not easy to be in the middle of a transition, but you're all here, you made it through, and I think we are all the better for it."
She also joked that, "If we could make it back and forth on the Green Line during a Red Sox game, then I think we can get through just about anything."
She added, finally: "What you make is meaningful, important and extraordinary, just like all of you."