The Kingston-Mann Student Achievement Award recognizes students who have contributed to diversity and inclusion scholarship in new ways. And on February 27, two Lesley University seniors — both who are passionate about issues pertaining to diversity and inclusion — accepted awards at UMASS Boston for their capstone papers.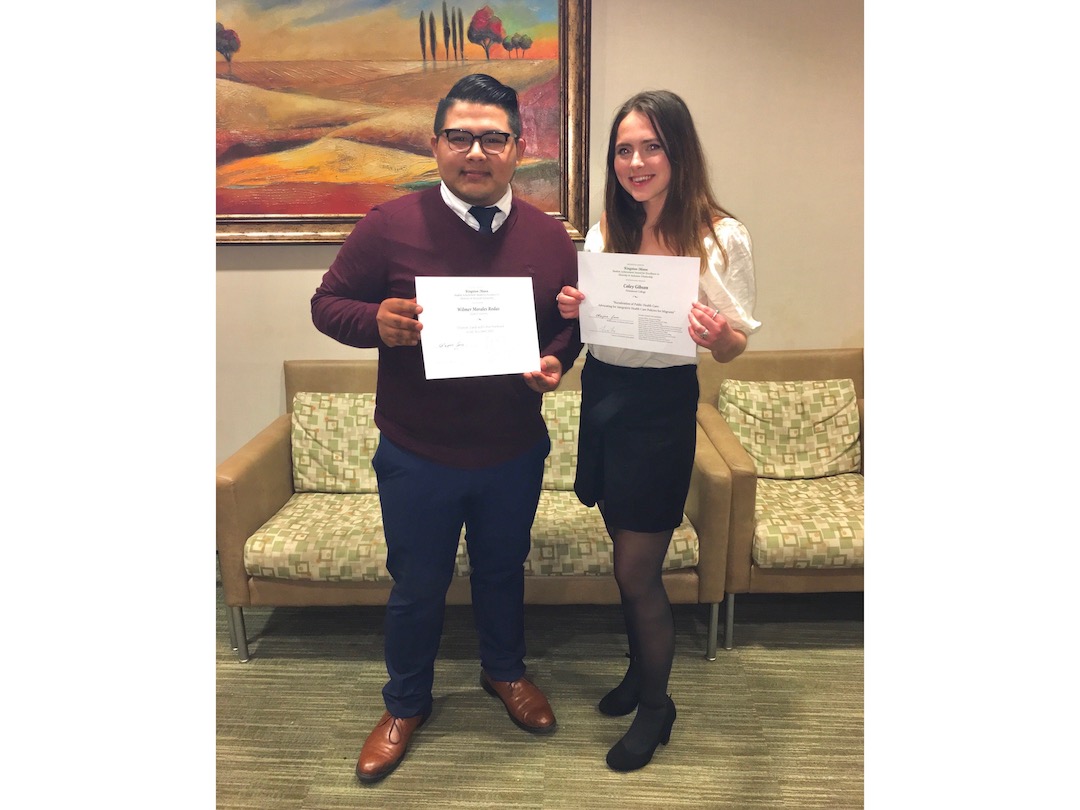 Wilmer Morales Rodas '20, a double major in Political Science and Global Studies, with a minor in Spanish, received the winning prize of $300 for his paper, "Challenges undocumented students face in the search of higher education." Coley Gibson '20, also a Global Studies major, but with a double minor in Political Science and Human Services, was awarded $150 and an honorable mention for her paper, "Racialization of public health care: Advocating for integrative health care policies for migrants."
Wilmer had not heard of the Kingston-Mann Awards until Global Studies Assistant Professor Nafisa Tanjeem encouraged him to submit his capstone paper for consideration.
"I thought, 'Why not?'" says Wilmer. "I didn't think anything of it at the time, so when I got the email back that I won, I was very surprised with myself. Throughout my college experience, I've struggled with writing...but I think my hard work paid off in the end," he says.
In his paper, Wilmer examined the different resources undocumented students can access at universities in the Greater Boston area.
"I found that the universities with the most resources are the ones that support their students, whether it's through a club or just having a community of students that pushes the university or institution to further their resources," says Wilmer. "If the community is strong and they feel that trust with the different offices to disclose that they are undocumented or DACA, then they will be more comfortable asking for help."
Coley's capstone focused on health care policies and the limited access migrants in the United States have to health care. For her paper, she completed a case study with seven participants who came here from other countries. 
"Navigating a system that isn't universal, like it is in most countries, was really confusing for them. A majority of participants wanted to see an expansion in the public health sector, which they don't have access to at all," says Coley. "Also, the rhetoric in our public health care system is very racial, especially under the Trump administration. The narrative they're focusing on is very anti-immigrant."
Wilmer and Coley both hope to continue researching and expanding their understanding of these issues in the future.
"My paper was 27 pages, and I feel like I only scratched the surface. There's still so much more to talk about," says Coley.