More than 30 years ago a "revolutionary idea" took hold at Lesley University – a program to teach young adults with disabilities to live more independent lives.
On May 5, the Threshold Program graduated our 33rd class at a joyful celebration held at the Harvard-Epworth Church.
Since the program started, hundreds of young people have been positively changed and Threshold's model was replicated across the country, said Threshold Director Ernst VanBergeijk. This year, the Lesley tradition continued as 14 graduates donned caps and gowns, shook President Jeff Weiss's hand and accepted certificates for completing the program.
During their two years at Lesley, the students have learned important life and social skills, from budgeting their bank accounts and living on their own, to exploring careers through internships and jobs in the community.
"You've learned those lessons more thoroughly and deeply than most graduates," Weiss said. "You inspire me and the rest of the Lesley community."
A number of the students spoke about their experiences, thanking their parents and mentors as well as recalling fond memories from their time in Threshold. All spoke of their second family – their peers and teachers at Threshold. 
"No matter what, I will always be there to support my friends. No matter what," said Ahmed Omera, one of four student speakers at the ceremony.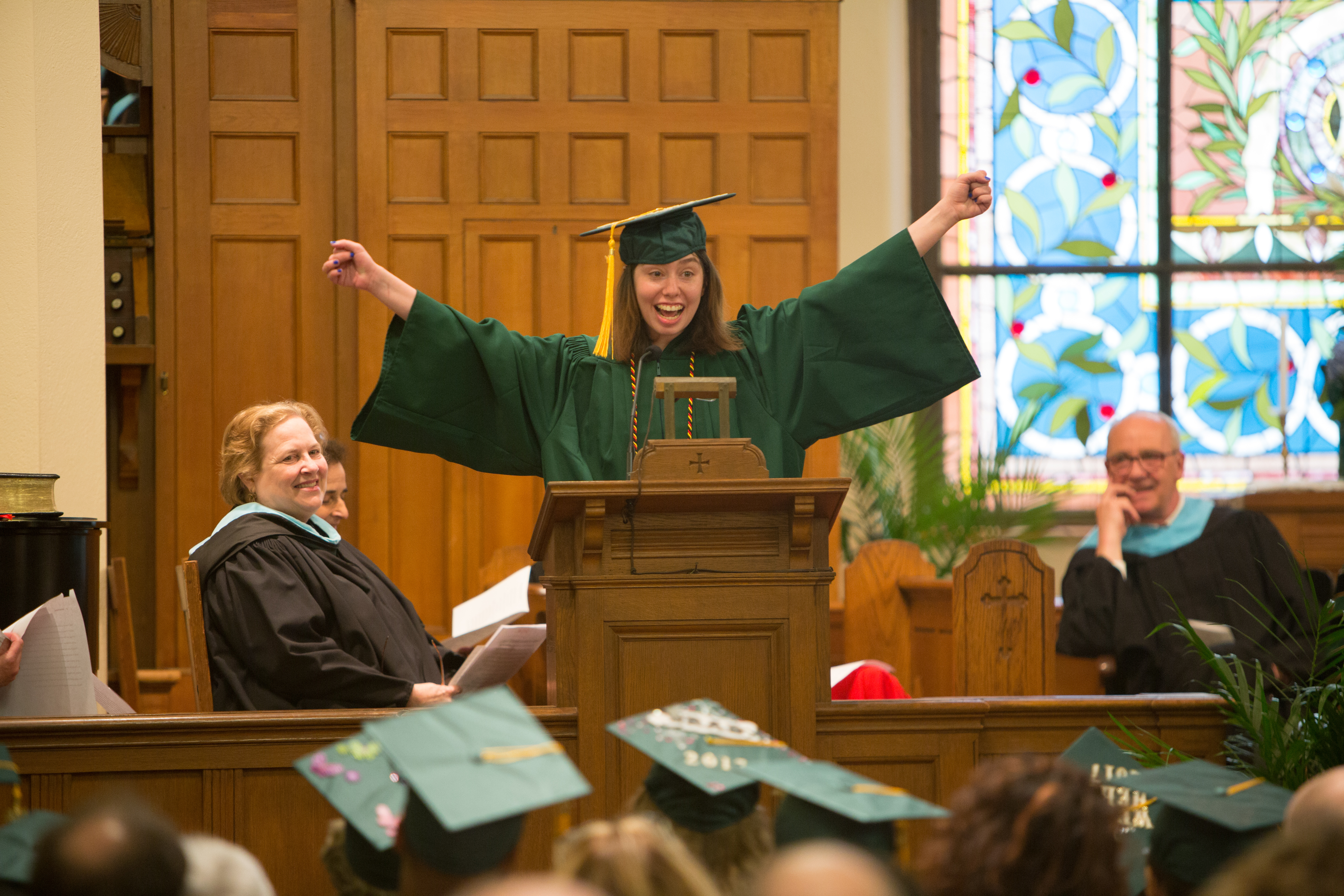 Kate Yacovino said she has long wanted to become a nurse's aid or assistant and now has the tools for the career she dreamed of.
"Threshold has given me the chance to do this," she said.
Always persevere
Graduation speaker David D'Arcangelo, the director of the Massachusetts Office on Disability, commended the program's work and encouraged the graduates not to give up when they confront challenges.
D'Arcangelo, who is legally blind, shared his own story of losing and partially regaining his eyesight as well as running for election a second time after an initial loss.
"We know that life is not fair. That's OK. You'll persevere," he said. "Perseverance leads to success. Don't give up. Always keep trying."
In addition to the graduates, the ceremony honored Professor Emerita Arlyn Roffman, who founded Threshold 35 years ago. Roffman received a framed copy of the first Threshold yearbook, presented by Threshold alumna Maren K. Hitz '85.
"It's the greatest source of pride in my professional life," said Roffman. "I'm very proud that Lesley has been such a strong supporter of it."
An award in Roffman's honor was given to the Old South Preschool in Boston for its partnership with Threshold. In addition to student teaching positions, Old South has hired two Threshold graduates. A new honor, the James S. Wilbur Award, was given to Star Market for the company's support of its Threshold employees. 
"Hello, new world!"
Finding their calling and learning to live on their own is something Sue Halberstadt said she's seen her daughter Katherine Halberstadt learn as a Threshold student.
Moving from Maine to the busy city three hours away was an adjustment for Katherine, but she found a home and matured through the program, her mother said following the ceremony.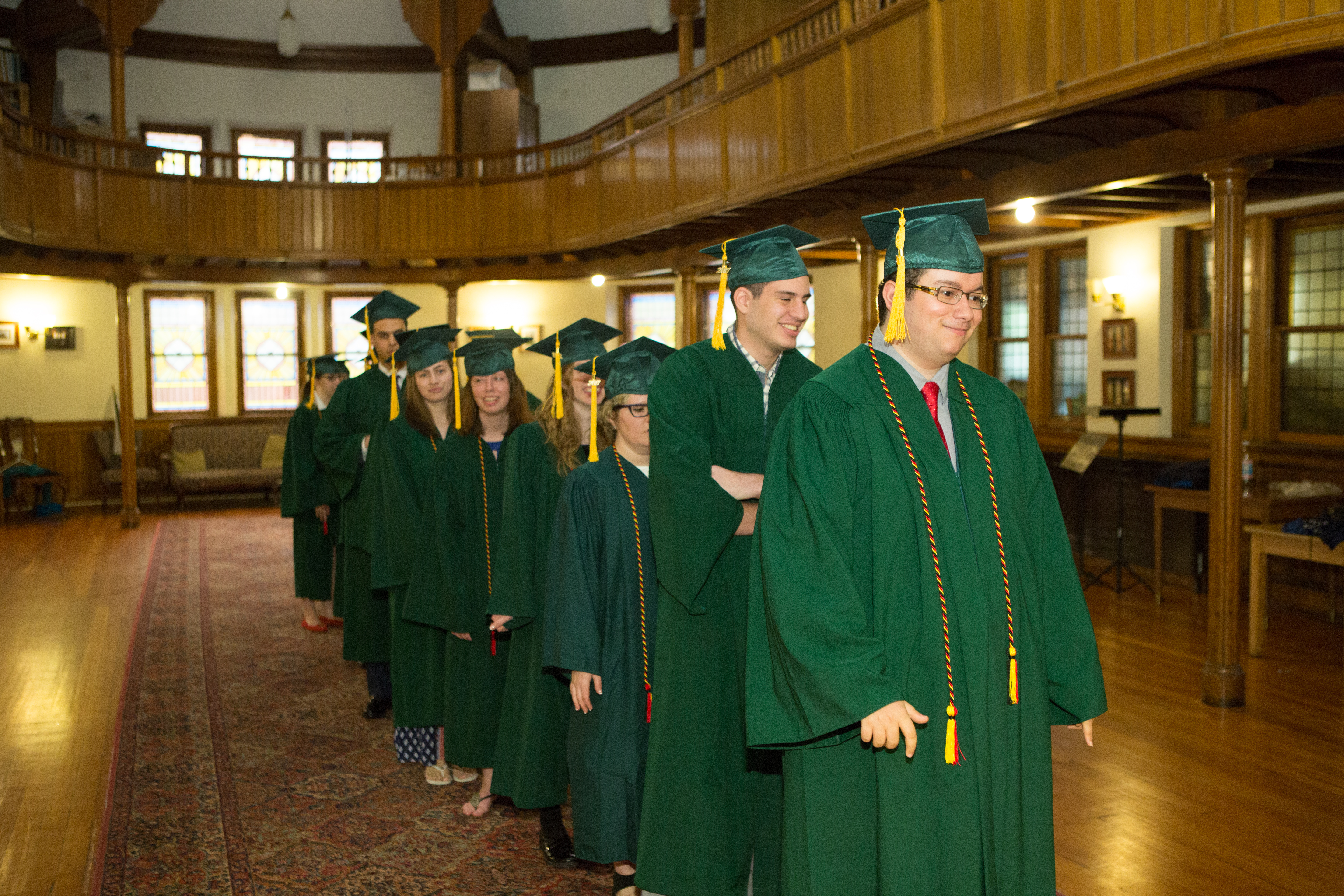 "Last year she was calling me all the time. This year I had to call her if I wanted to talk to her," Sue said, laughing. 
For her part, Katherine said she also saw a change in herself.
"I definitely feel accomplished," she said. "When I first started, I was very nervous. Now I'm more outgoing."
Katherine will now enter Threshold's Transition Year program and hopes to work in early education. 
Katherine and her fellow graduates were all excited about their next steps, and a triumphant Maeve Kendrick, perhaps, said it best.
"We finally did it! Goodbye, Threshold! Hello, new world!"
Congratulations to the entire graduating class:
Abdel-Halim Atiyyat
Matthew Bouganim
Kristina Gillis*
Katherine Halberstadt
Maeve Kendrick*
Lisa Lynds
Katherine Novelli
Ahmed Omera*
Adam Roberge
Clayton Robin
Justin Rojas
Heather Ross
Kate Yacovino*
Jessica Yi
* Graduation speakers