A few years ago, Chaurice McMillan would not have considered herself an activist. After speaking on the floor of the Massachusetts State House, however, it's a title she isn't going to be able to shake any time soon.
In June, the 19-year-old Lesley freshman and Mattapan resident asked the Joint Committee on the Judiciary to support a bill that could expunge the records of juvenile offenders.
McMillan became passionate about the cause as part of the advocacy group Teens Leading the Way (TLTW), which has worked on the issue for years.
A criminal record can follow a teenager into adulthood, affecting education and job prospects as well as the ability to do simple things like take out a car loan. The problem is particularly acute in minority communities, which typically have fewer resources.
"You shouldn't have to live with something you did at the age of 17. For people to finally get that weight off their shoulders, I think it would be really beautiful," McMillan says.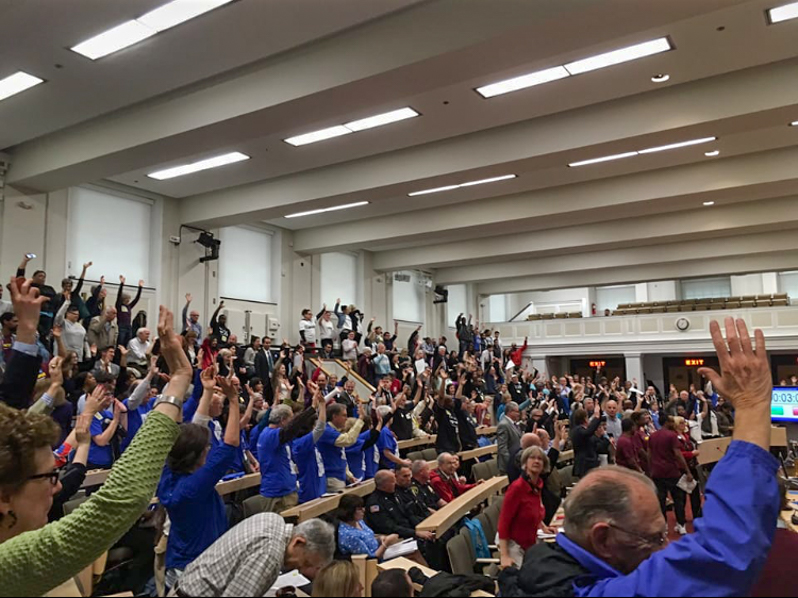 Shy student transforms to outspoken advocate
While no one in her immediate family has gone to prison, her work with TLTW put her in the path of people haunted and hindered by their teenage misdeeds. Those encounters spurred the normally shy student to speak to state senators and to canvas neighborhoods looking for answers.
McMillan, who is part of our Urban Scholars Initiative (USI), became an increasingly outspoken advocate for her peers and community since attending high school in the affluent Brookline school district as part of METCO, a state-funded nonprofit that works to improve racial diversity and educational opportunity by enrolling minority students in mostly white schools.
Traveling from Mattapan to Brookline every day, McMillan quickly realized the disparity of resources between the communities. She also felt that her teachers couldn't relate to her.
"It made me feel I had to do something to change it," she says.
As a child, McMillan dreamed of being a teacher. In high school, she became even more committed to the career.
"I wanted to be a teacher because sometimes students feel misunderstood by their teachers. That can affect them for a long time. I want to help them with that."
She also started volunteering, first as a math tutor for inner city kids and then at TLTW. From there, she gained further insight into issues affecting urban youth by participating in a research project with the Center for Promise. The organization tasked urban youth of color with surveying their peers on issues of wellness. Conducted in Roxbury, McMillan asked teens about violence, emotional stressors and access to health care.
"Eighty percent of the people we surveyed felt as though they were unsafe in their neighborhood," reports McMillan. "I feel like if we asked that in a different neighborhood, you wouldn't see that."
McMillan and her fellow surveyors shared the results with the community, and more work is planned to evaluate the results.
Future educator works for change
McMillan continues to seek out opportunities to be involved in her community even as she settles into university life. As the first person in her family to attend college, McMillan, an education major, was drawn to the USI program, knowing she would be part of a supportive group of students and staff.
"USI is like having a little family at school," she said.
Jennifer Castro, assistant director of USI, worked with McMillan during her first semester at Lesley and was struck by the teenager's thoughtfulness and action.
"Chaurice thinks critically about the world around her," says Castro. "As a future educator, she will be a fierce teacher, mentor and advocate to her students. She uses the knowledge, awareness and skills she holds to commit herself to experiences that will allow her to create change."
As she continues with her education, McMillan is considering how to use education and advocacy to be an instrument of change in her community while also getting used to the spotlight that comes with it.
"I guess I never really noticed I was an activist until other people told me. I just like to be in the environment of people who want to get something done," she says.