Freshman Sara Achorn has been told she's not the pageant-girl type, but in the past seven months she's proved her doubters wrong.
In March, the 18-year-old Rochester, Massachusetts, native was named Miss Plymouth County, and, on Oct. 1, she became the 65th Miss New Bedford, competing alongside fellow Lynx Kenzie Moniz '18.
"I really didn't think the title was mine this year. There were so many really talented women competing, and any one of us could have received the title," says Achorn. "I am so beyond excited to represent a city I've always considered my second home!"
Throughout her year-long reign, Achorn will serve the City of New Bedford and its surrounding communities as a role model and an active volunteer. She will dedicate her year of service to her personally selected platform, "Imperfection: Pushing the Importance of Body Positivity in Today's Youth."
Achorn has been outspoken about the issue of body positivity, including a post on her blog where she debunked her own preconceived notion of what a pageant girl is:
"She's was at least 5'8" and had long beautiful hair that always looked like she'd gotten a professional blowout. Why did she have olive skin and blue eyes in my head? Why had I been conditioned to think that pageant girls only looked one way?"
In an interview last June, Achorn said, "I would love to be the first plus sized Miss Massachusetts."
She will get her chance to compete in the next state competition, but in the meantime, she's hoping to make at least 100 appearances as Miss New Bedford.
Also on the stage at the Miss New Bedford competition was Lesley senior Kenzie Moniz, a Dartmouth, Massachusetts, resident who competed in the competition for five years.
Although she was disappointed not to win the crown, Moniz was proud to win the Interview Award for scoring the highest points in interview, as well as the Most Talented Non-Finalist award for her rendition of "Ave Maria."
"It's been five years, and it's been an incredible five years," says Moniz, who is ending her pageant days.
Moniz's chosen personal platform in the pageant was "Teaching Tolerance: Promoting the Importance of Literature," which emphasized using stories and books as a tool to teach youth about communities and people who are different from themselves.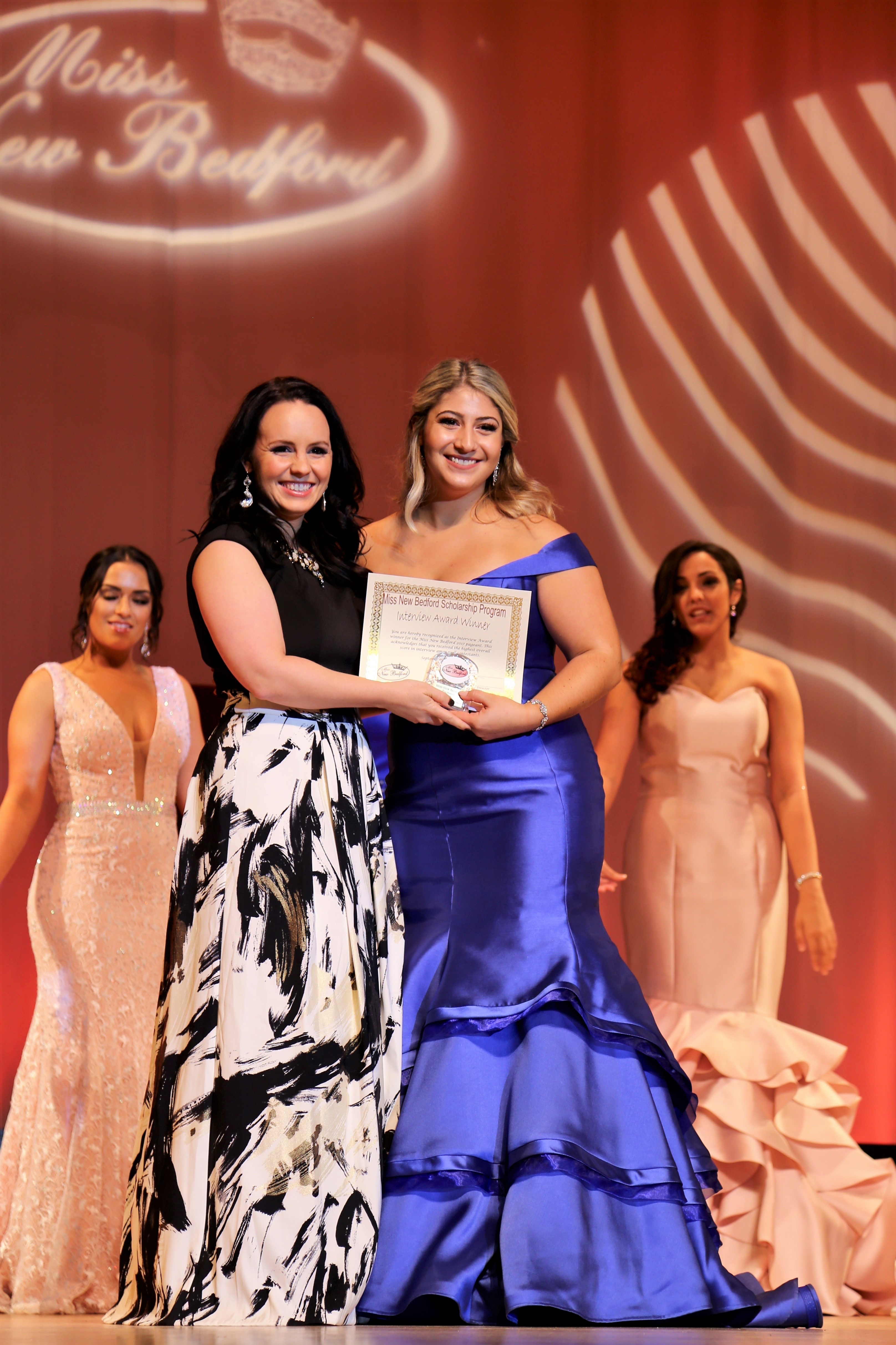 As she prepares to graduate with a major in secondary education and English with a minor in history this spring, Moniz will still have the opportunity to promote her pageant platform as she aspires to be a teacher in the New Bedford area.