Passersby are hearing the sound of music outside the Lunder Arts Center, thanks to the creativity and inspiration of alumna Julia "Julz" Roth and an innovative public art project.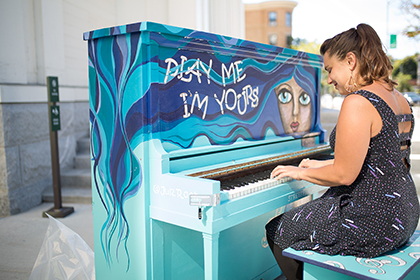 "This is all about finding the inspiration in ourselves and sharing it with
others," says alumna Julia Roth.
Street Pianos Boston selected Roth to paint one of the 60 pianos situated around Cambridge and Boston from Sept. 23 to Oct. 10. Her piano, which she named "Muse," greets visitors outside the Lunder Arts Center on our Porter Campus, beckoning visitors with vibrant shades of blue, captivating eyes and swirling hair reminiscent of a mermaid. 
"I love seeing art come to the street, mixing with music and bringing people together," said Roth, who earned a master's degree in expressive therapies in 2011. "The real gift is visiting your piano on the street and seeing people interact with your art."
The popular art installation first came to Boston in 2013. When Roth learned it would return, she immediately applied to be an artist on the project and was ultimately selected. In July, Roth began gathering with the other artists at the Innovation and Design Building (IDB) in Boston as the work took flight.
"It was exciting to work with 60 artists in one room and see all of the pianos come to life," Roth recalled. "It's a great community project, not only when they come out, but during their creation."
Each piano features a simple invitation: "Play Me, I'm Yours." For her piano, Roth pasted sheet music beneath the surface of the paint, which is revealed subtly in some spots and more obviously in others.
"I love working in mixed media and layers – collage, painting and drawing," she said. "Muse's whole face and body are music notes. They're not completely visible. Just like us – we all have the music and creativity within us that we can choose to listen to or make."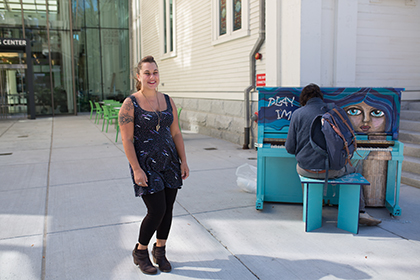 "The real gift is visiting your piano on the street and seeing people
interact with your art," says Roth.
The city-wide installation is presented by the Celebrity Series of Boston. For Roth, it's powerful to see her project engage the public with the joy of live performance.
"It's easy to go about our daily routine in life," she reflected. "People walk down the street and spontaneously see the piano. This is all about finding the inspiration in ourselves and sharing it with others, so the name 'Muse' made sense."
Lesley is the host for Roth's piano, caring for it for the duration of the installation. 
Art and healing
Roth lives in Quincy with her daughter, Anastasia, and works as a mixed media artist, expressive arts facilitator and creative coach. In her practice, she uses a combination of mediation, movement and expressive arts to support wellness and happiness. 
"I believe in using the arts as a tool for personal growth and transformation," she said. "I've always been creating art, and I really want to focus on art and healing."
Professionally Roth works on a number of projects, ranging from creating public murals, and leading student groups to paint electrical boxes, to co-founding a mobile art lab project that brings art to the streets and engages communities in art as social activism.
Roth is originally from Vermont and moved to Massachusetts to attend Lesley. 
"My biggest goal is to focus on bringing together community and the arts to help individuals grow," said Roth. "Street Pianos is a great step, and it's really beautiful to see that my work brought me back to where I started my journey, here at Lesley."
Learn more at www.julzroth.com.
About "Play Me, I'm Yours"
"Play Me, I'm Yours" was created by UK artist Luke Jerram and has been touring internationally since 2008. Celebrity Series of Boston first produced the installation in Boston in 2013. More than 1,500 pianos have now been installed in 50 cities across the globe, from New York to London. The project has reached more than 10 million people worldwide. To learn more, visit streetpianosboston.org.