With a fancy, though not at all stuffy, Sept. 17 Black & White Gala, we debuted an exclusive retrospective showing of the work of iconic fashion photographer Irving Penn, while raising money for art students who face significant financial obstacles to achieving their Lesley degree.

Maria Stephanos with, from left, Dean Emeritus Stan Trecker,
President Jeff Weiss and College of Art and Design Dean Richard Zauft
And, in doing so, the university and Lunder Arts Center cemented our reputation as a nexus for the arts in Cambridge.
Gala emcee Maria Stephanos, an experienced journalist and news anchor for WCVB-TV 5, kept the speakers' program rolling with a dynamic, convivial style, even joshing with student and scholarship recipient Archibaldo Soto Lora, a junior pursuing a bachelor of fine arts in illustration. She comically grilled him on his background (he was born in the Dominican Republic, and he worked one summer in the painting and photography studios of Artists for Humanity) and talked about his time at Lesley.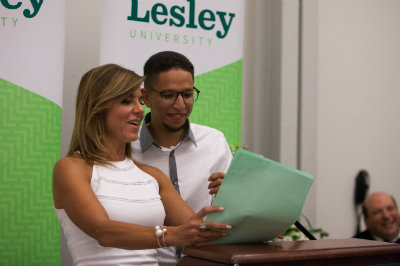 Maria Stephanos with student Archibaldo Soto Lora
"At the College of Art and Design, Archibaldo has found caring and supportive professors and classmates, as well as a lively, creative environment, to give structure and direction to his dream," Stephanos said. She added that the support from his scholarship "makes the fulfillment of his dream possible."
To that end, President Jeff Weiss concluded his remarks by announcing the inception of a new scholarship for art students from low-income backgrounds. The scholarship is named for Dean Emeritus Stan Trecker, who presided over the College of Art and Design until 2014, when Richard Zauft became dean and Trecker took on special, community-oriented projects like leading the organization efforts to bring the Penn exhibition to Lesley.
The gala celebrated the exclusive New England showing of the exhibition "Irving Penn: Beyond Beauty," a free, major retrospective of the work by the legendary American photographer. The exhibition is organized by the Smithsonian American Art Museum. The gala benefit included a red carpet entrance, a fashion shoot on the steps of the former North Prospect Church (now part of the Lunder Arts Center), custom portraits by Lesley faculty, music, dining and, of course, the retrospective itself.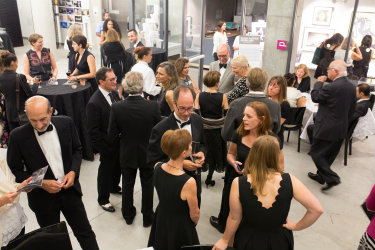 Hundreds attended the gala for "Irving Penn: Beyond Beauty."
"We're here at Lesley's Lunder Arts Center to officially celebrate the opening of this extraordinary and important exhibition," Stephanos said. "Amazingly, Greater Boston has never before hosted a major retrospective of (Penn's) work, even though during his lifetime, Irving Penn had exhibitions in the Metropolitan Museum of Art, the Museum of Modern Art, the National Gallery and scores of other museums around the world.
"Lesley's Lunder Arts Center — already a nexus for the arts in Cambridge — can be counted among our region's great galleries."