Featured image: Tony Kecman stands in front of the Museum of Croatian Archaeological Monuments, the site of his summer internship.
With deep roots in the historic Eastern European country of Croatia, Lesley student Tony Kecman is exploring family and world history as an intern abroad.
Croatia is Kecman's ancestral home so there was no better place for the rising senior to pursue an internship. He secured a spot working at the Museum of Croatian Archaeological Monuments — he's the museum's first international intern — for the summer and paused just before Croatia took on France in the World Cup finals to answer a few questions. 
You mentioned your family connection to Croatia in your piece for the Lesley Public Post. What else about Croatian history interests you?
Croatian history is purely medieval and early-middle ages based. I'd say latest of that 'era' history would be Byzantine involvement here. The city where my heritage is from, Split, is home to the palace that served as Roman emperor Diocletian's summer home. It's a different feeling when you're walking on streets laid hundreds of years ago, walking inside the walls of a city hundreds of years old. The museum I work at was the first to self-identify as a Croatian museum.
What's a day in the life like for you while you're overseas this summer?
Well, I'm up before 9 a.m. for my commute. It takes 35-45 minutes to walk to my site from my aunt's house, but the commute is well worth it. I walk alongside the coastal boardwalk (called 'riva') passing by these same city walls and tons of expensive, fancy ships floating next to small fishing boats. Once I get to the museum, I'm usually in the office just working on my daily tasks or sometimes walking around the complex just seeing what's going on. Some weekends, I'm over in other cities. I've done small excursions to both the island of Hvar and most recently to Zadar, but the weekend after this weekend I'm going with my cousin to Sarajevo - and I might be going to Šibenik and Makarska in upcoming weekends.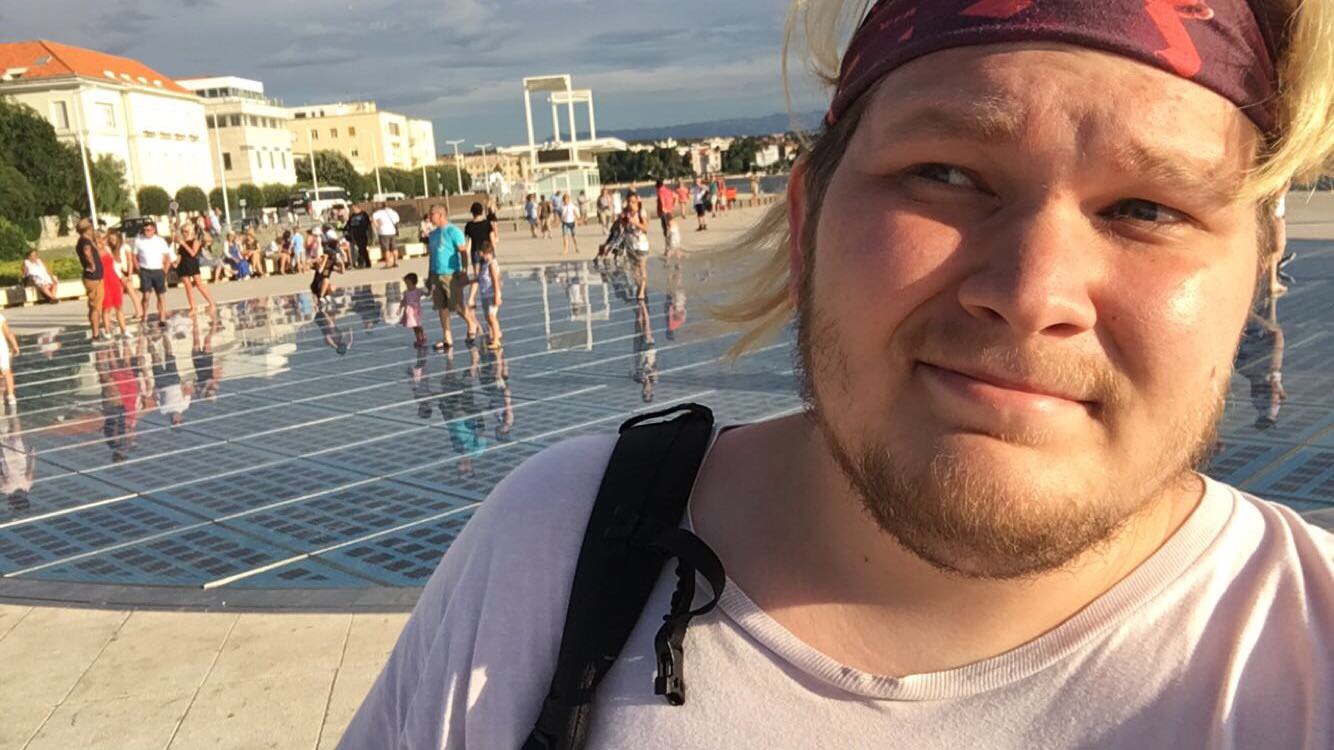 What are some of your favorite things to do at the museum?
I love the cultural and historical immersion of what I'm doing. I've been tasked with a lot of translation work, mainly for an upcoming exhibit on Byzantium in the Eastern Adriatic, and as well for the English portion of their website. I've also looked around the museum in all the various departments and visited the archives as well. It felt like being inside of a bank vault down in the basement, with all of the artifacts to see.
What are some the cultural differences you've noticed?
How relaxed everything is. American work life tends to be very fast-paced and hectic, while here they take their time and enjoy what they have. The biggest example of this I can give to you is the cup of coffee. In America, we see it as a jolt, something to wake you up. You can buy it in large amounts, and drink it to start your day. In Croatia (or much of Europe), this is a conversation piece. You don't find any large cups of coffee, you sip it slowly and you enjoy it. The conversation between you and the atmosphere or you and someone else doesn't revolve around the people, that would make the coffee supplementary! The cup is what brings you together, and thus you enjoy it with supplementary conversation.
Do you mostly speak Croatian while you're there? Would this type of internship be possible for students who don't speak the language?
I very much do speak Croatian (Hrvatski) while I'm here. Part of this experience is to have me become more fluent in Croatian. It wouldn't be too hard for non-Croatian speakers to be part of this internship, as most of my colleagues at the Museum of Croatian Archaeological Monuments also speak English pretty fluently.
Any tips for students planning to travel internationally for either an internship or study abroad?
Study the country and understand its culture and lifestyles. It's one thing to be a tourist student, but even then, where's the immersion?! You should understand the way of life there, how locals live. It makes for all the more experiences. I have my moments where I'm basically a tourist, and others where I'm a local. Challenge yourself to be one and the other, not just a tourist.