Introduced officially at last fall's Massachusetts STEM Summit in Worcester, and at the National Association for the Education of Young Children Conference, Lesley University's Creativity Commons' Sidewalk Math is already helping children learn "numbersense" and math skills.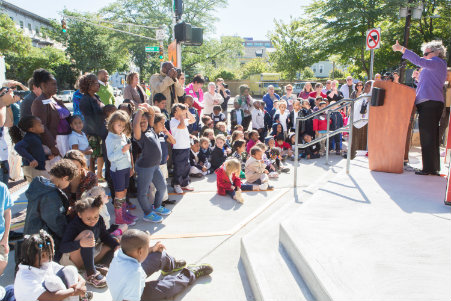 Cambridge's Fletcher Maynard Academy celebrates its piloting of Sidewalk Math.
Sidewalk Math is an innovative, movement-based approach to developing mathematics readiness in elementary school students. Piloted at the Boston Children's Museum and schools in Cambridge and Worcester, this active approach to acquiring early math skills now available for teachers, parents and caregivers on Sidewalk Math's website and in Sidewalk Math's publication "The Footbook: Steps to Developing Numbersense in Young Children" through Amazon.com.
"Sidewalk Math is an important innovation in the way children, even as young as pre-school, learn what we call 'numbersense,' a baseline of mathematical knowledge, delivered in a fun and engaging way," says Dr. Martha Barry McKenna, director of Lesley University's Creativity Commons.
Similar to the game of hopscotch, students walk, hop, jump and skip through the designs, counting and employing mathematical concepts, depending on grade level and proficiency, to sharpen their skills. The patterns, designed by Lesley University faculty and a College of Art and Design alumnus, are developmentally appropriate, mathematically meaningful, and beautifully colorful.
Informed by early childhood learning theory, Sidewalk Math is intended to encourage parents to count in a wide variety of ways with their children whenever possible.
Young children are curious, so Sidewalk Math encourages learning by discovering patterns.
Young children are active physical learners, so Sidewalk Math encourages children to engage kinesthetically with the designs.
Young children can learn that mathematics is pattern making, so Sidewalk Math provides patterns that every child can make and use no matter what age.
To support educators and caregivers in developing Sidewalk Math projects in their communities, the developers have created the Sidewalk Math website and an accompanying guide, "The Footbook: Steps to Developing Numbersense in Young Children."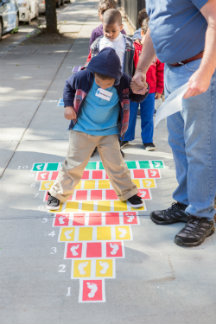 Sidewalk Math in action
The book is designed to provide parents, caregivers and teachers the tools to bring this creative approach for developing numbersense and patternmaking with young children. It includes: 1) guidelines for developing the project in your community; 2) templates for creating Sidewalk Math installations; 3) designs for We Count workshops offered for caregivers and teachers to engage in counting activities with their children; and 4) a variety of educational resources to support young children's development of mathematical skills based on research on how children learn.
Sidewalk Math was collaboratively designed by a team of math educators to build critical numbersense skills in young children, designers to engage children in kinesthetic learning, and early childhood educators to ensure parents and caregivers feel confident in practicing counting and patternmaking with children. The Lesley design team includes:
Art Bardige, Mathematician and educator, CEO of Sustainablelearning and Board of Trustee member
Siobhan Dennis, Principal, Columbus Park Preparatory Academy, Worcester, and PhD candidate in Educational Leadership, Graduate School of Education
Gene Diaz, Professor of Distinction, The Creativity Commons
Yvonne Liu-Constant, Assistant Professor in Early Childhood Education, Graduate School of Education
Martha Barry McKenna, University Professor and Director of the Creativity Commons
Ryan McQuade, Graduate Student, Graduate School of Education and Alumnus of the College of Art and Design
Angela Vierling-Claassen, Associate Professor, Natural Sciences and Mathematics, College of Liberal Arts and Sciences.
Sidewalk Math is a project by Lesley University's Creativity Commons, a physical and virtual space for scholars and students from across the university to engage in creative exploration of innovation in teaching and learning.
For more information about Sidewalk Math, please visit http://www.lesley.edu/sidewalk-math/.