The Council for Advancement and Support of Education (CASE) has recognized Lesley with a Bronze Award in its 2019 Circle of Excellence competition, which recognizes outstanding work worldwide in the fields of advancement services, marketing, communications and alumni relations.
Lesley won the award in the "Internal Audience Publications" category for our weekly campus newsletter, titled "In Case You Missed It" (ICYMI). Every Friday, the e-newsletter features four news items with accompanying photos and one factoid focused on the Lesley University community.
"We liked the fact that ICYMI is short and succinct, with a consistent format," wrote the judges. "We feel like busy people would be more likely to open this knowing that they don't have to navigate dozens of stories... It's been curated to the four most important for readers."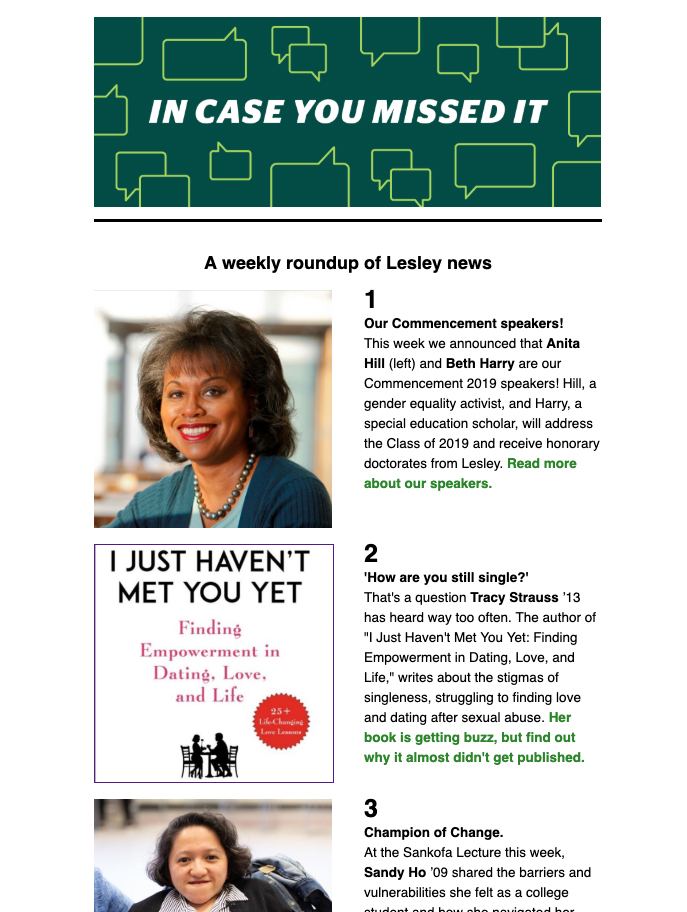 Lesley Communications Specialist Georgia Sparling curates ICYMI, which links to articles written by Lesley staff as well as external media articles that highlight the news and accomplishments of Lesley faculty, alumni, staff and students. ICYMI features vivid images, including photography by Lesley Multimedia Producer Mark Teiwes (MFA '16), and the newsletter graphic was designed by former campus graphic designer Michelle Side (BFA '11, MFA '19).
"We like the friendly and engaging tone and voice," wrote the judges. "The headlines are fun, funny and conversational, rather than institutional."
Lesley was among 611 colleges and universities from 20 countries that submitted a total of 2,856 entries to the CASE Circle of Excellence competition, vying for awards in nearly 100 categories.
In 2018, Lesley won three awards in the Circle of Excellence competition.