Pictured above: Students on Doble Quad playing games during Quadfest week.
With his many wigs, hats and sunglasses in tow, Emmy award-nominated voice actor and comedian John Roberts transformed the University Hall amphitheater into a comedy club this month as he told jokes, shared anecdotes from his work on the hit animated sitcom "Bob's Burgers," and offered enthusiastic advice to Lesley students during a Q&A session.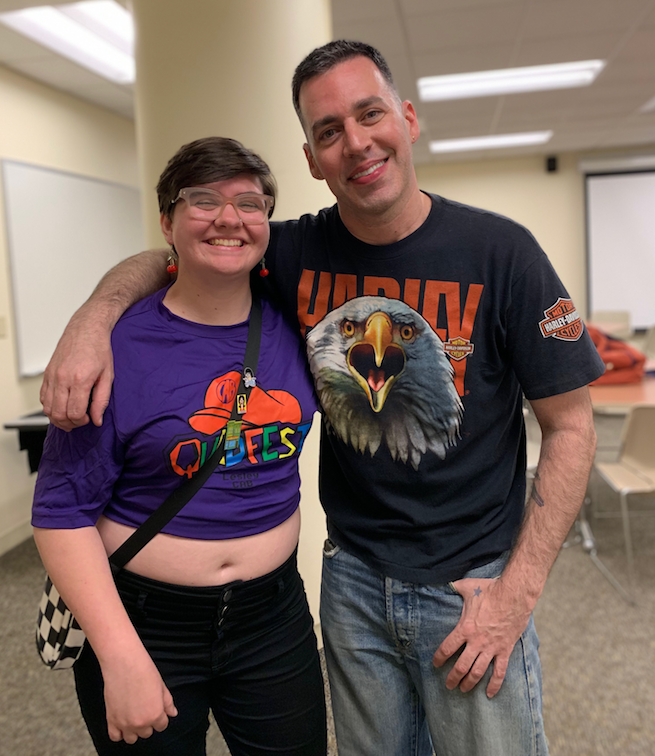 Sponsored by Lesley's Campus Activities Board (CAB), the evening was a part of Quadfest, a week-long spring semester celebration with events including bingo, a talent show and a carnival complete with live music. An annual highlight of Quadfest programming is their night of comedy, and Roberts, who voices family matriarch Linda Belcher on "Bob's Burgers," was a perfect fit for the gig.
Knowing the Lesley audience
When CAB Comedy and Variety chairperson Mich Czlapinski was tasked with booking a Quadfest comedian, Roberts immediately came to mind. Serendipitously, they realized that he was available after attending the Northeast Association for Campus Activities (NACA) in November of 2018.
"Obviously I had to be conscious of who would attend and what Lesley students would want," said Czlapinski. "When I saw that he was eligible for booking, I just had to get him. I knew that having him here would be something really special for the Lesley community."
Roberts, a YouTube pioneer with more than 20 million hits, is well-known for his comedic stylings of zany characters complete with the aforementioned wild wigs and over-the-top accents. Born in New York City and raised in New Jersey, he draws inspiration from friends and family members for much of his set, especially his mother Margie who serves as muse for Linda Belcher.
"I'm half-Irish and half-Italian, which makes me gay!" cheered Roberts, to rousing applause from the crowd.
A gay actor and comedian, some of his many characters include "gay God" who "invented Provincetown on the fourth day," and a bit made famous on YouTube called "My son is gay," an impression of how his mother reacted to his own coming out.
Sincere questions and animated answers
As his comedy performance came to an end, Roberts opened the floor to questions from the audience, spoke from his own experiences and offered guidance to graduating seniors.
"Develop your relationships because those are going to be lifelong. Don't be too hard on yourself and put things into action. Don't think too much," he advised.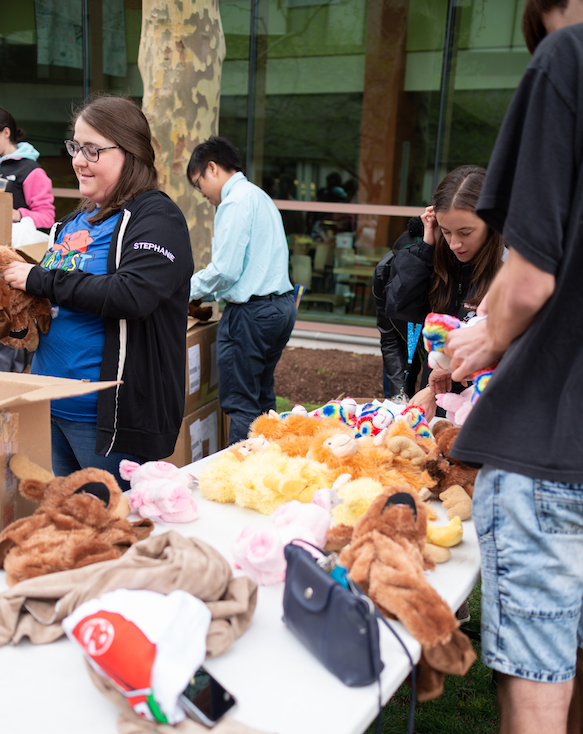 Roberts fielded queries from his favorite Linda Belcher line ("When I die, I want you to cremate me and throw my ashes in Tom Selleck's face.") to who'd play him in a movie (Jerry Seinfeld), but his most heartfelt message came in response to a transgender student asking how to navigate a difficult family situation.
"Right now, in this time, we're all fighting together and there's an awakening happening," he responded. "Find family in your friends and know that you're a beautiful human being."
The evening wound down as students posed for photos and waited patiently for signatures. In booking Roberts for a Lesley crowd, Czlapinski's instincts were spot on.
"I knew there would be an audience here for John Roberts," Czlapinski said, "And that people would truly get something out of getting to meet and speak with him."