About 400 people filled First Church of Cambridge on Saturday for the official inauguration and installation of Jeff A. Weiss as Lesley University's sixth president.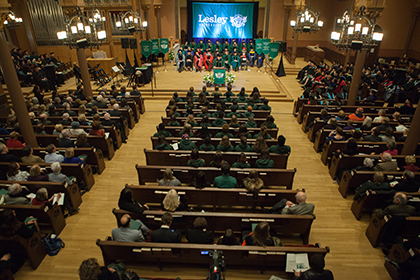 Hundreds of people gathered in First Church of Cambridge.
The celebration was a time of reflection and looking to the future, of highlighting the people, principles and accomplishments that define our community, and a call to action to remind ourselves of the challenges ahead, and the need for everyone here to take the lead in finding solutions to the injustices that plague our society.
In short, as Board of Trustees Chair Deborah Schwartz Raizes (Class '69) put it, "This was an outstanding morning."
With a brass-and-strings ensemble playing "Danny Boy" as well-wishers finished finding their seats in the venerable house of worship, the procession of faculty, students, staff, Lesley administrators and visiting academic dignitaries filed in silently, but not solemnly, clad in traditional scholars' regalia of various colors. 
A scholar's charge
"Welcome to Jeff Weiss's second bar mitzvah," joshed Rabbi Robert S. Goldstein, warming up for his delivery of the invocation.
"A 14th-century sage and authority on Talmudic law, Rabbi Yitzchak Abuhav, wrote that a true scholar should always don modest garb, not too costly or ornate, so that people should not stare at him. 'But,' he warned, 'Neither should he dress too shabbily, lest he be mocked.'"
When the laughter subsided, Rabbi Goldstein continued, "I suspect the wise rabbi was less interested in the sartorial, and more in the character of the scholar, asserting that no matter how exalted or learned they may be, those who teach or who lead are mere vessels of wisdom, repositories of information, transmitters of knowledge."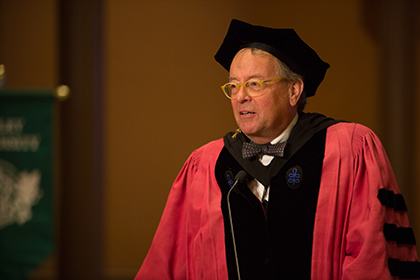 "Jeff Weiss has been an agent of change throughout his entire life,"
said inaugural speaker Robert Oden.
President Weiss later echoed that philosophy throughout his remarks after accepting his investiture from Raizes and Board of Trustees Vice Chair Hans Strauch, as well as gifts from the undergraduate and graduate schools, Threshold Program and Alumni Council.
Weiss, called a lifelong "agent of change" by inauguration speaker Robert Oden, the former president of Kenyon and Carleton colleges, underscored the university's responsibility to create the next generation of leaders to effect positive change and social justice.
"Our aim at Lesley is to inspire and develop skilled leaders of social change — in their professions, communities and classrooms, and often on the national and global stage," said Weiss. "To do this work — not to simply talk about it, or theorize about it, but to ensure we are truly developing leaders who take action and have real impact — we need to not only continue to excel in our powerful combination of teaching, research and practice, but we also need to intentionally develop our students as leaders of change."
"Lesley should be a model, not a mirror of society"
Former Lesley President Margaret McKenna, who served from 1985 to 2007, devoted her time at the podium to praising the example, commitment and foresight of our founder Edith Lesley Wolfard, as well as her own belief that "Lesley should be a model, not a mirror of society."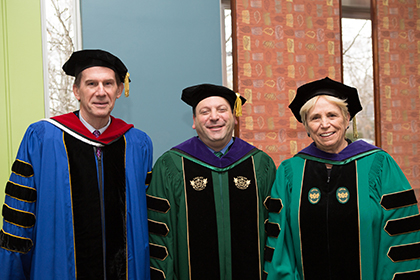 Before the ceremony, President Weiss gathered with his predecessors,
Joseph B. Moore (left) and Margaret McKenna.
As in the chronology of Lesley's recent leadership, McKenna was followed by retired President Joseph B. Moore, who put the role into perspective.
"An inauguration is a historic event. Many institutions tell their histories through their chronology of presidents, and an unusually large number of people actually believe those superficial histories," said Moore, who served from 2007 to 2016. However, he continued, "(Real) history takes place beyond the upper levels of the organizational chart … this requires a president who supports history-making by others, while still accepting the full range of responsibilities that come with being the president."
Then, after a beat: "It's really not that hard."
Student Frances De Leon, who is president of Undergraduate Student Government, appealed to President Weiss to ensure the Lesley community remains inclusive to all, and builds on our history of preparing graduates to give back to others. Doctoral candidate Lisa Dussault Marshall described the graduate student body as a diverse community of learners driven by democratic ideals, energy, creativity and enthusiasm.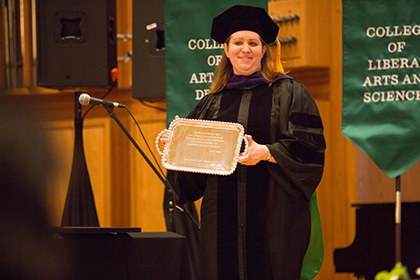 Alumni Council President Nicole Bearse gave President Weiss a gift
on behalf of the council.
"We are proud to model the core values of this institution," said Marshall.
Alumni Council President Nicole Bearse (Class of '00) called on President Weiss and his wife, Gerri Weiss, to continue the tradition of opening their home to students and alumni, and she bestowed an inscribed tray on behalf of the council with the following quote from Kofi Annan, former United Nations Secretary General: "Education is a human right with immense power to transform. On its foundation rest the cornerstones of freedom, democracy and sustainable human development."
"I like to imagine that Edith Lesley knew that education, and specifically educators, were part of what made democracy work," said Bearse.
Collaboration is key
Striking a more serious tone, Provost Selase Williams took to the podium and expressed the university's belief that, "True learning takes place when the educational process is collaborative, and where the student's voice is as important as that of the faculty." He said, "This is a community that strives to be the crucible for social justice."
Provost Williams spoke of our "mission-driven" institutions and programs, the traditions and excellence of the university's individual undergraduate and graduate schools and hailed Lesley's commitment to service.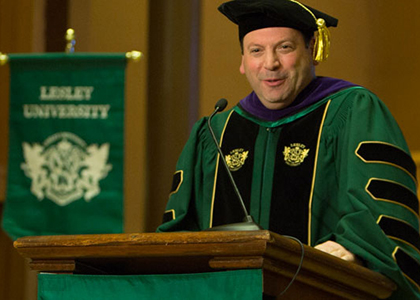 "Difference is the engine of innovation," said President Weiss.
"Our graduates go on to break the mold, do impactful work in common and uncommon places, and seek to make a difference wherever they are," Williams said. "This is the Lesley you have come to join. This is the Lesley you have come to lead. This is the Lesley you will come to love."
Others, including President Weiss and trustees Chair Raizes, extolled the posters, panel discussions and presentations on display Friday at Community of Scholars, which this year doubled as an opening for the inauguration weekend, and which featured a theme of social justice, diversity and inclusivity.
And Oden, who was a professor of Weiss's at Dartmouth College, spoke of his student's rare combination of intelligence and discipline, and insisted that his true genius emerged during periods of tense and seemingly hopeless negotiations.
"Jeff Weiss has been an agent of change throughout his entire life," Oden said.
Embracing difference
One critical element of collaboration, Weiss said in his remarks toward the end of the celebration, is the ability to "embrace, seek to understand, and leverage difference."
"Difference clearly comes in many forms: background, belief, values, experience, expertise and points of view, to name a few," Weiss said, adding that growing up near Boston during the height of the tension surrounding the city's attempt to end de facto school segregation via forced busing underscored the primacy of difference. In addition, his studies of American history and his 30-plus year career in conflict resolution showed that "difference can drive people apart."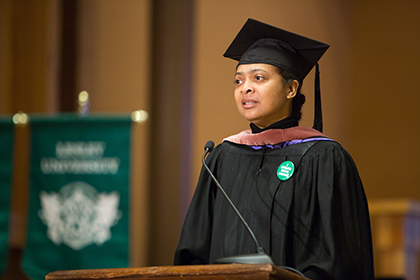 Professor Danielle Legros Georges wrote an original poem for the
occasion.
"Yet, for the effective leader — especially the one who leads by working with others —difference is the engine for innovation," Weiss said. "The effective leader seeks out difference: asks questions, listens, and builds deep understanding of differences; helps others to do the same; and harnesses what is learned to solve problems in new and creative ways."
And Weiss said the stakes are high, especially for our students.
"There may be no more important time in history to encourage, support and inspire our students to find their own voice; to challenge them into action; and to equip them with subject matter knowledge, applied skill and core leadership competencies," Weiss said. "Our road ahead challenges us to do this even better."
The ceremony concluded with an original poem by Professor Danielle Legros Georges, who is Boston's poet laureate. Following the inauguration, the community enjoyed a celebration and luncheon in Washburn Hall with a live jazz performance by graduate students Alison Fox, Zack Gresser, Eva Steward and Andria Thomas.