Death unites us all. Regardless of social class, place of national origin or color, all people experience the death of loved ones and, eventually, find common ground, often underneath it.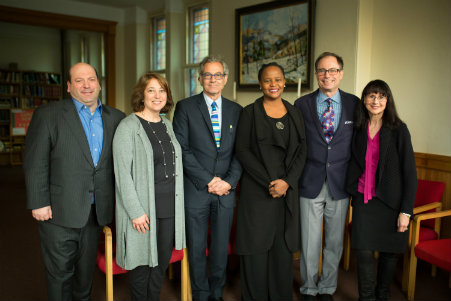 From left, President Jeff and Gerri Weiss, College of Art and Design Dean Richard Zauft,
Edwidge Danticat, and Hans Strauch and his wife, Dari Paquette.
Author and MacArthur Genius Edwidge Danticat on Thursday night spoke at length about death as the center of her past and recent work, including her forthcoming book "The Art of Death." She reflected movingly about the death from ovarian cancer of her mother, a Haitian immigrant with a wicked sense of humor, and who insisted Danticat and her three brothers learn and speak Creole in their home.
Danticat expressed that she was torn between quickly "trying to put something between me and it," and plunging into the subject of death by examining how other writers and artists she admires tackle the subject. Inspecting the treatment of death in media as wide ranging as the movie "The English Patient," to the works of spirituality-focused author C.S. Lewis, to conservative, contrarian writer Christopher Hitchens, to the visual art of Colombian sculptor Doris Salcedo, Danticat's words wove a narrative of death that was less burial shroud and more ornate tapestry.
She addressed a rapt audience in the Harvard-Epworth Church, gathered for Lesley's Strauch-Mosse Visiting Artist Lecture Series. Pointing to the appropriateness of holding forth on death in the lecture setting of a church, Danticat explained that, in America, we attempt to view death as something distinct from life, whereas her mother's belief — shared by her Caribbean culture — is that death is an intrinsic part of existence not to be feared.
Still, Danticat conceded that writing about death isn't the same as experiencing it.
"I was kind of a serial murderer in my work," Danticat joked, referring to the characters she killed off. "I was killing everybody.
"When you experience death up close, you think about death quite differently."
Don't abandon humor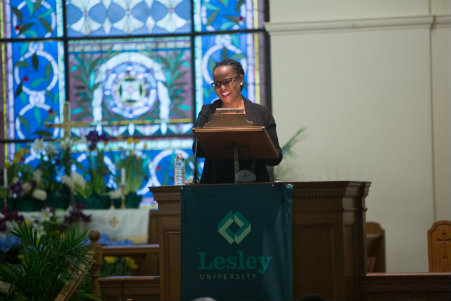 Author Edwidge Danticat speaks in Harvard-Epworth Church.
Danticat fully experienced the heartbreak of seeing her mother rapidly losing weight toward the end of her terminal illness, doing her best not to sob in front of her, especially toward the end. Her mother would have none of it, breaking the tension with mordant remarks in Creole to her hospital caregivers, who also hailed from Haiti. To one aide inept at drawing blood, Danticat's mother said she wished the health care worker were a vampire, so she could unerringly strike a bountiful vein, perhaps in her neck.
To the caregiver tasked with the odious and difficult task of extracting stool, she said the worker might have embraced the chore with more gusto had the patient ingested gold.
Danticat's own humor was on display as she read a prayer she was asked to write. Saying she was giving her mother more English words than she typically lavished on others, Danticat channeled her mother's petition to God. The prayer included her entreaty that she not be buried in an ugly dress, and that her children find the $500 she had secreted in a tin can in her freezer, a trove she neglected to mention on her deathbed.
"We're kind of a morbid family," Danticat offered, at one point, to considerable laughter.
In addition to her mother's humor and the work of modern authors, Danticat found lessons in the Greek myths of Antaeus, whose wrestling dominance was literally upended by Hercules's tactic of lifting the son of Poseidon and Gaia off the ground, sapping his power. Danticat also relayed the story of Persephone, whose kidnapping by Hades so devastated her mother, Demeter, that she stopped growing vegetation.
"We are all daughters of the same mythical woman," Danticat said. "We have all been orphaned, except by our words."
Strauch-Mosse Visiting Artists
The Strauch-Mosse Visiting Artists Lecture Series, funded by Trustee Hans Strauch and the Mosse Foundation, was announced at the Xu Bing lecture in Prospect Hall on November 12, 2008. This lecture series and the generous benefaction that endows it enables the university to bring world-renowned and award-winning artists to the campus in support of our commitment to artistic and cultural inquiry and the integration of the arts throughout the curriculum.
Previous lecturers have included fashion and art photographer Inez Van Lamsweerde, dancer and "sound suit" creator Nick Cave, dancer Judith Jamison and multimedia artist and activist Carrie Mae Weems.
The series is free and open to the public.