Johanny Nunez and Anamaria Guzmán Cardenas speak to about 60 BIPOC graduate students pursuing advanced degrees in Mental Health Counseling, Counseling Psychology and Epressive Therapy.
Improving lives in the various arenas related to mental health takes hard work, support, and commitment.
It also takes magic, as several people mentioned during last week's "The Arts in Mental Health Counseling: Creative Leadership" gathering in Washburn Lounge. This event provided an opportunity for the Lesley scholars and community to engage in a conversation on expressive therapies and mental health counseling.
The gathering, designed to celebrate BIPOC graduate students from Lesley as well as from Boston College, Boston University, William James, Framingham State, Bridgewater State and Northeastern University, who received $10,000 scholarships from the Accelerate the Future Foundation. The evening included accolades, personal stories, and anecdotes from the field.
And, because it was hosted by expressive therapists, the event was peppered with dance, movement, and chanting.
"I feel the magic of what you will be doing in your lives," President Janet L. Steinmayer told about 60 attendees assembled for the evening celebration.
Following Steinmayer, who had been introduced by former Graduate School of Arts and Social Sciences Interim Dean Sandra Walker, GSASS Dean Deanna Yameen and Vice President of Equity, Diversity, Inclusion and Justice Gloria Noronha welcomed attendees.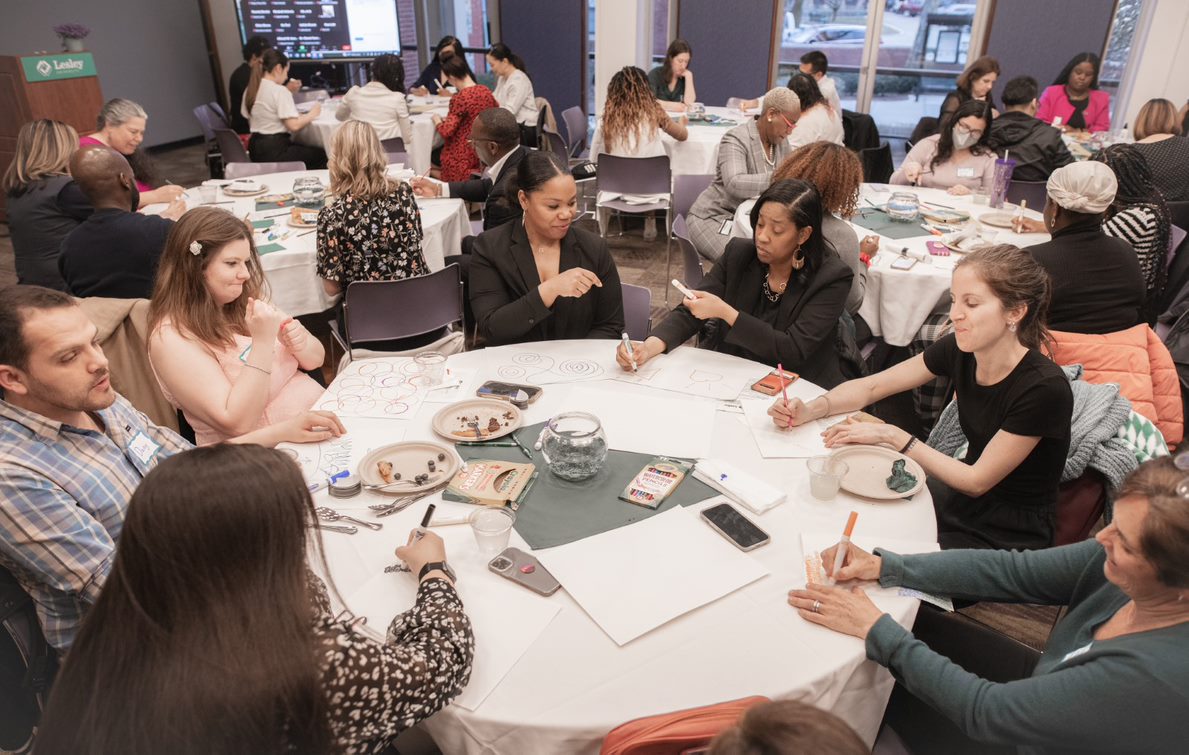 Kicking things off were remarks from keynote speakers Dr. Tia Lites, a school administrator who earned her Master of Education from Lesley in 2010, and alum Ebony Nichols, a board-certified dance/movement psychotherapist and licensed creative arts therapist, cosmetologist, and entrepreneur. Nichols attends Lesley's doctoral program in Counseling and Psychology: Transformative Leadership, Education and Applied Research, having been awarded a presidential scholarship.
Throughout the night, speakers used the word magic to describe the mission and practice of diversifying the ranks of therapists of all types. Diversity is crucial, they said, because many people of color who could benefit from mental health counseling and other interventions don't seek it because few practitioners are of their race or ethnic background.
"Lord knows we need way more people of color in this work," said Expressive Therapy Professor Karen Estrella, who moderated a panel discussion featuring Lesley alumnae Claude Michelle Aubourg, Maia Monteagudo and Aneesah Dambreville. "It's not just our identities we bring to this work, but also our creativity."
"There are not many substance abuse counselors of color," agreed Dambreville, a licensed mental health clinician and registered drama therapist who earned a Master of Arts in Clinical Mental Health Counseling and Drama Therapy at Lesley.
"Our work is social justice work. I learned that here at Lesley," she added later.
Monteagudo, who earned her M.A. in Mental health Counseling with a specialty in Expressive Arts Therapies, discussed some of the challenges she, as a Latina, faced starting out. Her advice to others: "establish boundaries."
"You are a clinician, not a translator," she said. "Learning to say no at the beginning of your career helps set you up for success later as you're navigating your career."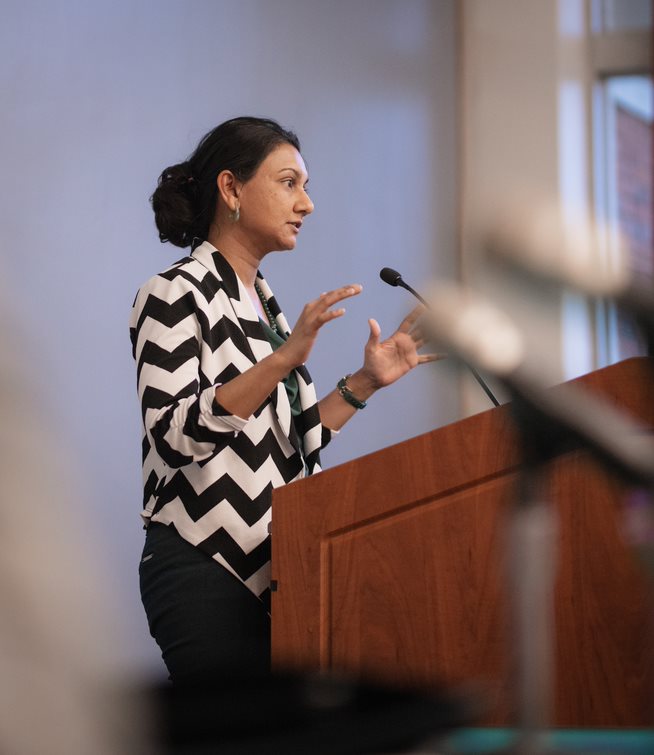 Aubourg, who earned her master's in Clinical Mental Health Counseling and Dance/Movement Therapy, added that it's important to "say to ourselves and others, 'I deserve to be here.'"
Or, as Dambreville pointed out, "Sometimes when you have the magic inside you" people can be intimated and resentful, but that's their problem.
"I walk in like I'm the magic," she said. "Don't let anyone scare you away."
"We also had about 30 folks who attended virtually. It was an amazing evening where the scholars celebrated the work and shared their wisdom," said Nancy Beardall, associate professor of Dance/Movement Therapy. "This was an event to build upon year after year. Hosting the gathering and giving the scholars the opportunity to network and connect was significant in bringing the work forward."
Toward the end of the evening Ross Lohr, managing director of Accelerate the Future Family Foundation, mentioned the next gathering will be held in October at Boston College.
Accelerate the Future is a private family foundation supporting organizations that improve the lives of children through STEM, adolescent mental health, and pediatric cancer research initiatives.
Deep appreciation was expressed to the Foundation and thanks to the ATF Advisors,
Jason Butler, Meenakshi Chhabra, Walker, Yameen, Estrella and Beardall.
Lesley awardees
Lesley University students who were awarded Accelerate the Future scholarships include:
Leticia Alcuran
Anamaria Guzmán Cardenas
Wan Yi Huang
Jonathan Kang
Olivia Moore
Yu-Tzu Lin
Johanny Nunez
Trinity Perry
Kahelia Smellie
Alyson Summer
Binh Truong