Dr. Janine de Novais didn't want to be another person talking at the Lesley community about race.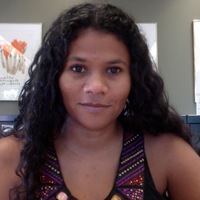 "Before I was a professor, I was a student, and, in some ways, I still feel like a student," she began, opening the Nov. 16 Sankofa Lecture in Marran Theater, which is organized by our Office of Multicultural Affairs and Student Inclusion (MASI).
"I want something clear and useful to bring to you today. I'm going to act like this is a classroom and treat this as a learning space for me and for you," she said.
A brave classroom community
Originally from Cape Verde, de Novais is a lecturer at the Harvard Graduate School of Education and recently accepted an assistant professorship at the University of Delaware's School of Education for the fall of 2018. She spoke to the audience of students, faculty and staff about her "Brave Community" model of learning and teaching, offering perspectives on race and classroom culture in higher education. She drew from her Cape Verdean heritage by referencing political organizer Amilcar Cabral, and noted her proclivity for W.E.B. Du Bois, emphasizing his teachings and values.
"W.E.B. DuBois is my favorite person, second to my son," she quipped.    
She suggested approaching history from a place of inquiry rather than ignorance, citing a study on academic courses focused on race where students had positive classroom experiences. de Novais deconstructed what was going on in those spaces to hone her learning model.
"When students are given a common basis of fact, when they're part of a community which has strong ideas about how to interact with each other, then they can ask difficult questions and hear difficult answers," she said. "For me to be able to be brave, the people listening have to listen to me bravely."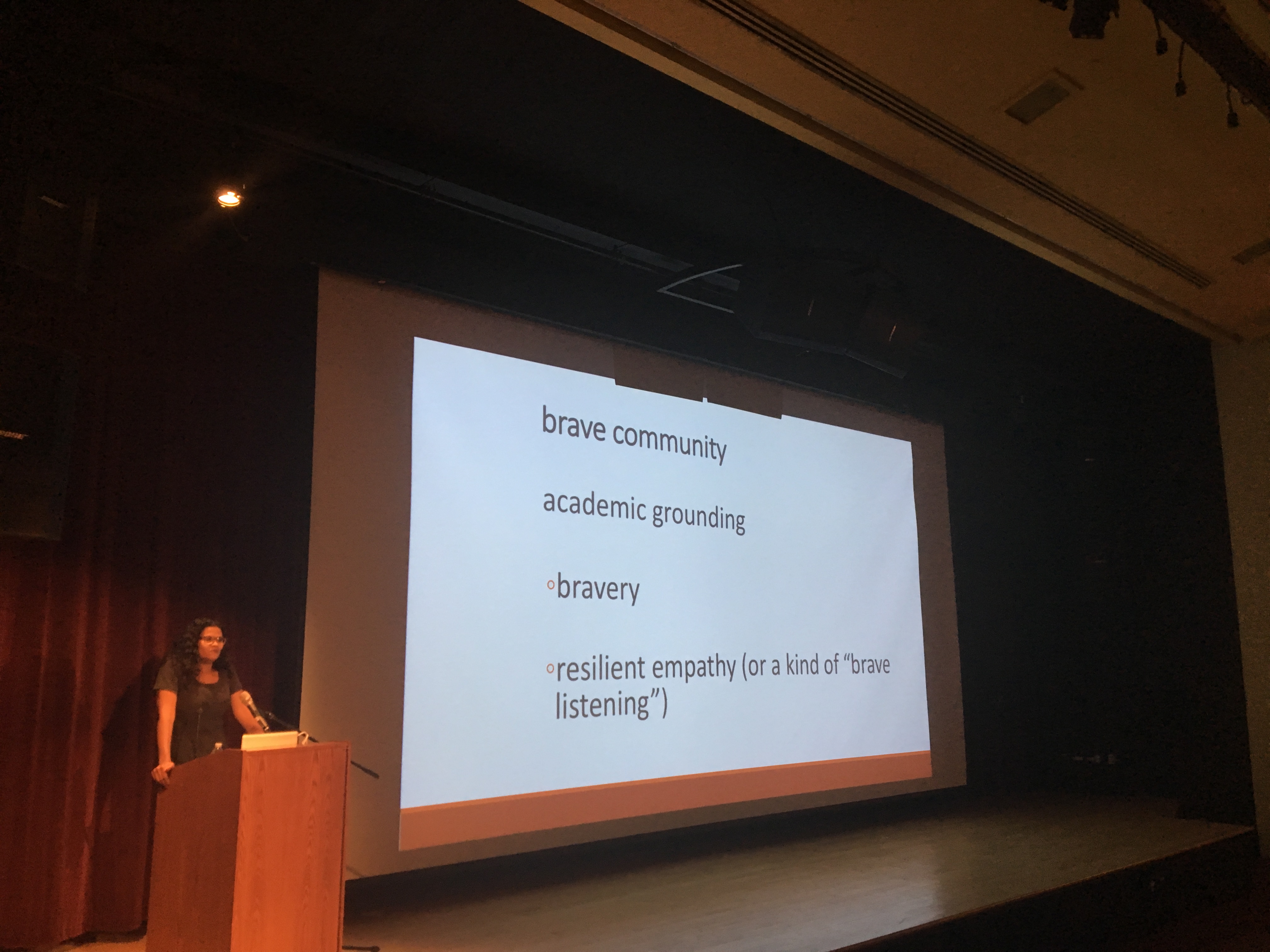 To achieve a "Brave Community," in which educators and students can effectively and productively communicate about uncomfortable or sensitive topics, de Novais recommends being open to discourse on a personal level.
"Racism is structural and big, but human life is at human scale," she said. "All the horrible things we do to each other happens at the human scale."
Searching for answers
de Novais left ample time for questions and answers from the audience to create a brave community culture in the theater and encourage challenging dialogue.
Students raised questions concerning microaggressions and racism in the classroom and art studios, searching for answers on how to navigate potentially hostile situations while maintaining a healthy student experience.
"The goal has to be for you to be a student and get what you came here to get, just like everybody else," said de Novais. "People are sitting across from each other as human beings. There's no need for miscommunication."
de Novais emphasized that she was speaking to all people in the room and acknowledged that the application of her model means different things to different people.
"If we're trying to work as a society towards a goal, then that needs to be open to everybody," she said. "Having something (like a brave community) is big enough as a concept that it works for everybody. The difference is in how you apply it."
She went on to describe how these applications might play out in creating this type of classroom community.
"Setting it up is the responsibility of the faculty," she continued. "There needs to be leadership in the room to create those settings. Faculty taking leadership and all students showing up for it."
Educators are in the business of doing
Lesley Director of Multicultural Affairs and Student Inclusion Lilu Barbosa introduced de Novais at the start of the event, providing context to the lecture's namesake. Derived from the Twi language of Ghana, Sankofa means "to go back and fetch it," suggesting a look back to the past in order to take responsibility for it.
Delivering on a promise of ending on an optimistic note, de Novais charged the audience with action and advice on how to create brave communities in the classroom and beyond.
"Educators can make these changes today, tomorrow, we don't have to wait for anyone to do it. We can do it. We're in the business of doing," she said. "I believe that we can learn about race to unlearn racism. And I firmly believe that we can rescue the future."