The first presenter at Lesley's Boston Speakers Series in 2016, Ayaan Hirsi Ali stirred the audience with her controversial and compelling viewpoints about radical Islam.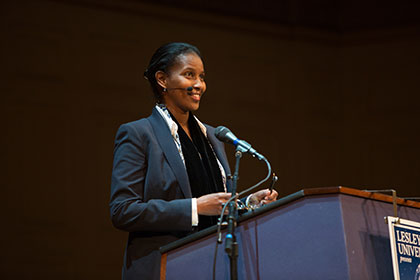 Ayaan Hirsi Ali speaks in Symphony Hall.
Steering away from the humorous personal anecdotes that often characterize the Symphony Hall lectures, Hirsi Ali held the packed audience in rapt attention as she warned of our complacency in the face of terrorism and called for a reformation of Islam.
But she also insisted that she is optimistic that Islamic and Arab societies will democratize.
"We have an obligation to leave this place better than we found it for our children," she said.
Born in Somalia, Hirsi Ali obtained political asylum in the Netherlands in 1992, and was elected to the Dutch parliament in 2003. A supporter of women's rights, she collaborated on a 2004 documentary, "Submission," about the oppression of women in Islamic societies, after which the film's co-creator, Theo van Gogh, was assassinated by a Dutch Muslim. She moved to the United States in 2007, and is now a fellow at the Harvard Kennedy School and a member of The Future of Diplomacy Project at the Belfer Center at Harvard.
Although she has lived in many places, Hirsi Ali told the audience that her "mental and intellectual journey" is more important than the geographic one – "from adherent of Islam to becoming a proud American citizen," she said.
About radicalization, she insisted, "We have to tell this story of how it comes into your classroom, your neighborhood, your family – and how we respond to it."
Hirsi Ali recalled that her teachers indoctrinated her as a young teenager, encouraging, among other things, that she and her peers either convert their Christian friends or end their relationships with them.
"It wasn't enough to just be a Muslim. You had to demonstrate it, feel it and really submit to it," she recounted. "These charismatic teachers taught you to give your life up for something much greater than cheap thrills, for the ultimate thrill of all: to please Allah."
She asserts that jihadists and radicals prey upon youth at their most vulnerable time as part of a "long process of persuasion," delivered with unshakable confidence. She believes that the most powerful way to combat this is by educating and inspiring critical thinking.
"Perhaps if we had approached people with different messages they might have drawn different conclusions, taken a different path," she said, stressing the importance of asking questions, like, "If Allah is just and merciful, then why are women second-class citizens?"
She credits her exposure to literature and differing viewpoints as key factors in her eventual abandonment of radicalism. She even gave credit to the fictional sleuth Nancy Drew – a young woman who explored, inquired and observed to find the truth.
"Can you believe that one of the sources of my corruption in my youth was Nancy Drew?" she quipped. "Fiction that takes you through, 'Oh this doesn't make sense,' is so much more subversive than telling people, "Think this. Don't think that.'"
Critical thinking is most powerful weapon
In response to terrorist attacks that have taken place across the United States, Europe and other parts of the world, she pressed the audience to challenge Muslim extremism with critical thinking.
"What is roiling our time?" Hirsi Ali posed. "Critical thinking." We must not be afraid to use it, she argued.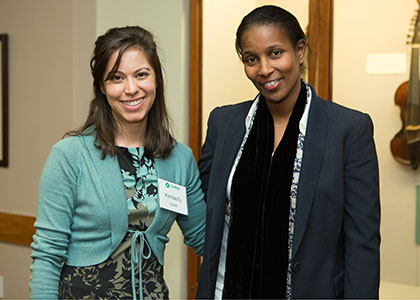 Dr. Kimberly Lowe, assistant professor of European history at Lesley,
speaks with Ayaan Hirsi Ali.
She expressed concern that academic freedom on American campuses is "thoroughly threatened" today by a culture of decadence and complacency in which people are fearful of questioning troubling viewpoints or engaging in uncomfortable conversations.
In her view, this is pervading society. She criticized U.S. presidents who have simply called Islam a peaceful religion in the wake of terrorist attacks, and she faults Western diplomats who consort with leaders of nations that oppress their people.
"For god's sake, why do we do that? Do we think if we indulge them, after a while they'll grow up?" she posed. "Indulging autocrats and organized fascism is not only going to make the world a worse place, we're also giving up who we are."
She spoke about her most recent book, "Heretic: Why Islam Needs a Reformation Now," in which she argues that the world's 1.6 billion Muslims can be classified into three subsets: a minority of extremists, a majority of observant but relatively apathetic Muslims, and a minority of dissidents and reformers who take risks to challenge and modify the religion from within. 
"(Categorizing) helps us not only understand what is going on and who are our natural allies," she said, but those who share the same values such as religious freedom and gender equality.
"That small group of modifiers: Who and where are they?" she asked. "They are the heretics. They are the dissenters of Islam. And if nothing else we can protect their freedom of expression, that very rare commodity outside the United States of America."
Embracing controversy
Hirsi Ali asserts that some Muslims will condemn ISIS and practices such as beheadings or treating women as slaves, but fall short of condemning the principles that justify those actions.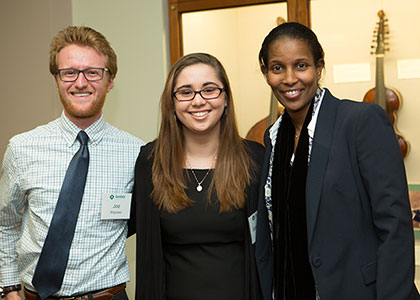 Joe Mazzeo and Lesley sophomore Samantha Smith, who is studying
counseling, gather with Ayaan Hirsi Ali following her lecture.
"There is a cohort of people using the Islamic doctrine to commit acts of atrocity," she said. "Don't follow the Quran as if it's a traffic manual. Don't invest in life after death instead of life before death. Reject Sharia law. Reject jihad."
Among her honors and distinctions, Hirsi Ali was named by Time magazine as one of the 100 most influential people in the world, but she has many detractors.
"I know I'm being controversial," she said. "People say I'm playing into the hands of Donald Trump – the latest in a long list – but I tell them answers do not lie in stifling speech or in protecting people from facts and reality. … The answer does not lie in protecting college kids from ideas that disturb them. The point is to expose them to ideas that disturb them."
Hirsi Ali adeptly fielded a wide array of questions during an audience Q&A, moderated by Phil Redo, general manager of WGBH Radio, which is Lesley's media partner for the Speakers Series.
One audience member asked her if she is politically left or right – or "something else."
"Neither. I'm fiscally conservative, socially liberal and 'something else' in so much as that is 'common sense,'" she quipped, eliciting laughter and applause.
She was asked to speak about her strained relationship with her family, reflect on her deceased collaborator van Gogh, to describe female genital mutilation, and to opine on the Middle East refugee crisis.
"Theo van Gogh was the number-one provocateur of the 20th and 21st century of every single group, he just relished that," Hirsi Ali recalled. "When Islam came up, he really studied it. … In making 'Submission,' he said, 'I really do feel bad for these women.' I am really sorry and sad he was murdered and the victims did not understand or appreciate what he did."
She said the influx of refugees into Europe from countries including Syria is more complicated than most realize. She drew the analogy that a house guest must abide by house rules, and that an employee must abide by a company's rules, and she believes "we should have a conversation about this type of thing before allowing access."
Salon published an article last year, titled "Ayaan Hirsi Ali is dangerous: Why we must reject her hateful worldview," which an audience member cited by way of asking her to address her polarizing positions.
"I'm as dangerous as any heretic," she said.