For German exchange student Marlene Krüger, a welcoming and friendly college community has been key to acclimating to life at Lesley University.
The transition to college is a big deal for all students, and international students face unique adjustments as they often must adapt to a new language, culture, customs and educational system.
Here is some advice for a successful international student experience and key supports.
1. Orientation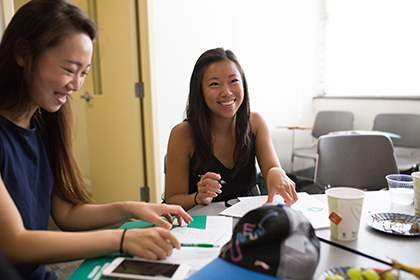 More than 100 international students from 44
different countries are on campus this semester.
A good international student orientation program helps exchange students and international students get acquainted with campus life and connect with their fellow exchange students and staff. Orientation also promotes cultural exchange, and meets the unique needs of attending school in new country. Staff at the Global Education Center recognize that study abroad is a courageous undertaking, for which they must provide students with unique resources during their time at Lesley.
"It has been both a challenging and exciting time to come to America and the international orientation made it a lot easier for me to overcome the first difficulties," says Natalie Lubowiecka, of Germany.
2. A welcoming faculty and staff

President Jeff Weiss (right) greets student
Miguel Villaescusa Tello, of Spain.
President Jeff Weiss, Provost Selase Williams and deans Steven Shapiro and Richard Zauft attended the September international student orientation, as well as staff from the Global Education Center and other members of the Lesley community.
"It was just great to have the president playing bingo with us, and even more shocking for me was the fact that both deans were having a nice coffee chat," says Miguel Villaescusa Tello, of the University of Basque in Spain. "They were attentive and diligent towards all of us (which) gives the sense of nearness and community that Lesley brings to the table."
"I am thankful for every smile I get on campus and every help from the staff," adds Lubowiecka.
3. Community involvement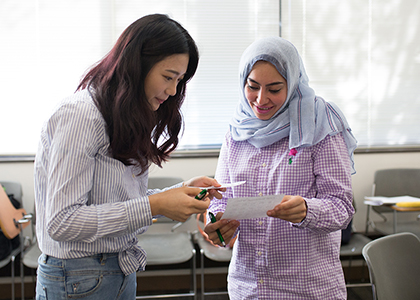 Together, students establish a new home away
from home.
Community involvement and support is important to establishing a new home away from home.
"I already feel at home at Lesley. The whole Lesley community has been very welcoming and friendly," says Krüger, an exchange student from the University of Freiburg in Germany. "I love how the professors care about us and our international perspectives in the classroom."
4. Institutional support for international education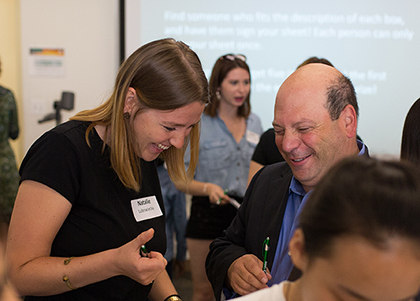 President Jeff Weiss welcomes student Natalie
Lubowiecka, of Germany.
International education is an important component of promoting a diverse and multicultural campus. Lesley is in the midst of integrating an inclusion plan that aims to create a culturally inclusive university that values diversity in all of its forms, and actively combats racism through its policies, practices, programs and human interactions.
"Lesley has taken significant steps forward in internationalizing by building a community of global scholarship on-campus and through encouraging cultural exchange," says Bradi Hajjar, director of international recruitment and student success in the Global Education Center. She adds that university leadership has shown "support and provided a special welcome to our new international students."
5. A two-way exchange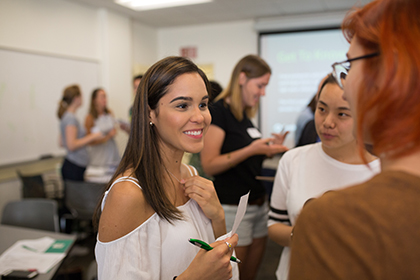 "Study abroad expands horizons on all fronts,
not just for the student doing the traveling," says
Laura Kanner, coordinator of International
Student Services.
It's not just exchange students who benefit from an experience studying abroad. Campus diversity benefits all students, both foreign and domestic. International education is an essential opportunity for students from the United States and other countries to share different perspectives and expand their knowledge in today's global society.
"International students bring diversity to our campus and our classrooms," says Laura Kanner, coordinator of International Student Services. "It broadens not only their worldview, but the worldviews of their domestic peers. Study abroad expands horizons on all fronts, not just for the student doing the traveling. Everyone benefits, and everyone learns."
The Global Education Center is located at 89 Brattle Street, Room 362. Last year, 113 Lesley undergraduates studied abroad in Australia, Bhutan, England, Galapagos Islands, Greece, Haiti, Iceland, India, Israel, Italy, Japan, Mexico, Poland, Scotland, South Korea, Spain, Sweden, Tanzania, Thailand and Turkey. Learn more about study abroad opportunities.