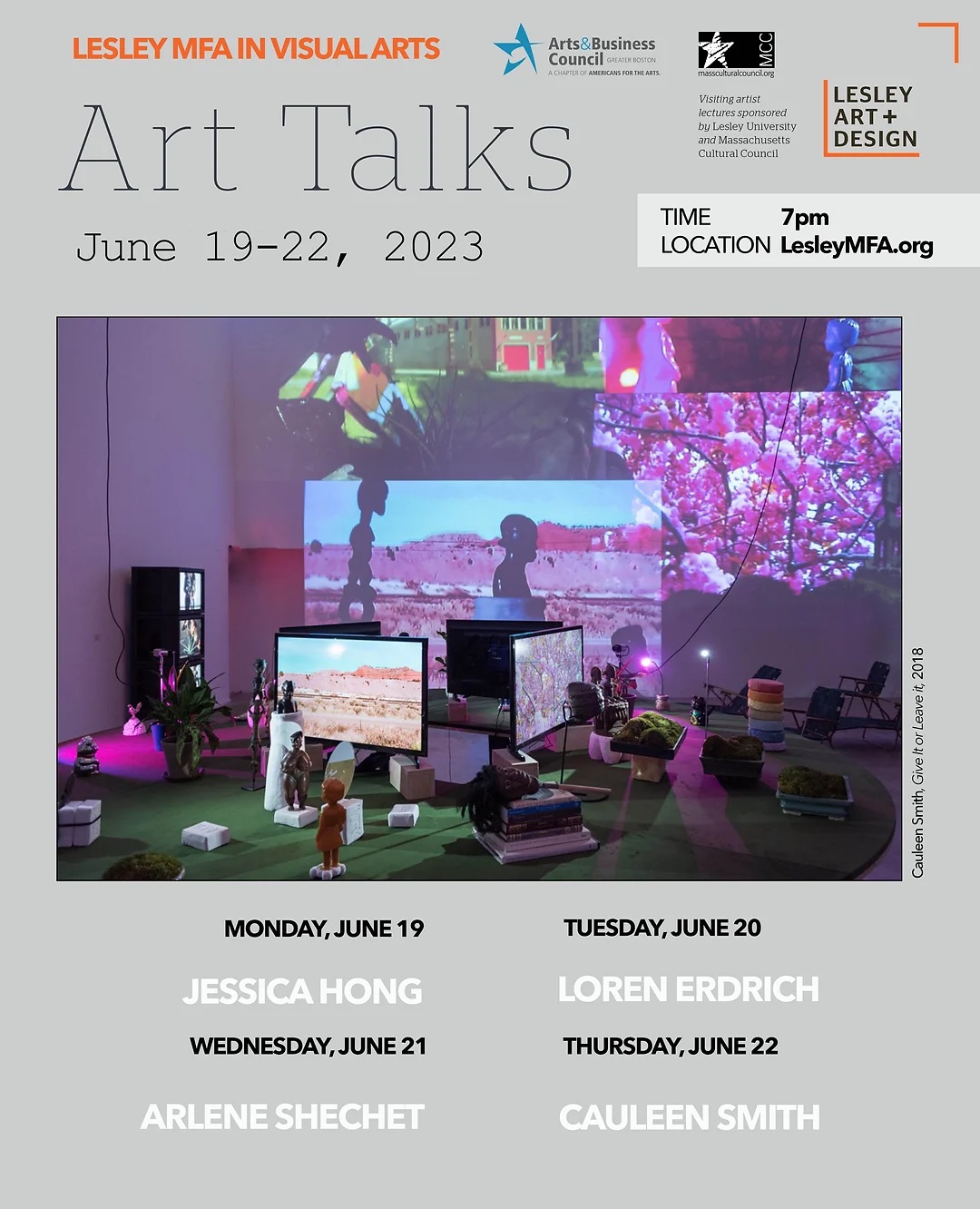 The Lesley MFA in Visual Arts talks will take place at 7 pm ET and will be live-streamed at LesleyMFA.org.
Monday, June 19: Visiting Faculty Jessica Hong
Jessica Hong is a curator and cultural worker who has dedicated her practice to highlighting overlooked narratives, revealing and shifting the colonial frame of institutional sites to ultimately implement long-lasting change. She is the Curator of Modern and Contemporary Art at the Toledo Museum of Art, and has held positions at the Hood Museum at Dartmouth, the ICA Boston, and Harvard Art Museums.
Tuesday, June 20: Visiting Artist Loren Erdrich
Loren Erdrich uses organic and synthetic dyes and raw pigments on canvas to create atmospheric images that drift in and out of focus, wholly embodying the unpredictable nature and fluidity of water. Erdrich's work has been shown at SHRINE, NY; Blank Gallery, Shanghai; Nicodim Gallery, Los Angeles; Primary Projects, Miami; NBB Gallery, Berlin; Bricks Gallery, Copenhagen; and Galleria Richter, Rome.
Wednesday, June 21: Visiting Artist Arlene Shechet
Arlene Shechet is a sculptor known for her effortless combination of disparate elements, precarious and provisional arrangements, and boundary-collapsing visual paradoxes. Solo museum presentations of her work include those at the RISD Museum; Weatherspoon Art Museum, Greensboro, NC; Nerman Museum, Kansas; MoCA Denver; Frick Collection, and the ICA Boston. Her show, "Disrupt The View," is on exhibit at the Harvard Art Museums until 2025.
Thursday, June 22: Visiting Artist Cauleen Smith
Cauleen Smith is an interdisciplinary artist whose work reflects upon the everyday possibilities of imagination. Drawing from structuralism, third world cinema, and science fiction, she makes things that deploy the tactics of these disciplines while offering a phenomenological experience for spectators and participants. Solo museum shows of hers include those at the MCA Chicago; the Art Institute of Chicago, ICA Philadelphia; LACMA; CAM Houston, and Mass MoCA.