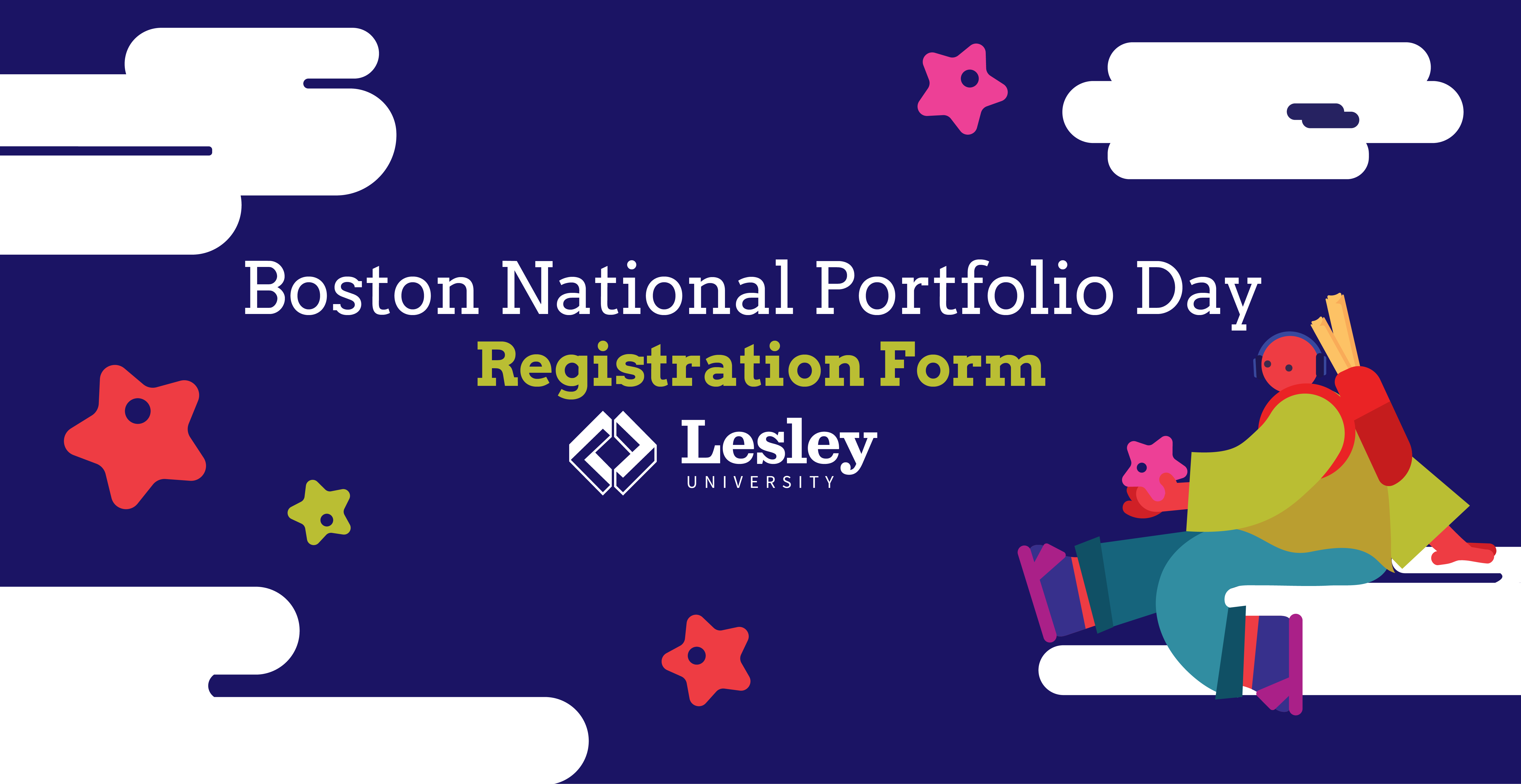 What is National Portfolio Day?
National Portfolio Day is an annual event, held in multiple locations across the United States and Canada, produced specifically for emerging visual artists and designers. It is an opportunity for those who wish to pursue an education in art and design to meet one on one with professional representatives from colleges and universities who are accredited. 
It is designed to help further the artistic development of young artists and designers by bringing together experienced post-secondary representatives to review student portfolio materials and offer feedback and guidance. National Portfolio Day may be the first time you have been in an environment with so many people in one place who all share a powerful commitment to art and design. The experience can be very inspiring and is a small taste of what a professional art and design program can be like. 
This National Portfolio Day event is hosted by Lesley University College of Art and Design.
---
Why should you attend National Portfolio Day?
This event is a unique opportunity to meet individually with professionals who can provide valuable feedback and guidance on your portfolio of work. You'll have the chance to discuss the specific school's programs and get answers to questions about professional careers in art and design.
You'll make personal connections with admissions counselors and gain clarity on the application process:
Refine your portfolio and application
Meet admissions counselors and faculty members from your favorite schools
Talk through your body of work and practice discussing your artist statement
Narrow down your top picks for college
---
What to Expect
You'll gain a better understanding of your schools of interest and the application and portfolio process. You'll also hear personalized feedback about your artwork, including references to artists and resources, and make valuable connections with admissions counselors at your top-choice schools. Count on:
Portfolio reviews with admissions counselors and faculty
One-on-one interactions and personalized discussions (parents may be present and are welcome to ask questions)
The opportunity to meet with a variety of schools (arrive early to get in line for your top choices)
The opportunity to learn about schools you had not previously considered
Take-away materials from schools that provide further info: brochures, catalogues, and viewbooks
---
How to Prepare
Your portfolio should include your best and most recent work, but it can also include works in progress, sketchbooks, and tear sheets. You'll hear many different opinions of your work. Don't hesitate to explain how you develop your ideas and where you want to go with them. Often, sharing the process of arriving at the completed work is as valuable as simply presenting finished products. 
Bring examples of your best work and the work that interests you most
Bring a pad and pencil for taking notes
Research the schools before you arrive
Prioritize your top choices by 3 - 4 "must-see" schools, and 5 - 7 "hope-to-see" schools.
Be ready to ask questions such as:

What type of school is this?
What is the main focus or educational philosophy of the school?
What kinds of courses are required?

Be prepared to answer questions such as:

What have you been exploring in your work?
How does your work connect to other work being done in a similar field?
What kinds of technical courses have you taken?
What skills have you learned?
What do you want to do in the future?
What are you looking for in a program? 
---
Schedule, Venue Directions, and Parking
Check In - 11:00 am 
Portfolio Reviews - 12:00 - 4:00 pm 
All schools will be located in Exhibit Hall D. 
Driving directions and parking information for and near the John B. Hynes Veterans Memorial Convention Center can be found on their web page. 
---
Additional Information
A typical review will last 10-15 minutes. Most students will see 3-4 schools over the course of the event.
No admissions decisions or scholarship awards will be offered to you at National Portfolio Day. Some colleges and universities represented may accept your portfolio as the visual portion of your application. Others have restrictions that prohibit them from making a definite portfolio decision at the time of your review. We urge you to discuss your work with as many representatives as possible.
Can't make it to this event? Look for us at these other National Portfolio Days taking place across the United States.
---
Register Today
Avoid waiting in line at the event and register in advance. 
Participating Institutions
Alfred University School of Art and Design
ArtCenter College of Design
Boston University School of Visual Arts
California College of the Arts (CCA)
California Institute of the Arts • Cleveland Institute of Art
College for Creative Studies
Concordia University
Cornish College of the Arts
Drexel University, Westphal College of Media Arts & Design
Fashion Institute of Technology
Hartford Art School, University of Hartford
Kendall College of Art and Design of Ferris State University
Laguna College of Art + Design
Lesley University College of Art and Design
Maine College of Art & Design
Maryland Institute College of Art
Massachusetts College of Art and Design
Minneapolis College of Art and Design
Montserrat College of Art-Admissions
Moore College of Art and Design
New York Academy of Art
Otis College of Art and Design
Paris College of Art
Parsons School of Design/Parsons Paris at The New School
Pratt Munson College of Art and Design
Rhode Island School of Design
Ringling College of Art & Design
Rochester Institute of Technology
Salve Regina University
School of the Art Institute of Chicago
School of the Museum of Fine Arts at Tufts University
School of Visual Arts
Suffolk University
SUNY Purchase College
Syracuse University College of Visual and Performing Arts
The Cooper Union
Tyler School of Art and Architecture at Temple University
University of Massachusetts Dartmouth CVPA
University of Massachusetts Lowell
University of New Haven
University of the Arts
Virginia Commonwealth University (VCUarts)
Washington University in St. Louis