Honorary degree recipients Sonia Chang-Díaz and Alex Truesdell addressed 961 graduates of the Graduate School of Arts and Social Sciences and the Graduate School of Education among thousands of family members, friends, faculty and administrators gathered at the Blue Hills Bank Pavilion on the Boston waterfront.

Lesley Trustees Chair Deborah Schwartz Raizes (Class of '69) gave a brief welcome address, followed by remarks from President Jeff A. Weiss, who exhorted graduates to "make a habit of taking time for yourself," learning something new and different, a hobby, a new word or discipline. "Ride a roller-coaster or read Proust. Lend an ear and a hand. Take a deep breath, and slow down and enjoy what's around you." And as for changing the world: "first see things, then imagine things, then, finally, do things in truly new ways."
State Sen. Sonia Chang-Díaz told graduates to resist "the purveyors of fear."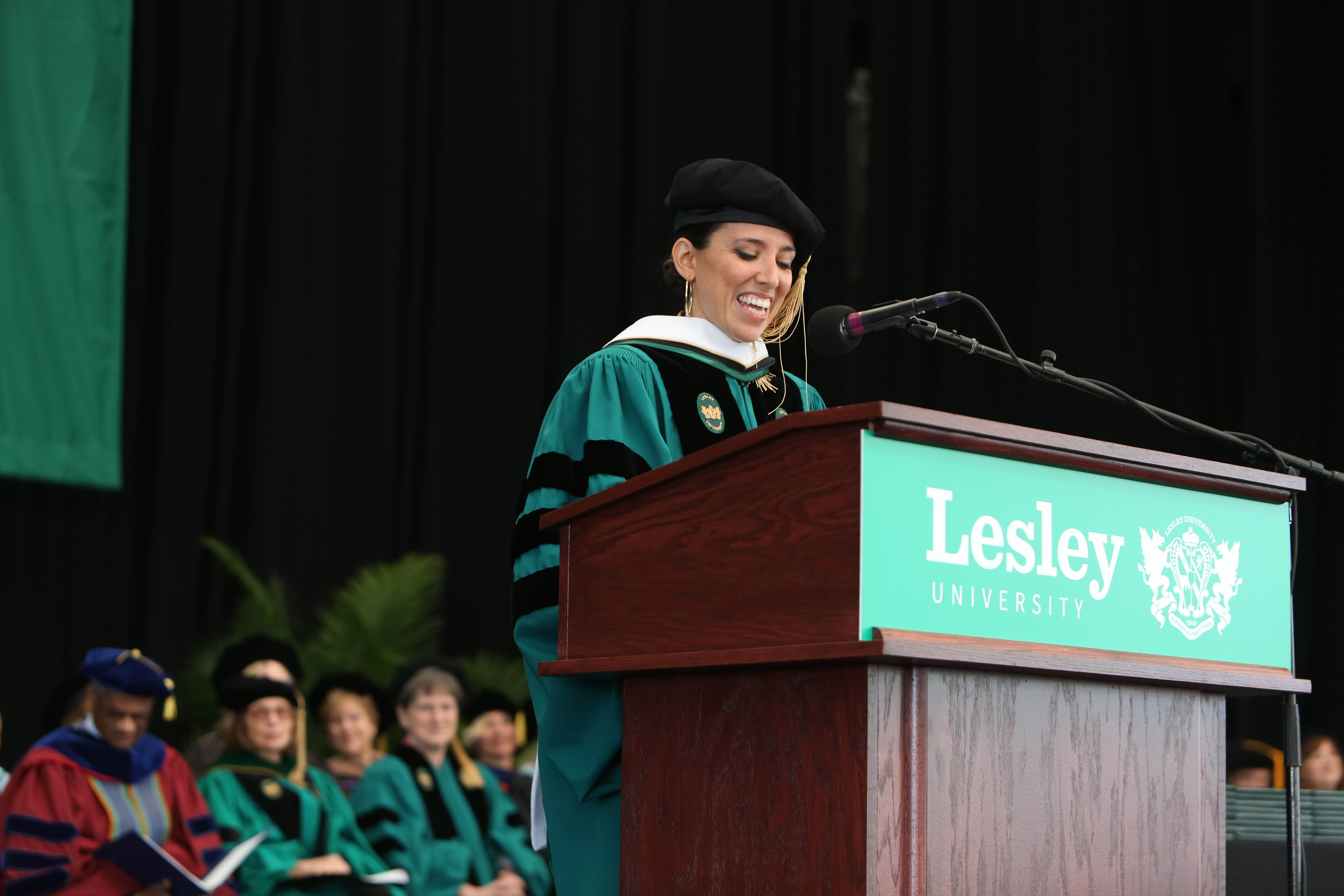 Massachusetts state Sen. Sonia Chang-Díaz, who received an honorary doctorate from the Graduate School of Arts and Social Sciences raised a sobering challenge to graduates in light of the "extraordinary times" we are now in.

"Now more than ever you must be awake, open and ready to act in moments that seem unjust," she said. "It will not always be obvious that a mindful injustice is being done. Are you keeping your head down or do you keep asking questions?"

A native of the Boston area, Chang-Díaz started her career as a teacher before moving into public service. In 2009, she became the first Latina elected to the Massachusetts Senate and has since been a champion for LGBT equality, criminal justice reform as well as an advocate for increasing support to low-income and immigrant communities.

As she addressed graduates, Chang-Díaz spoke of the female immigration lawyers, "the soldiers for justice," who rushed to the John Joseph Moakley Courthouse in Boston to stop President Donald Trump's executive order in January. She emphasized that their success against the "most powerful man in the world" is evidence of what "small d democracy" can do in the face of threats against people, the press and the planet.

"It turns out they brought the full weight of the federal government to a screeching halt. It turns out a citizen is the highest office in the land," said Chang-Díaz triumphantly.

In these "scary times," everyone will face injustice, from a Muslim student being harassed for wearing a head scarf to a slur heard on the "T" in the morning commute, said Chang-Díaz.

Her charge to Lesley graduates was to be among those who stand in the gap when such offenses arise – whether as classroom teachers, as counselors who help students deal with discrimination or as the writers who "hold up a mirror to us all."

"You did not ask for these times or these challenges," she told the graduates, "but of course no one asks for tumultuous waters." Yet as "the drumbeat of anger and hatred grows even louder," it is imperative to join together and to resist injustice now and for future generations.

To much applause, Chang-Díaz concluded: "Be ready and make the purveyors of fear come through you."
Alex Truesdell: The Process of Adaptive Design Changes Everyone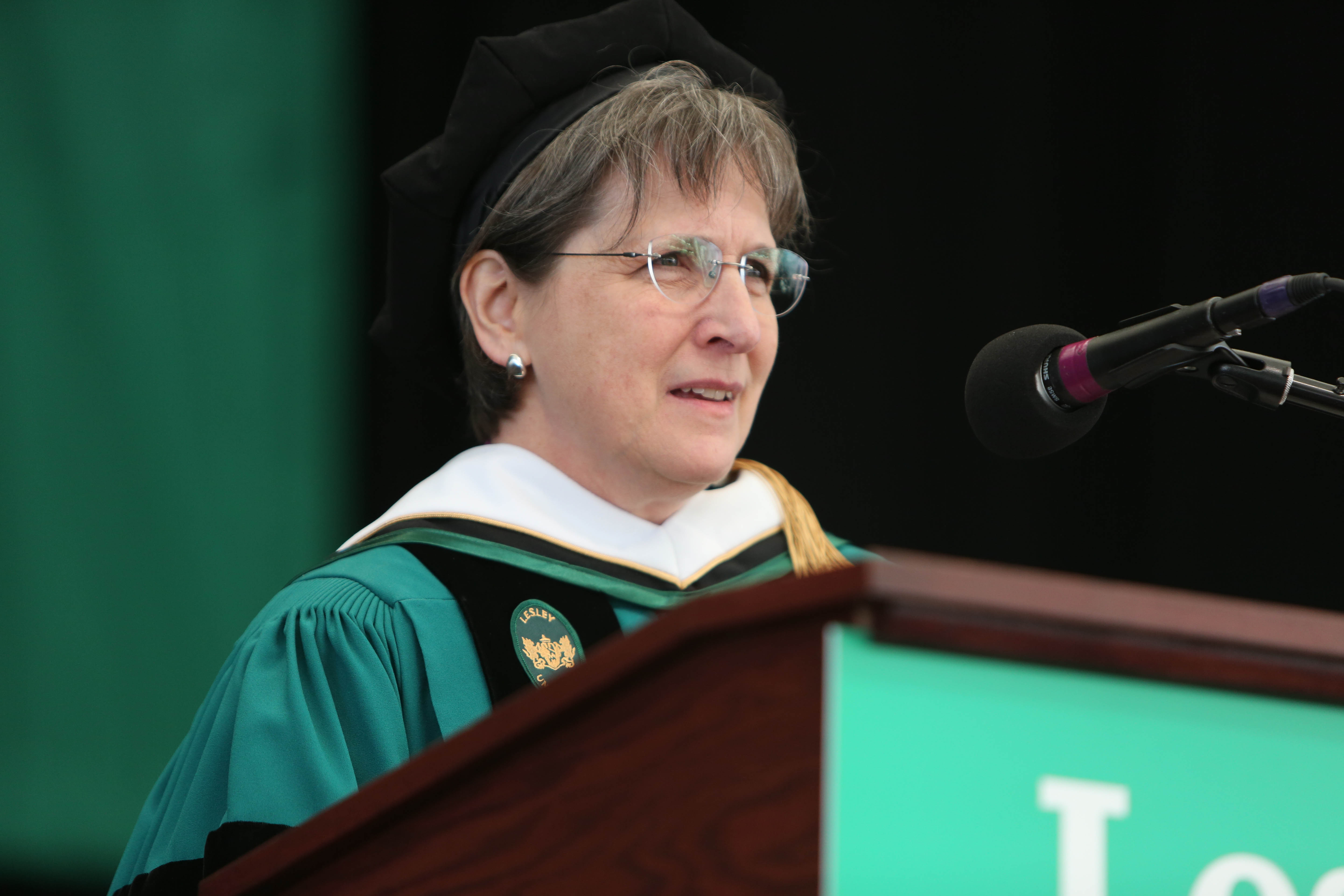 Alex Truesdell (bachelor's degree '79, master's degree '98), 2015 MacArthur Fellow, has been immersed in adaptive design for 36 years. The Graduate School of Education speaker was inspired first by her aunt, who had a spinal cord injury and lost function in her hands. She helped her uncle design "dozens of adaptations" for her aunt, enabling her to do things such as turn on the stove. Now, the company she founded, Adaptive Design Association, uses common materials to make adaptations for people with disabilities, such as a set of cardboard stairs to help a child climb to a sink. "Adaptation is the link between can't and can."
Years ago, when watching "The Miracle Worker," the movie about how Helen Keller learned to communicate despite being mute, deaf, and blind, she realized that Helen's teacher, Anne Sullivan, stood between ability and disability. "What happens to children when we don't see humanity and possibility beyond their disability? "I didn't believe disability meant 'couldn't.' I was in turmoil when anyone suggested that I be more realistic or align my expectations to the goals on a child's educational plan."

In her work, Truesdell and her colleagues listen to what children need, and each project starts with high expectations and a good question. "How could Nando practice strumming a guitar without holding it? How can Jeff use Morse code instead of a keyboard to enter text into a computer?" Every story, she said, is attitude-shifting and mind-boggling. To answer the questions, Adaptive Design Associates works with teachers, therapists, and parents to create low-cost, user-specific adaptations to furniture, equipment, and spaces. "Getting from can't to can takes will power. When people with diverse skills are on that page, the results can be glorious. Believe in building adaptations with love. Listen carefully, include everyone, build responsibly and to share credit. No one works alone."

World Bank estimates that 1 billion people have a disability, many who have no access to life-changing adaptations for reaching their potential. "That is horrifying, and it has to stop."

"The subject of disability is hard to navigate without placing blame or expressing doubt. But it is everywhere, and it is a fact of life that unites us. You, the graduating class, can bring much needed fuel and new voices to this cause. Continue studying, stretching your minds, and setting bold goals. See potential and shout about it.
"Imagine not waiting for someone else to make the difference."
Student Speaker Megan Shaffer: Embracing change and letting go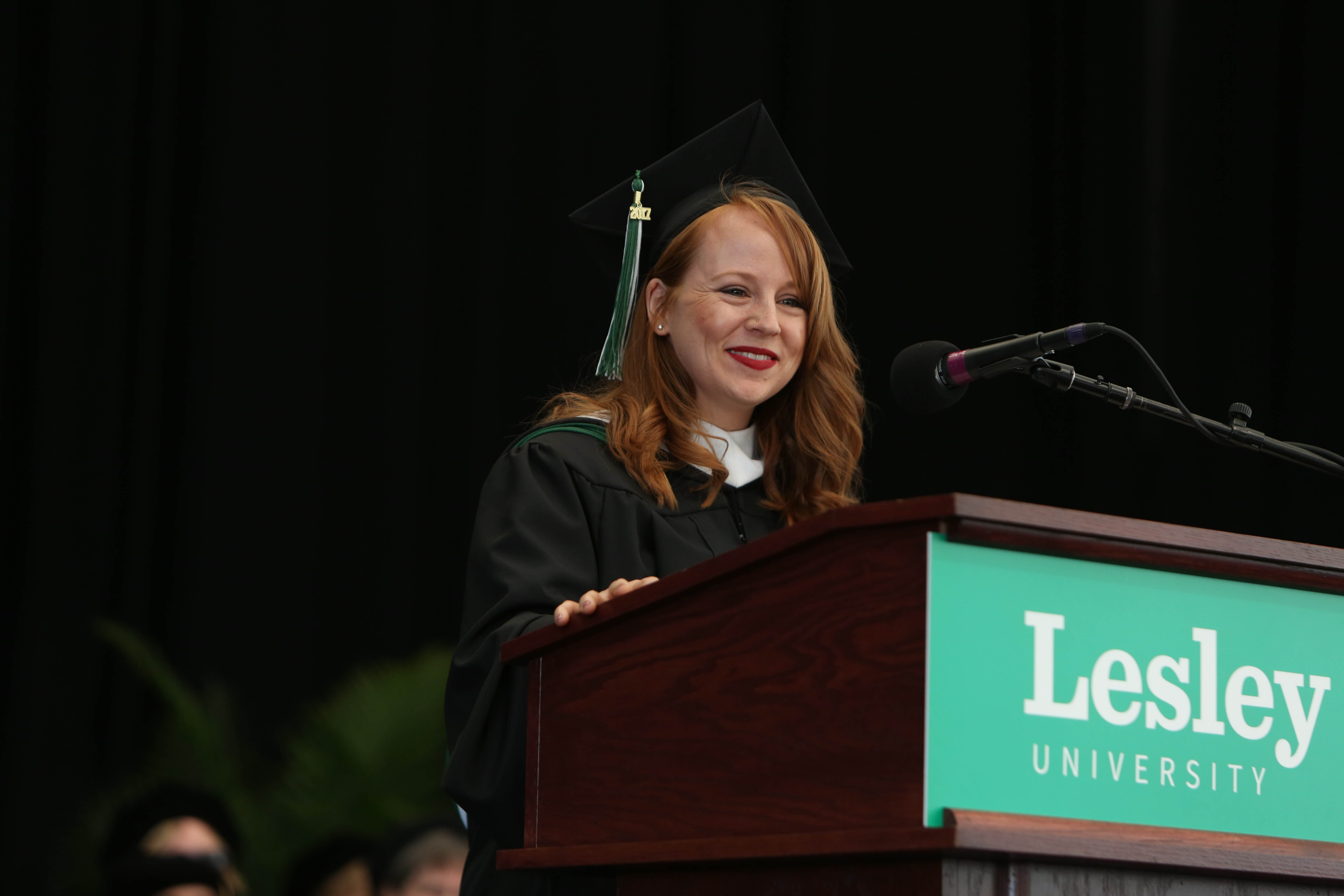 Graduate School of Arts and Social Sciences student speaker Megan Shaffer, who received her master's in Clinical Mental Health Counseling, said her time at Lesley took her places she didn't expect and changed how she approaches life.
As someone who loves to be organized, from her meals to her life goals, Shaffer explained "planning is sort of like a ritual for me." But her internships at Lesley weren't exactly in her five-year plan.

As the director of a high school dance program before matriculating to Lesley, Shaffer assumed she would continue in that trajectory by seeking internships with adolescents. Where she ended up, however, was Patton State Hospital in Highland, California.

"If you had told me then that neither of my internships would be with adolescents, and that I would actually be completing my final internship at the largest forensic psychiatric hospital in the country I would've thought you were joking," she said.

But the "safe and nurturing" environment at Lesley helped Shaffer embrace change, and she found that the internships were unexpectedly exactly where she needed to be.
"Probably the greatest lesson I've learned while here at Lesley is finding that balance between planning and letting go," said Shaffer.

She encouraged her fellow graduates to seek contentment in whatever place they land.

"I pray you believe and trust that no matter where you are today, tomorrow or a year from now, that you know you are exactly where you need to be."
Student Speaker Molly Pistrang: Before We Act, We Must Reflect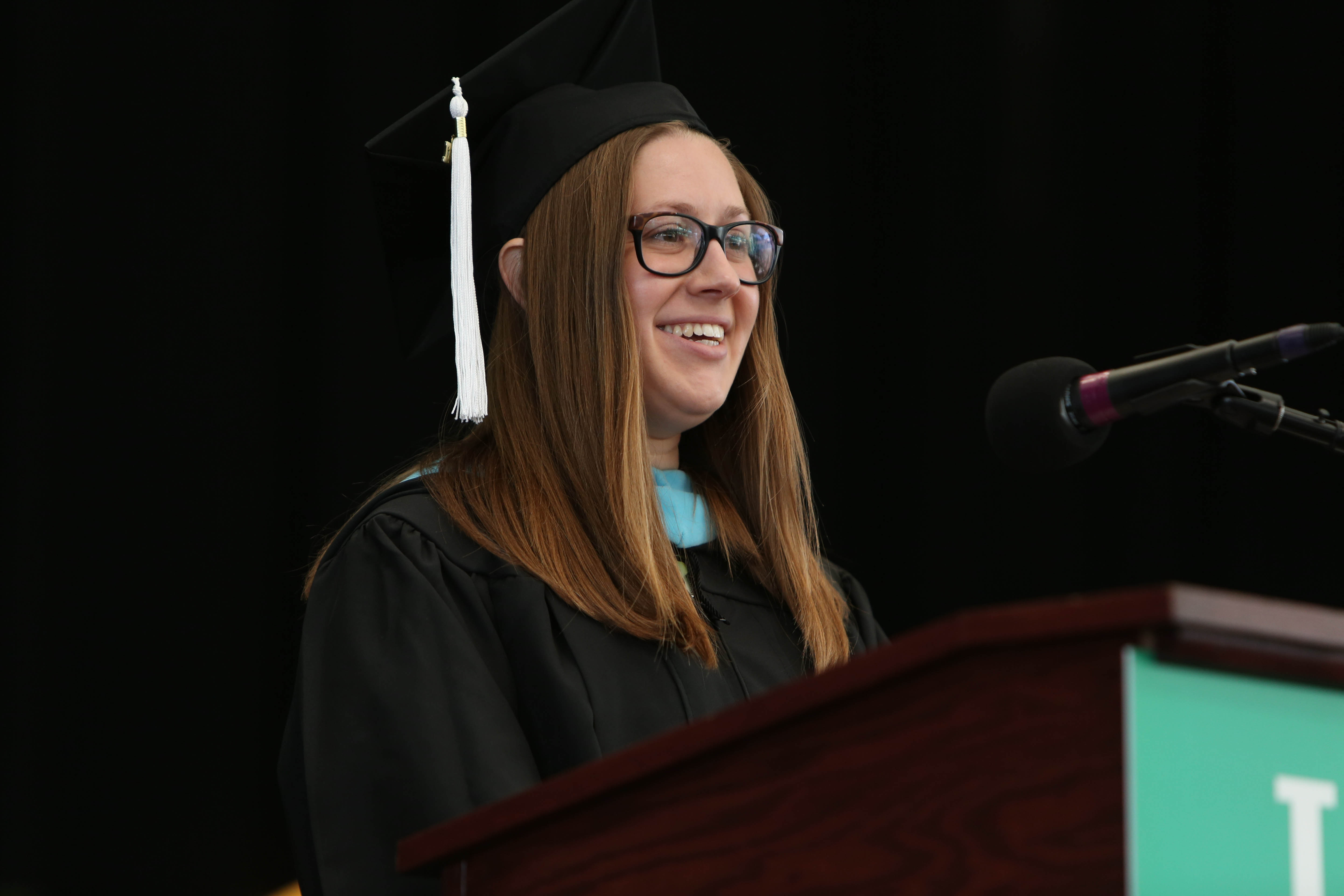 Graduate School of Education Dean Jonathon Gillette introduced the student speaker, first thanking the assembled graduates, in "no ordinary time" for the teaching profession, "for believing in the power of education to make a more just society."
Molly Pistrang, graduate of the M.Ed. in Arts, Community, and Education program, began by saying that though graduates are indeed poised for action, "before we act, we must reflect."
She related how, through the self-reflection process Lesley asks of its students, she came to realize that the themes of women, voice, violence, and power have shaped her work. These "intertwined trajectories" resulted in her study focus: the use of the arts in sexual assault prevention programming.
During her studies here, she "witnessed a process of compassion that resonates at Lesley. Lesley University is known as a school that prepares those entering the helping professions."
Studying here, she said, "has given us the practical skills and awareness that allow us to actively engage in this compassionate work." She exhorted her fellow graduates to tailor their work to each individual and community. It is, however, also our duty to engage with our own assumptions and biases, to become open to "learning from and honoring the lived experiences of others." To understand better what is needed by each individual we meet, "we can act upon that understanding, acknowledging our place as compassionate graduates as we step across the stage into action."