Joseph R. Wolin is an independent curator and critic. He has curated more than 25 exhibitions and is the author of more than 200 art exhibition reviews for Time Out New York. He has also written for The New Yorker, Canadian Art, Garage Magazine, Glasstire, and Modern Painters. He currently teaches at Parsons School of Design, The New School, and in the past has held teaching positions at the School of the Museum of Fine Arts, Boston, Rhode Island School of Design, Mass Art, Drew University, and Fordham University.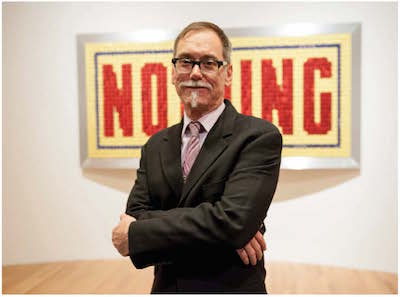 Backed by his expertise in teaching and curating, Wolin took part in the MFA's acclaimed Visiting Artist/Scholar program. He has also served on end-of-semester juries for Lesley University's
MFA in Photography and Integrated Media program since 2012. He frequently shares his unique experiences, critique, and expertise with Lesley University students. In his Q&A, he provides insight into his experience teaching at Lesley, his approach to mentoring, and more.
Q: How do you approach mentoring and teaching?
A: My own approach to teaching and mentoring has been to try to help the students realize the most efficacious ways to bring their own interests, subjects, and crafts into the larger conversation of contemporary art.  
Sometimes this involves helping them put their work into a context they may not previously have considered. Sometimes it involves inciting them to think through various artistic decisions and details to help them see how their work may be received.  I always try to point them to an intellectual grounding that gives a depth and sustainability to their studio practice.