Throughout its history, our country has called upon its people to serve the common good.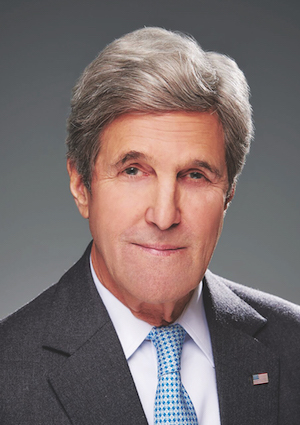 Lesley University would like you to meet John Kerry, a true public servant who has answered that call many times. First as a naval officer, then as a district attorney, and finally, as a towering political figure. As a public servant, John Kerry is a rare combination of courage, resolve, humility, and compassion.
Mr. Kerry served his country honorably in the controversial Vietnam war, and received several medals for bravery, including the Bronze Star, the Silver Star, and three Purple Hearts. Upon his return from active duty, Kerry took a strong stance against the war. As part of the Vietnam Veterans Against the War, he spoke out against the atrocities committed and the futility of the war. In a 1971 Senate hearing, the 27-year-old Kerry famously asked, "How do you ask a man to be the last man to die in Vietnam? How do you ask a man to be the last man to die for a mistake?" Following through on his long-term commitment to peace in Southeast Asia, he worked across the aisle with fellow veteran John McCain to normalize relations with Vietnam in 1995.  
A prominent theme in Kerry's career has been that war should always be the very last resort in any conflict. As the Secretary of State under President Obama, he spent a great deal of time in many war-torn areas of the world, especially in the Middle East. A skillful negotiator, he brought together allies and adversaries to develop the Joint Comprehensive Plan of Action, also known as the Iran Nuclear Deal of 2015. According to one of the lead U.S. negotiators, at the signing of the pact, Kerry was the last to speak. With great emotion, he said, "When I was 22, I went to war. I went to war and it became clear to me that I never wanted to go to war again."
Another theme that emerges in Kerry's service has been investigating government corruption, and Kerry consistently used the skills he honed as a Massachusetts prosecutor in the face of significant political adversity. The commencement of his career as a U.S. Senator was marked by courageous pursuit of an investigation into the Reagan administration's potentially illegal activities in Nicaragua. Senator Kerry's report led to a full investigation of the Iran-Contra Affair. He also led many other Senate investigations, including a probe of the drug trafficking and corruption of Panamanian dictator Manuel Noriega.
Perhaps the most important issue on John Kerry's lengthy resume is climate change. Kerry has brought resolute commitment to this issue for almost 40 years. During his brief two years as Massachusetts Lieutenant Governor, Kerry's work resulted in a resolution of the National Governors Association aimed at reducing acid rain. As Secretary of State, Kerry was a driving force behind the Paris Climate Accord, which brought together all 197 nations of the world to adopt policies and strategies to mitigate the impact of climate change. Always a champion of environmental issues, Kerry has consistently emphasized the urgency of the problem, as well as the importance of scientific research on issues related to the environment.
In the Author's Note to his recent book Every Day is Extra, Mr. Kerry stated about the title, "It is a pledge accepting responsibility to live a life of purpose…the worst thing of all would be to waste the gift of an extra day by sitting on the sidelines indifferent to a problem." True to this statement, John Kerry has fulfilled that pledge many times over, living a life dedicated to public service that is deserving of deep admiration and respect.