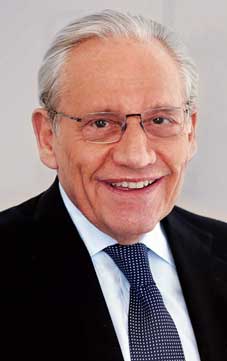 Bob Woodward is one of the best-known investigative journalists in America. For nearly fifty years, he has covered the key stories of our time, from Watergate to 9/11 to the presidency of Donald Trump.
Bob Woodward was born on March 26, 1943, in Geneva, Illinois the son of Jane Upshur Woodward and Alfred Eno Woodward II. His father, who served as a communications officer in the Navy during World War II, was a prominent lawyer, who later became a judge. Woodward enrolled at Yale University on a Naval Reserve Officers' Training Corps (ROTC) scholarship, and after graduating in 1965, with a bachelor's degree in History and English Literature, he entered the Navy; like his father, he served as a communications officer. After completing his five years of military service, Woodward initially seemed ready to again follow in his father's footsteps and become a lawyer; but instead, he decided to pursue a career in journalism.
His goal was to work for a major publication like the Washington Post. But while he had a solid communications background, including a year at the Pentagon, the Post's editors told him to get more reporting experience. He was hired by the Montgomery County Sentinel, a weekly newspaper in Rockville, Maryland, and after a year, he had improved his skills enough for the Washington Post to give him a chance.  By September 1971, he had joined the Post's staff as a police reporter.
Only a few months later, he and his Post colleague Carl Bernstein began covering a story that would change American politics: a June 1972 burglary at the Democratic National Committee, then located at a Washington D.C. hotel and office complex known as the Watergate. Using their investigative reporting skills, Woodward and Bernstein eventually found proof that the break-in was tied to the Nixon administration, and that the efforts to cover it up had been directed by President Nixon himself. Woodward and Bernstein shared a 1973 Pulitzer Prize for their reporting, and the two co-wrote a 1974 best-selling account of the Watergate scandal, All the President's Men. (The book was turned into a 1976 movie, starring Robert Redford and Dustin Hoffman: Redford played the role of Bob Woodward.) Meanwhile, Woodward and Bernstein collaborated on another best-seller in 1976, the story of the end of the Nixon presidency, The Final Days.
But while Bob Woodward initially gained fame for his Watergate reporting, he subsequently earned a reputation for his thorough and insightful interviews with newsmakers. He has an ability to get the most important people talking, and whether he is reporting from the Pentagon, the Supreme Court, the C.I.A., the Senate, or the White House, he gives his readers information they might not get anywhere else. In addition to being an investigative reporter for the Post, he has also been a prolific author: he has written or co-written 19 best-selling non-fiction books. Few reporters have had more access to the White House: in fact, Woodward has written books about nine U.S. presidents, from Richard Nixon to Donald Trump, and in 2003, he won the Gerald R. Ford Prize for Distinguished Reporting on the Presidency.
Woodward was the Washington Post's lead reporter during an extensive series on the aftermath of the September 11, 2001 terrorist attacks; and along with several other reporters, he shared in the 2002 Pulitzer Prize for national reporting. He is currently an associate editor at the Post, and he continues covering the news, as well as giving talks about journalism all over the country. Back in 1973, he explained his reporting philosophy to an interviewer, saying that good journalists do not speculate; rather, they stick to the facts. Throughout his long and distinguished career, reporting some of the most consequential stories of our time, that is exactly what Bob Woodward is known for: uncovering the truth, and sticking to the facts. 
Written by Donna L. Halper